2011 has been yet another rollercoaster year for Gran Turismo and its fans, and our first full year of GT5. The year has been dominated by game updates, GT Academy successes and significant events affecting the infrastructure of both the PlayStation Network and the people of Japan. Just as with the last two years, GTPlanet is taking a look back over the last 12 months before we head on into 2012…
Photomode image by Rev91.
January
February
March
April
Kazunori Yamauchi states that he would have liked another 2 years to develop GT5 before release.
25 track logos are discovered in the Remote Racing section of Polyphony Digital's GT5 website, pertaining to tracks from GT4 and GTPSP but not yet seen in GT5…
Sony's PlayStation Network is crippled by an external intrusion resulting in a prolonged period of downtime for all online services, including GT5's online modes.
May
June
July
August
Mercedes-Benz announces a live race in September between GT5 players and former Formula One driver David Coulthard.
September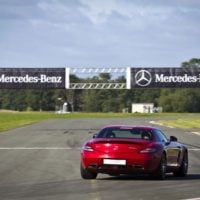 October
GT Academy winner Lucas Ordoñez becomes a world champion too as his team clinch the LMP2 class championship in the 2011 International Le Mans Cup.
GT5's latest and largest update – Spec 2.0 – is announced along with details of forthcoming downloadable content. The DLC itself arrived later in the month and included the legendary Formula One track Spa-Francorchamps  – the fans' most asked-for track.
Jordan Tresson becomes the second GT Academy winner this month to become a world champion as his RJN Motorsports team Nissan 370Z becomes the GT4 champion in the Blancpain Endurance Series.
November
December
It's been another bumper year of Gran Turismo news and we can be sure that 2012 will bring updates, tweaks and possibly some more downloadable content. While Gran Turismo 6 may well be in the works, it's clear that Polyphony are looking to improve GT5 yet further.
Thank you for your support throughout this past year – GTPlanet looks forward to supplying you with the best Gran Turismo news in 2012! Happy New Year!
See more articles on Review and Year in Review.