Amidst news of interesting new features for the photomode lovers of GT5, our community has been keeping busy with both the seasonal Tournament, and the familiar weekly competitions. There's quite a lot to digest this week, so let's get straight to the pretty pictures!
The Qualifier has wrapped up – overwhelming response to it meant well over 30 entries per division, leading to an extra round being added to the season. It did mean a few people still didn't make the 32 user cut-off though. While we wait for the first round info to be posted by the host, including the names to attach to each qualifier image, feel free to look over some incredible images in the finished qualifier polls: here's the PMC division (with 37 entries!), while here's the 2.0 Advanced poll (39!). Once round 1's details are posted, expect an update to this post.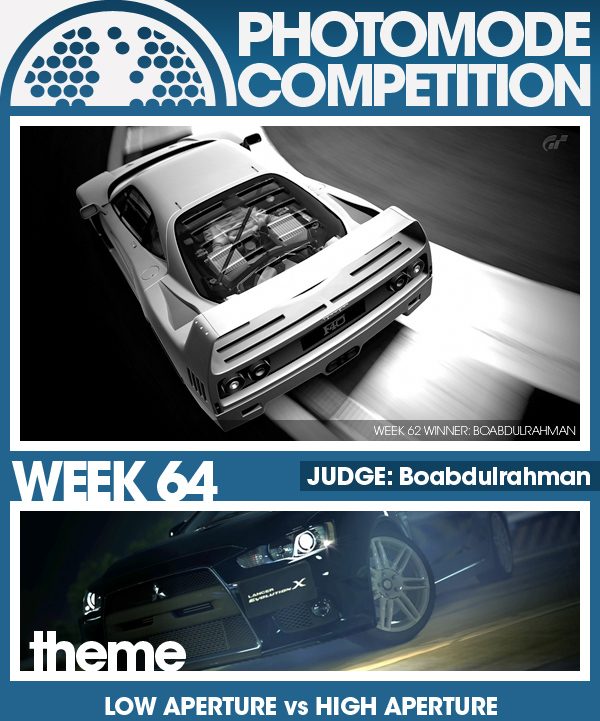 (Click to view full-size of Boabdulrahman's winning shot)
It's a Head2Head week this week, folks – and Bo wants you to focus on, er, focus! Well, depth of field, really: In Low Aperture vs High Aperture, F-values from 1.0 to 8.0 fall into the former, while anything higher falls to the latter. Other than those limitations, you're free to go wherever you want, and shoot whatever you want, so hop to it before Sunday evening!
This Week's Poll: Advertisement was t he theme last week, using images that tie in their car or company's logo with the vehicle itself, all in the same shot. Our community found some pretty clever track-side ads, and now it's your turn to do the usual – vote for your favourite now!
(Click to view full-size of FishyJuice's winning shot)
This week, you can comfortably drag all your camera gear in your subject vehicle! Estates are running rampant, especially the RS6 Avant, as it is the only Premium wagon in the game, but that hasn't stopped a good portion of our community from working extra hard to get their Standard cargo-haulers looking great for the camera. Which approach will you take? You've got two days!
This Week's Poll: Last week's theme was When Time Stands Still, focusing on those more contemplative moments that pop up during a great drive. There's 15 images for you to choose from, and you've got a bit over 12 hours before the poll closes – given the high quality of every image, it might just take that long to decide!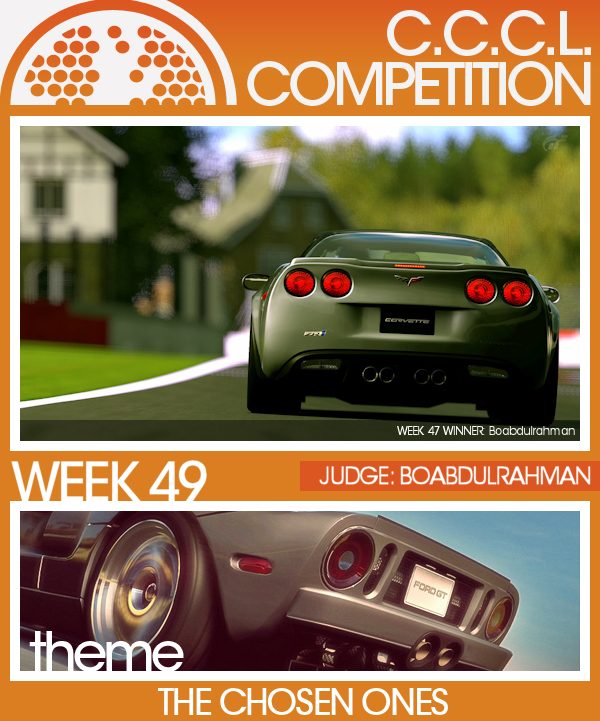 (Click to view full-size of Boabdulrahman's winning shot)
Not only has Bo won two competitions this week – he did the same last week, and it's back-to-back wins for him in CCCL! This week, the car and track combo are the daunting Ferrari Enzo, at either Kyoto Gion or Kyoto Shoren-in in The Chosen Ones. The trick this week, however, is that your driver (avatar) must be present in the image, taking advantage of the oft-overlooked feature. You heard the man!
This Week's Poll: Unsurprisingly, A Vent A Door, showcasing Lamborghini's new flagship at the gorgeous Nurburgring, brought some completely fantastic images out last week. There are now 15 left for your voting purposes, but much like every other poll this week – good luck deciding!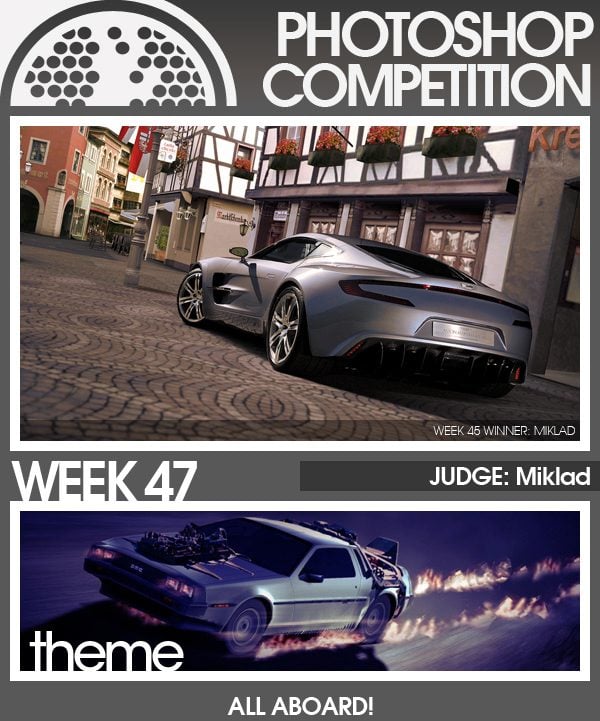 (Click to view full-size of Miklad's winning shot)
It's still going, folks! All Aboard is running a long stint to re-align with the usual competition end-dates, so you've still got time to create a GT-inspired board game box design. It can be either a completely new board game concept, or a PD-infused existing one. GT-opoly? It could happen!
This Week's Poll: Open for two more hours, Caught On Camera was the theme a few weeks back, and it too is running longer to get back into the normal schedule. There are three clear leaders in the votes, so your vote may tip the final decision if you hurry!
(Click to view full-size of DarkR's winning shot)
It's an all-American grudge match this week, as DarkR has provided The Showdown as the theme. You get to choose from the three big American companies – Chevrolet, Dodge, and Ford – and must have at least two cars in the image, from at least two of the manufacturers. Feeling adventurous? You can try for the triple threat, getting one from each of the three in the shot, too. When you've got your image, don't forget to submit to DarkR here.
This Week's Poll: Last week, Bo had a fever, and the only prescription? Photo Travel. That's right, in Photo Travel Fever, our community was limited to those high-quality environments, and therefore, Premium cars… but as you'll see in the poll, sometimes a car isn't even necessary. Vote now!
All sound a bit complicated? Read this thread for an explanation on how to get your images off your PS3 and onto a computer, and read over the individual rules in each competition's thread. If you're further stuck, feel free to Private Message me (click here). Start snapping those digital shutters!