No this isn't an announcement that GTPlanet has officially partnered with Burger King for the "Gran Turismo Your Way" sweepstakes or whatever it would be referred to as. You'll just have to read on if you want to see what this week's title refers to, and I assure you that it's going to be a good one.
Last week we covered new ground in the form of addressing what will become of the Rewind throughout the course of this new year, and if you missed it then allow me to reiterate: 2013 will be a year full of expansion and evolution.  Said evolution began with the first Rewind bringing about a well-received new feature, and guess what? This week's Rewind is going to introduce something else you'll all appreciate as well; piquing your interest is the tactic here and I'm certain it's working on a number of you.
So getting into the mood, I've been playing GT5 over the past several weeks in attempts to rekindle my photographic spirit, well as far as video games are concerned, and I've finally gotten to the point where I can comfortably snap a photo and edit it to my liking without sticking my tongue out in utter disgust. The loading times still annoy the ever-living out of me but I'm willing to put up with it for a photo session or several. I've also recently taken Photoshop CS6 Extended for a spin and the changes are both wonderful and plentiful, but the one new tweak I've come to love is the improvements to the cropping tool. Now the crop window will automatically adjust itself relative to the action. If that's at all confusing, for those of you with Windows 7 just imagine the automatic window resizing feature – yes, it's exactly like that but in reverse and it has dynamic scrolling!
I'll ramble on some more later but for now let's get on with the show!
GTPlanet Picture of the Week
For the first week since the inception of this feature I'm without an option for this week's featured image. Well, that's not entirely true as I could dip into the backlog that's amassed over the short time period but they're all mostly from the same member here, so instead we'll get more Standard love courtesy of eugene2023 and the featured MOTUL Civic Si striking a pose for the camera at one of my all-time favorite tracks, Tokyo R246. The edit itself is good enough to pass for a Premium model, wouldn't you say?
Have a suggestion for next week's featured image? Drop me a private message, entitle it "GTPlanet Picture of the Week" and fill it out with your two choices and they'll be featured in upcoming Rewinds. NOTE: You cannot elect your own work.
Modified Car Configurator  – 3D Tuning
We're all a fairly obsessive bunch of automotive aficionados and as such it should come as no surprise that I'm about to introduce you all to one of the greatest killers of time since Pimp My Gun. With this "game" of sorts you can cycle through a variety of cars and, you guessed it, customize them to your liking. There's 32 brands to rifle through and there's likely to be something for everyone, but be warned that the native language of the website is Russian so if you're unable to read or understand it you'll want to put your browser's translator (should it have one) to work.
It'd be wise to create an account (it's free!) so you can save your work and then save the screenshots, that way you can show off your work here and possibly even get some more out-of-the-ordinary ideas from some other members that have utilized the program.
I can already sense that you just want the link so you can have at it, so here you go and don't say you weren't warned – because it is addictive.
GTPlanet Vehicle of the Week
This week's featured vehicle is none other than the 1991 Mazda 787B, the first and only Japanese-make rotary-powered race car to win the 24 Hours of Le Mans.
The orange and green-liveried #55 787B driven by Volker Weidler, Johnny Herbert and Bertrand Gachot was the faster of the two 787B's on the field and was running second to a Sauber C11, but would quickly take the lead after a forced and prolonged pit stop for the C11 with a little less than 3 hours left in the race which eventually lead to it's iconic victory.
After winning the event Mazda was quite reluctant in retiring from the competitive world of motor sport and sought to defend their crown in 1992 but the feat saw no success and resulted in Mazda withdrawing from the sport at the end of the year.
Have a suggestion for next week's featured image? Drop me a private message, entitle it "GTPlanet Vehicle of the Week" and fill it out with your two choices and they'll be featured in upcoming Rewinds. NOTE: You cannot elect your own work.
GTPlanet Tune of the Week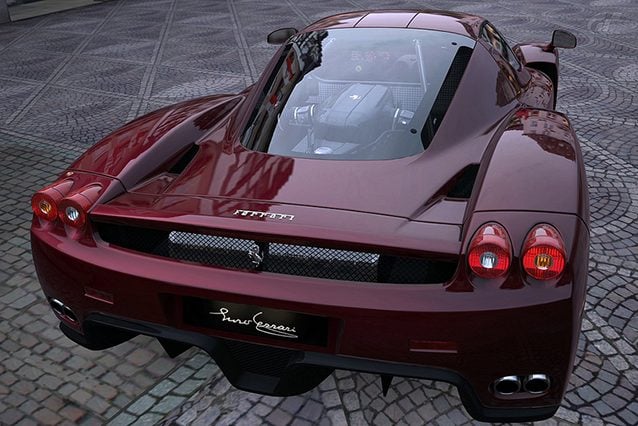 This week's tune features one of GT5's most problematic hypercars: the Enzo Ferrari. Suffering from considerably severe understeer in it's 'factory' trim, this tune, courtesy of Motor City Hami of Motor City Tunes looks to address precisely that in this tune catered toward last year's La Festa Cavallino Seasonal Event.
The tune permits the Enzo to be driven more easily than in it's base spec but still has it's drawbacks, however, the tune should allow for a victory at the Nurburgring GP/D track without much of an issue. No oil change and only a paltry 50 miles on the odometer is the name of the game this week. For the tune and all information pertaining to it be certain to have a look here.
Exactly like the Picture and Vehicle of the Week features, if you have any suggestions for the upcoming Rewinds be sure to drop me a private message, entitle it "GTPlanet Tune of the Week" and let me know. NOTE: You cannot elect your own work.
GTPlanet Photomode Competitions
In Week 111 of the Standard and Advanced competitions you are to put your best foot forth and show the community just how seriously you take your in-game photography. All you need to know is as follows:
Week 111, Standard: Toy Town – Apt use of the word if I say so myself as it's referring entirely to Toyota – yes, you liked the way that turned out didn't you? Well so did I. Take any Toyota to your liking and surround it in the cityscape, and take that perfect picture using the game's miniature filter. What, were you expecting to use another filter? Come now, the theme is… well you can see it!
Week 111, Advanced: Night Chase – I'll allow the selector of the theme to explain this one, seeing as I love the description so much: "I love the chase, especially at night. I want you to capture the most intense moments of it. The moment when you feel the tension and adrenaline in the blood, when you can only see the headlights in the rearview mirror and put pressure on the gas pedal even harder. It can be race cars or something else ,even X1's chasing each other lol. Choice of scene depends on you."
Quite the piece, isn't it?
For all the relevant information pertaining to this week's competitions be sure to stop by here and here.
Closing Thoughts
Another week, another Rewind written up and I always enjoy doing this even if it does keep me up until the wee hours of the morning but I never have anything to do on Friday anyway so it's really time well spent.
I wanna touch on something that I feel I should address sooner rather than later, but don't worry because I'm not about to drop a bomb or anything of that nature, no, I simply want to address the topic of nostalgia or more specifically that of fond memories. I'm sure some of you have wondered why I've mentioned Knight Rider on more than one occasion since the beginning of this feature and that's merely because I associate Knight Rider with an incredibly joyous period in my life. Of course it's just a show but it's more along the lines of what the show represents, even with the 2008 continuation that met it's fate after it's 17 episode run.
What am I talking about? Sheer creativity, ingenuity of the mind, something that's grossly lacking in this day and age. Now all we have are reboots, re-imaginings and remakes and this is a trend I would quickly like to see an end brought to. See, nostalgia serves the exact purpose of recalling a period in time where a particular set of circumstances allowed something to co-exist in a fashion that wouldn't at all be feasible by today's standards. Take the Ferrari F40 for example, if Ferrari were to adapt such a classic to today's world it wouldn't at all have the same appeal it does now and that's largely because too many of it's defining features would be altered, and to some extent cheapened.
Aside from that there's the reveal of the seventh-generation Corvette this upcoming Sunday, January 13th and I don't know about any of you but I'm incredibly excited. I am a bit worried about some of the more classic features being molded into something more unique, but hey, I'm not unwilling to accept change. And what does the reveal mean for Gran Turismo 5? Will the virtual car be uncovered alongside the real-life counterpart or will we play the waiting game?
So that's my bit for this week and for once I'm not completely exhausted, and excuse me for doing this, but in your face! Until next week keep racing!
Oh, and Knight Rider is still awesome.
GT5 Photomode images by Draco022 and Bram Turismo.
More Posts On...
The original comments for this post are no longer available.