For those of you scratching your heads, wondering where you recognize this week's title or why there's this strange sense of familiarity coming into this week's Rewind after having read just the title, then I'll tell you: Gran Turismo 2. "Now Is The Time", performed by The Crystal Method was one of the many tracks featured in the game and was perhaps one of the most fluid music tracks in the game. It could mesh in with any track, with any car, under any circumstance and it would seemingly make the moment that much more intense.
Another thing you should have noticed is this week's headlining vehicle, the one and only Aston Martin V12 Vantage is a returning face as it was also the headlining image of the first Rewind from last year November. I was going to save the occasion for this year November, but that's a long way from now and I like to keep the excitement flowing naturally, thus here we are. Think of this as a celebratory mark that the Rewind has been running for four months strong, and it's all thanks to all of you. With that said I've been thinking up a way to thank the community here outside of the usual methods, and if you've missed out on what was announced last week, that will culminate in the all-new "GTPlanet Member of the Week" feature, which is poised to debut first thing next month.
There's still a couple of details to be ironed out regarding that feature but we'll discuss those later on. Last week was the beginning of the 2013 Formula 1 season and it did not disappoint, and this week has the Malaysian Grand Prix in store for those of us who are F1 fanatics. And with the possibility of rain playing a factor this could very well kick the season off just as fantastically as last week's race, if not even more so. There's plenty to cover this week so without further ado let's get physical! Yes, another Olivia Newton-John reference.
GTPlanet Picture of the Week
This week's featured image comes to us courtesy of MadMoss, and features Volkswagen's venerable Golf R speeding around on what can only be referred to as it's "home turf", the Nürburgring Nordschleife. The photo makes great use of bokeh (blur) which entices you, the viewer, to focus only on the car itself, with it's brilliant color and crisp details.
Have a suggestion for next week's featured image? Drop me a private message, entitle it "GTPlanet Picture of the Week" and fill it out with your two choices and they'll be featured in upcoming Rewinds. NOTE: You cannot elect your own work.
Gran Turismo 3: Another Trip Down Memory Lane
The third installment in the immensely successful series was a bit of a rushed effort, having coming out just a year and almost seven months after Gran Turismo 2 released on the original Playstation, and this much was evident with the noticeable decline of in-game content. Gran Turismo 3 featured just over 180 cars and 20 tracks, paling in comparison to GT2's greater number of content across the board. However, because of the greater number of  variables in the new physics engine and of course the vastly improved visuals, GT3 would go on to become the best-selling entry in the GT series to date.
Gran Turismo 3 was perhaps the starting point for many of us here, I know for a fact it's where I began. At that time racing games were only something I would play in passing and Gran Turismo changed that indefinitely. Now GT3 may forever be known as the only GT game to offer a considerable less amount of both in-game content and features than it's predecessor but it's also the first and only game in the series, at least to my recollection, that features both Grand Valley Speedway Reverse and Laguna Seca in a sunset setting, as well as Special Stage Route 5 with a dampened tack. It also marked the return of Special Stage Route 11, a track not seen since the original and hasn't been seen since, and let's not forget the unlicensed versions of six real-life Formula 1 race cars.
There are a number of reasons one could cite as factors leading into Gran Turismo 3's immense success despite the odds stacked upon it, but it would only take a couple of minutes to rekindle it's magic: whether it be the gift car  carousel, the funny AI that couldn't seem to navigate around Seattle Circuit without crashing into any one of the numerous barriers and engaging in this odd reverse-to-acceleration concerto whilst going nowhere in the process, or if it was simply the fact it was the first Gran Turismo title to support it's own racing wheel developed by Logitech.
The combinations are endless but one thing is certain: Gran Turismo 3 had it's own delightful charm; a charm unlike that experienced in 1, 2 or 4. Gran Turismo 3 has a charm that's all it's own.
Credit to XrenanXmattos for the video.
GTPlanet Weekly Racing Series (WRS) Online Events: Parity Racing
From this week on the WRS segment will begin to show a bit more variety and what better way to kick things off than to focus on another WRS stronghold: online multiplayer events. More specifically that of parity racing, and if you're wondering what parity racing is, it's essentially a system devised allowing you to select a vehicle particular to your tastes and to adjust the PP (Performance Points) so that you can run consistent lap times close to a fixed target time, thus allowing for the closest racing possible.
All drivers are welcomed to participate in these events regardless of their skill levels or WRS Division placement as both of those take a backseat to running consistent times with the same limitations as everyone else on the field. Results aren't tracked nor is score kept, the formula works on an honor system which means it's all up to you, the individual, to make this work. Doing a bit of homework and coming prepared is a must!
The Parity Racing Formula, in all of it's splendor, originated with our very own mike 5927 and would become the backbone of it's eventual spinoff, DeadNutsEven Racing, from whom permission was granted.
Stop by the official thread here and remember that you NEED to be registered before officially participating in the WRS, and that can only be done by submitting a time for the official GTP Registry Qualifier.
GTPlanet Member of the Week
If you haven't been keeping up with the updates posted over the past two days in the Official GTP Rewind thread, this feature has been confirmed to be a weekly segment and will require those selected to put forth a bit of effort (not much I promise!) all for the ultimate reward: recognition among your fellow GT peers. Yes, we love you that much.
In addition to what was outlined last week, which I will restate for your convenience, there are also four new details and they are as follows:
This will be a weekly feature, thus the GTPlanet Member of the Week
4 to 6 applicants will be chosen a month in advance
Those applicants will have approximately one week upon receiving the questionnaire to have it back to me, otherwise those unable to participate for any variety of reasons will be delayed until the following month
The questions will involve you having to search for things on your end, i.e. your first post, racing series' developed (if any), etc
General information (no more than what's found on your visitor; more information can be posted upon your approval
Contributions to the website
First post
Most popular thread
Racing series' participated in or developed
Perspective candidates will be pooled throughout the weekend and the official thread will be updated accordingly. Now, here's where the community interaction comes in: of course I can't be familiar with every single one of you, as such a feat is tiring simply in thought, however, as everyone here knows at least ten other members you can all help the process by suggesting legitimate members whom you think are befitting of the "Member of the Week" badge.
There's still a lot of work to be done on my end so do keep an eye on the official Rewind thread because this time next week there will be no mention of this upcoming weekly feature.
GTPlanet Vehicle of the Week
This week's featured vehicle was first shown to the public as a concept study during the 77th International Motor Show in Geneva in March of 2007. The M3 is instantly recognized as being the pinnacle of BMW's "M" division of performance and this has been the case since the introduction of the brand back in 1986. The E92, unlike it's predecessors, share almost no likeness to the "base" 3-Series coupe, instead the newest generation of the BMW M3 is characterized from the ground up.
Power is delivered to the rear wheels and is powered by an all-new V8 platform developing 420 horsepower and is mated to a 6-speed manual gearbox interacting with the new M differential lock.
Have a suggestion for next week's featured image? Drop me a private message, entitle it "GTPlanet Vehicle of the Week" and fill it out with your two choices and they'll be featured in upcoming Rewinds. NOTE: You cannot elect your own work.
Forza Motorsport ALMS Challenge
Based on the real 2013 season of the American Le Mans Series, the ALMS Challenge is a season-long series of Rivals Mode racing events that will coincide with a race on the ALMS calendar. This month the challenge kicks off as it pits you right in the middle of Sebring International Raceway, home to the 12 Hours of Sebring, and the weapon of choice is the all-new 2013 #93 SRT Motorsport GTS-R. 
Post your best time in the event each month and you'll be rewarded with an in-game car complete with a custom ALMS Challenge livery. The top 500 finishers of each event will earn championship points, with the overall season winner winning an ALMS Challenge trophy at the end of the season.
GTPlanet Tune of the Week
This week's tune, recommended to us by danbojte sees us returning to the expert minds of RKM Motorsport as we focus on a tune put together for the 2012 Toyota GT86 by RKM's own Rotary Junkie. The tune, henceforth known as the "Initial D Fanboi's Wet Dream" is based around the aforementioned Toyota that develops 300 horsepower and 231 ft-lbs of torque. The car can be obtained from the NCD (New Car Dealership), but just like last week, instead of me going on any further why don't I just let the man himself break it down for you:
"There's something happening here, and what it is ain't exactly clear.
All we know is that every ID fanboi ever now needs new shorts… As does everyone who's driven this so far, for the same reason."
Of course you can find the tune here for your viewing and testing pleasures. Have fun!
Exactly like the Picture and Vehicle of the Week features, if you have any suggestions for the upcoming Rewinds be sure to drop me a private message, entitle it "GTPlanet Tune of the Week" and let me know. NOTE: You cannot elect your own work.
The Harlem Shake Comes to GT5
http://youtu.be/6XxSgUhQDWA
I'll be honest, prior to writing this up I had absolutely no idea what the Harlem Shake actually was and if YouTube is anything to go by – I still don't. In any case the dance, at least as it is now, has come to Gran Turismo 5 in the form of this video courtesy of our very own KraigA. The video features a variety of vehicles in what I can only describe as being an orchestrated bit of fun; the video may be short in it's entirety but it's definitely long enough to leave quite the lasting impression.
What starts out as 4 vehicles quickly becomes more in a mad scamper drought in tire smoke and spinning cars. It's a great bit of fun and is definitely worth the watch if you're in need of a smile for the day.
GT5 Photmode Competitions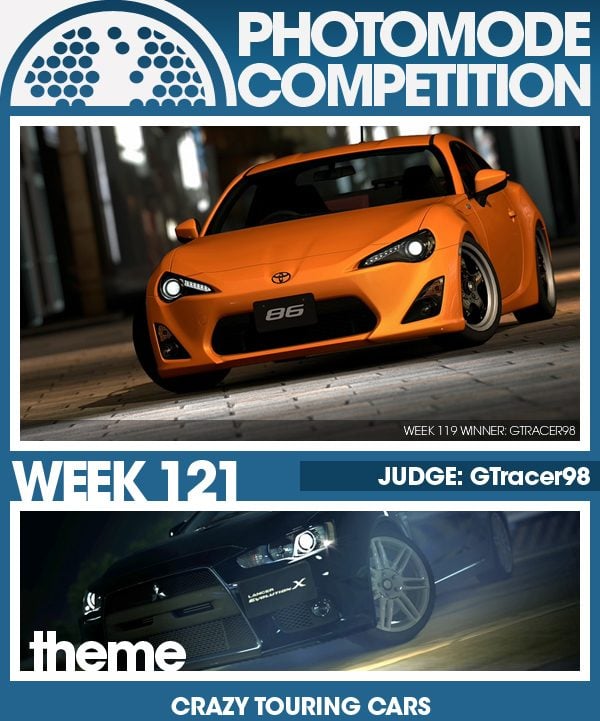 In Week 121 of the Standard and Advanced competitions you are to put your best foot forth and show the community just how seriously you take your in-game photography. All you need to know is as follows:
Week 121, Standard: Crazy Touring Cars – Touring cars is the name of the game this week if that wasn't readily apparent to you, so hop into any DTM or any other type of touring car and simply capture the action that touring car racing provides. What does that mean you ask? Overtakes. Close racing. Dirty, er, aggressive racing tactics – all keystones in your typical touring class race. So what are you still doing here? Go, get to it!
Week 121, Advanced 2.0: Aerial Assault – Stop what you're doing! How interesting does this sound right off the bat? I don't even need a description, just show me where I can sign on the dotted line! Oh, what's that, you want a description? Very well then, allow this week's Judge to explain things to you: "This week I'd like to see shots taken from up high, pretty much anything above the level of the roof of the car is acceptable. Now I know there's not a lot of height to be had with the limitation of the free cam mode but don't be afraid to to go for something different like any of the high positioned fixed cams. That's pretty much it, have fun guys!"
For all of the relevant information pertaining to this week's challenges be sure to stop by here and here.
Closing Thoughts
So I've been looking forward to this week's Rewind, perhaps more than any other because I knew it'd be the perfect test bed for my newly-acquired mechanical keyboard, and I must say that I have not been let down by any stretch of the imagination. For those of you undoubtedly wondering what a mechanical keyboard is, it's basically a keyboard where instead of a mushy feel to it there's this concise sensation of accuracy and feedback, because while a membrane keyboard (the type many of you are using) has to essentially bottom out before the keystroke is registered, the mechanical keyboard registers keystrokes with the gentlest of pressing.
The differences don't end there but to save you guys—and no doubt myself—from another F1-sized diatribe of nerdiness, I will simply digress and maybe even suggest (Dr. Seuss to the rescue!) that you head on over to Youtube and search "mechanical keyboard" and watch any video that comes up. Then and only then will the differences become apparent… and that's before actually typing with one.
I'm tired. The end. Until next week keep racing!
GTPlanet Photomode images by Nato_777 and hakalapetri.
More Posts On...
The original comments for this post are no longer available.