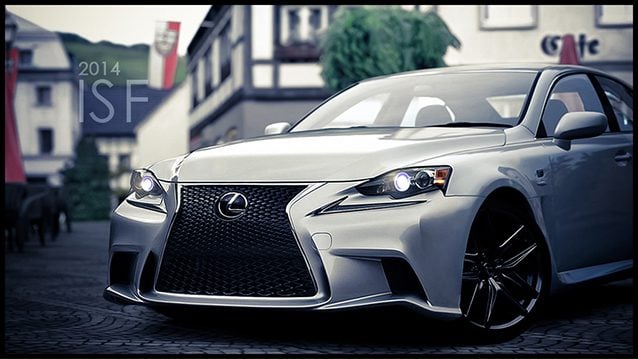 As of today's posting the GTP Rewind is three months old, quite the achievement for a weekly dose of what's been happening in the community at large here at GTPlanet. I know you're staring at the Lexus image above not paying a single solitary thought to what I'm saying right now, so allow me to quell any further thoughts regarding the image: that Lexus, the 2014 IS-F, is an edit and a shockingly fantastic one at that.
2013 has already been particularly good to me and it's only going to get better beginning next month as a slew of new game titles are due to hit the shelves, and I've been contemplating how best to go about dividing my attention and time between the myriad of games I'll be playing and the other hobbies I've adopted over time. Why can't money grow on trees?
Perish the thought. And now Connie with the latest news!
GTPlanet Picture of the Week
This week's picture comes to us courtesy of Sergey and features the S15 Silvia, clad in white, throttling down one of the straights at Trial Mountain in a masterful edit that makes me want to jump in my virtual Silvia and start snapping away.
Have a suggestion for next week's featured image? Drop me a private message, entitle it "GTPlanet Picture of the Week" and fill it out with your two choices and they'll be featured in upcoming Rewinds. NOTE: You cannot elect your own work.
GT vs. Real Life: Switzerland
GTPlanet member true_kiat took a trip to Switzerland a while back and returned with plenty of photographs comparing GT's tracks and photo travel locales, both old and new alike, to the real things and the results are—well you'll see for yourself shortly.
Comparing the new photo travel locations, Luzern's Chapel Bridge and Bern's Marketgasse shows just how meticulous PD can be when it comes to outright detail; of course nothing can replace seeing these locations in the real world, but for a long distance portal to locations you may be unable to visit for yourself it's always best that they're as realistically portrayed as possible.
Another location that came up was Grindelwald, an old time favorite featured in GT2. Going past Grindelwald you'll find the Bernese Alps featured in Forza Motorsport 4, and right in-between Grindelwald and the Bernese Alps lies Eiger Nordwand – a track that was, to my recollection, first introduced in Gran Turismo HD.
Be certain to stop by the thread here for more pictures and comparisons.
GTPlanet Community Unofficially Stomps out 2.10 Bug
Reported only yesterday is the unofficial solution for the 2.10 looping bug some members appear to have. The process may be lengthy, but in lieu of an official fix from PD should one come forth, if you're having this problem it's worth a shot to get your game back into it's normal functioning ways.
GTPlanet Vehicle of the Week
This week's featured vehicle was the last hoorah before being superseded by the Aventador, of course I'm referring to the one and only Lamborghini Murciélago LP 670-4 SV, recommended once again by our very own QuikSlvr223. The SuperVeloce ("Super Fast" when translated into English) is more powerful, lighter and faster than the base LP 640 and was confined to a limited run of only 350 models.
Of course the SV features more than just brute power in a lighter package, it also features an extensively redesigned front and rear end, the iconic and perhaps revolutionary engine cover and a choice of two aerodynamic setups featuring either a small or large rear spoiler. Everything about the last Murciélago shouts "full potential".
Have a suggestion for next week's featured image? Drop me a private message, entitle it "GTPlanet Vehicle of the Week" and fill it out with your two choices and they'll be featured in upcoming Rewinds. NOTE: You cannot elect your own work.
GTPlanet Tune of the Week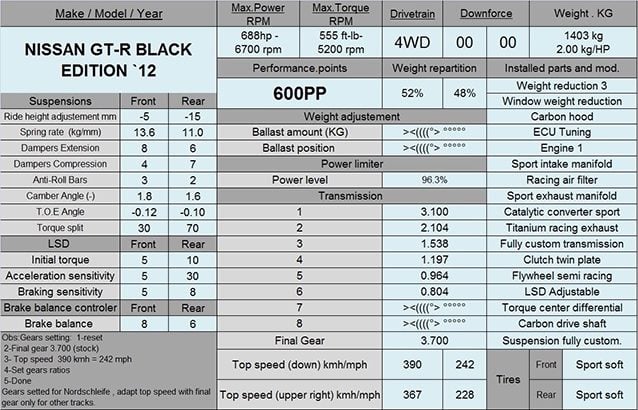 This week's tune, once again courtesy of our very own praiano63 of Praiano's Tunes, features the 2012 Nissan GT-R Black Edition and fits in right at home on tracks such as Deep Forest Raceway, Trial Mountain, Laguna Seca and of course, the Nürburgring Nordschleife. The tune itself is poised for events demanding a 600PP rocket, but is more than comfortable at being detumed for those events demanding the same rocket but at 580PP with Sports/Medium tires.
Exactly like the Picture and Vehicle of the Week features, if you have any suggestions for the upcoming Rewinds be sure to drop me a private message, entitle it "GTPlanet Tune of the Week" and let me know. NOTE: You cannot elect your own work.
GTPlanet Photomode Competitions
In Week 113 of the Standard and Advanced competitions you are to put your best foot forth and show the community just how seriously you take your in-game photography. All you need to know is as follows:
Week 113, Standard: Daytona 24 Hours – It's time for an endurance race at Daytona Speedway or anywhere else on the Floridian East Coast, and since then GT has yet to feature Daytona Prototypes you'll have to make due with the next best thing: Le Mans Prototypes; of course GT does have it's fair share of GT-class racers so there's no issues to be had there. As usual, take advantage of the surrounding environment and show off some endurance style!
Week 113, Advanced 2.0: Standing Out – This should be easy, right? Take your favorite vehicle to any track featured in the game and make sure it sticks out like the sorest of sore thumbs. What does that mean you ask? For example, your lime green BRZ in a field of black R33 GT-R's. Of course it doesn't just apply to colors, it could be a full-fledged racing monster (such as the Zonda R) in a field full of Kei cars – if that's not sticking out, then I don't know what is!
For all of the relevant information pertaining to this week's challenges be sure to stop by here and here.
Closing Thoughts
Apologies for the late arrival of the Rewind this week compared to the much earlier schedule I've set up over the past couple of weeks but I was suffering a bit of writer's block so I called it a night and now here we are – a page full of content just as any week before it. For those of you familiar with REV, the second issue is due sometime soon and will feature plenty of goodies to cause a shock-induced coma. If you're not familiar with REV then I would suggest you give it a read here or here for the Issuu Edition.
Until next week keep racing!
GT5 Photomode image by Spark_GTP and StrayShadow.
More Posts On...
The original comments for this post are no longer available.