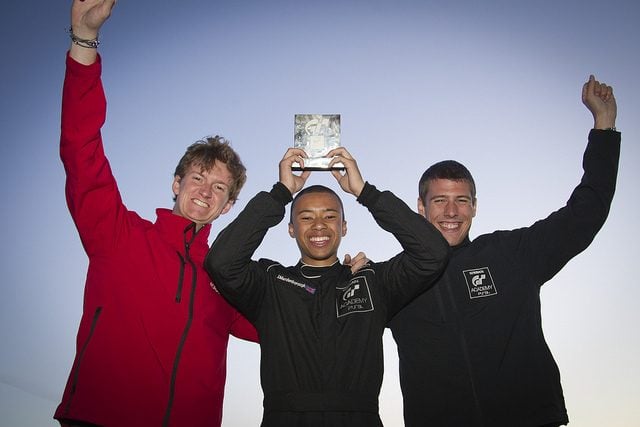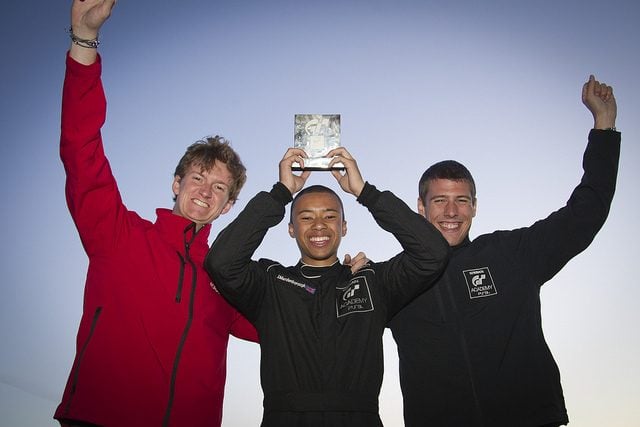 The first complete interview with 2011 European GT Academy winner Jann Mardenborough has been posted to GT Academy's Facebook page, and offers an interesting, inside look at the competition from the winner's eyes. Once again, congratulations, Jann!
Jann Mardenborough, how does it feel to be the 2011 GT Academy Winner?
Well, it's just about sunken in. I think I first felt it when I woke up on Sunday morning. It's an incredible feeling. If I have a bad day or if anything negative happens, I just think about being the GT Academy winner and it instantly puts a smile on my face.
What was your preparation for GT Academy like?
After Brands Hatch [the UK and Ireland territory final] I had one day of rest and then I went straight into solid training. Every two days I was in the gym, I worked on my running and did lots of core work for a minimum of two hours. I was so focused, I wanted it so bad. I just trained as hard as I could. If I didn't win, I made sure I could look myself in the mirror and know that I tried my best, trained as hard as I could and gave it my all. I didn't want to get to the final and be ill prepared and not take advantage of this once-in-a-lifetime experience.
How much of a help was your mentor Johnny Herbert?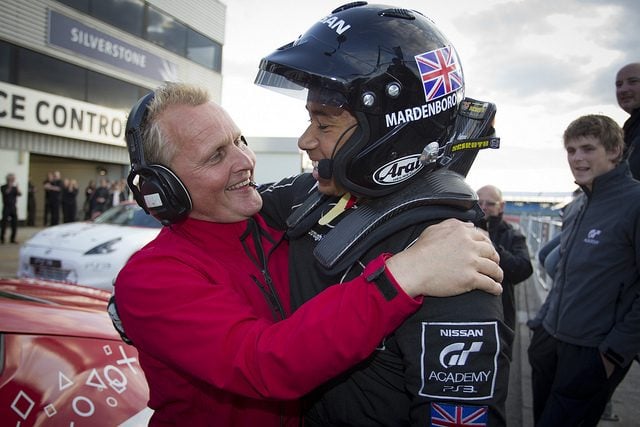 Johnny was a huge help. The first couple of days I was a little shy, it was a one way conversation. I didn't really know what to say to Johnny – he's a legend after all. Over the next couple of days, however, especially in the single-seaters, that changed. For first practice, he gave me tips on where I was losing 1.5 seconds. He gave me some good advice which I applied on track and immediately I was quicker. He told me to keep cool and, at that point, my performance sky rocketed.
What were the highs and what were lows of the event?
My lowest point was definitely the marines training challenge on the first day at Silverstone after Le Mans. As I mentioned, I trained really hard as I knew it would be tough. The challenge started with a sprint up the hill. I slipped and I felt my hamstring tweak a little. On the return journey, it completely let go – I couldn't bend my leg or do anything, I just had to lie on the ground. It was all very painful. I can laugh about it now, but I felt really bad.
The trainer was harsh and told me to roll away from the other competitors, I felt bad for them as they were all pushing themselves extremely hard and I was sat on the bus getting patched up. Rob Barff came along to see me, and, as I was eager to get out and compete in the activities, I asked if there were any light activities or running I could do to stretch my hamstring. He made me stay where I was, saying they were looking for a racing driver, not an SAS contender. Rob insisted they didn't want any of the competitors hurting themselves or doing further damage, so, reluctantly, I took their advice. However, I feel I proved myself physically in the triathlon event and demonstrated to the judges my physical ability.
The highlights of the event were the third and fourth days at Silverstone, I felt I was beginning to come into form and I particularly enjoyed the single-seaters, and the Nissan 370Z Benchmark tests were a lot of fun. I probably went fastest on the in lap as I got the chance to really nail the throttle. I felt that I was a lot more relaxed and there was fluidity to my driving. At the beginning of the day I was getting used to the grip and power of the cars, but towards the end I got into a rhythm.
The final race itself was a lot of fun, I thought I would be so focused I wouldn't really get a chance to actually enjoy the racing element, but I did. I got to go really fast and really enjoyed it. It was awesome.
What were the competitors like?
All the competitors were incredible both on and off the track. On the first night of race camp, my mum asked me who was a contender and I said everyone was a contender. To make it to this stage you needed to be seriously quick. Throughout the event they didn't disappoint. Everyone fought incredibly and everyone had the ability to win it. We all got along very well and in the evenings had lots of fun with pranks and general banter.
Tell us about the final race.
I started from pole, lead for a bit, Thibault Lacombe was fast and he soon caught up. Thibault managed to get passed me when I missed a gear – I grabbed second instead of fourth.
After that, I knew I would have to push and race hard if I wanted to win the race and, ultimately, the race seat at the Dubai 24hrs. I put my head down and got a good run out of Brooklands. I tried a move down the inside and that put him off slightly, Thibault ran wide at Copse and I went through. Thibault is a quick driver so I had to pull out a gap. It was a good feeling to get back in the lead. Once I was out in the lead, I had to keep calm, every single lap I was saying, "come on, come on". The radio wasn't working so I couldn't hear when the race would finish. Eventually when I saw the flag I was like, "yeah baby, yeah baby!" It was a killer race and the best way of wining the event.
You raced against Thibault Lacombe what were your thoughts of him?
Thibault was a class competitor. We raced incredibly hard in the last event and throughout. Some of last year's competitors, like Giacomo and Luca, have gone on to become racing drivers, so I hope Thibault does the same. He was an honourable participant and he pushed me hard so I'm sure he will be racing in the future. He's a great guy.
What have you learned about yourself?
Throughout the week, I learned a lot about myself and my mindset. I've also learned about other competitors and their gamesmanship, how they perform and psych one another out. It was fascinating! Ultimately I learned how much I want to become a racing driver and how to pick myself up when I'm down in the dumps. When I went off in the GT4 car I knew I had to bounce back and be competitive in the next event.
What was your friends and family reaction to you winning?
The reaction has been awesome; My Mum was driving when I told her that I had won. When she got home, she burst into tears. Apparently, she called my brother down from playing on the PlayStation and they jumped around the living room like mad men. I've been ringing all my family to tell them what I've accomplished. My friends were teasing me about it when I first entered the competition. That all changed when I got through to the Brands Hatch territory final. I joked that if I won GT Academy then I would hire a limo for a night out in Cardiff, so I'm looking forward to that night!
Did the previous winners give you any advice?
I spent a bit of time with the 2008 and 2010 winners, Lucas and Jordan, and got one key tip: keep focused and finish the race. It's really important that I complete the national races so I can get signatures on my license in time to race in the Dubai 24 hours. It would be very easy to race hard and retire thanks to silly mistakes or badly judged overtaking maneuvers.
More Posts On...
The original comments for this post are no longer available.