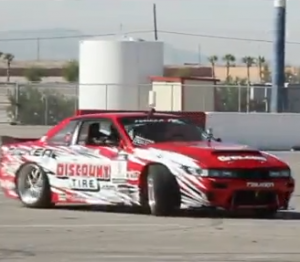 During his recent trip to Las Vegas for SEMA and the 2012 Gran Turismo Awards, Kazunori Yamauchi had a chance to get behind the wheel of Daijiro Yoshihara's (2011 Formula D Champion) Discount Tire/Falken Tire S13 drift car.
GTchannel has the full video, embedded above. The Gran Turismo series' creator was clearly very impressed by the experience.
"Professional drift cars are awesome," Kazunori said. "It was my first time drifting but I was surprised about how controllable a professional drift car was set up. I want to get into drifting more. I'm going to be asking Dai for more advice!"
Thanks to all of you who sent this in!
See more articles on Drifting, GT Channel, and Kazunori Yamauchi.