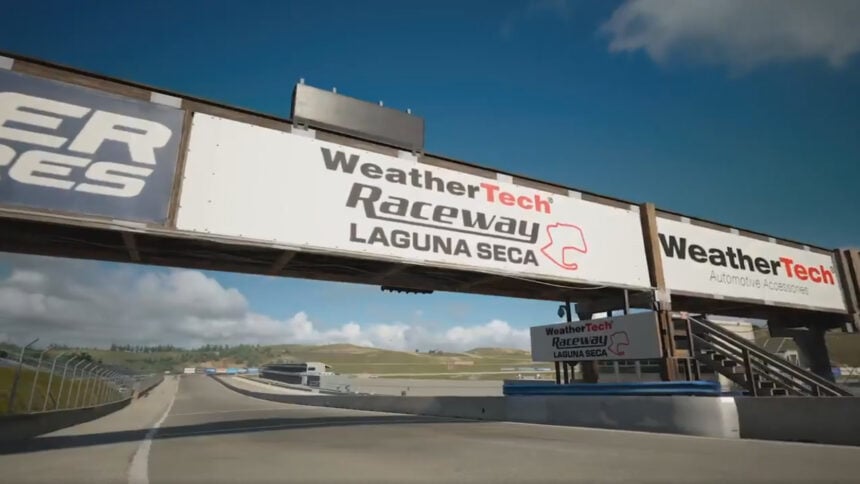 We were quite surprised when a leak last week revealed the fact that another famous real-world circuit was coming to GT Sport. A document circulated to players at this weekend's World Final showed Laguna Seca was next up on the track list, hot on the heels of October's new circuit, Spa-Francorchamps.
Now it appears that the track has gone from a leaked rumor to a full-blown confirmation. That comes via the official Gran Turismo YouTube channel which has posted a promotional video for this weekend's World Tour. It's only 30 seconds long, but it includes a short section consisting of views of the circuit. You get to see the main straight, the straight and footbridge between turns three and four, and — of course — the Corkscrew:
In case you're unfamiliar, Laguna Seca is one of the most important circuits in Gran Turismo history. The course in Monterey, California, was the first real-world track to appear in a Gran Turismo game, back in GT2, and it has appeared in every full game since up until GT Sport. After Circuit de Spa-Francorchamps, it's one of the fans' most-requested circuits to reappear.
We should note that, for now at least, it only appears as if Laguna Seca will be used in the World Final in Monaco this weekend. It took two months from Spa's first appearance until it arrived in the game, largely due to a quality control period, and we should expect a similar process with Laguna Seca.
In the meantime you can look forward to the track making a debut in the Manufacturer Series at the World Final on Saturday.
More Posts On...