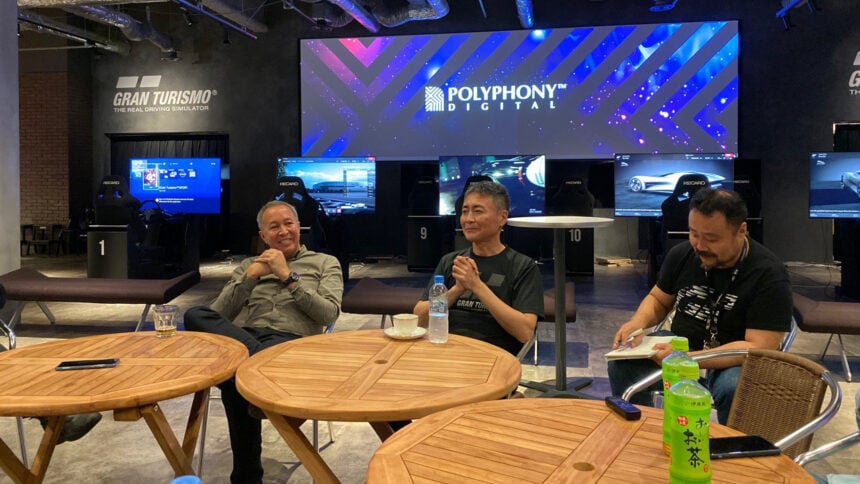 Since GT Sport launched two years ago, fans have been wondering where Circuit de Spa-Francorchamps went. The famous, challenging strip of asphalt in the Belgian Ardennes featured in both Gran Turismo 5 (as paid DLC) and Gran Turismo 6, but has been absent from the PS4 version… until now.
In an interview held at Polyphony Digital's new headquarters in Tokyo, Kazunori Yamauchi confirmed that the track will likely be on our home consoles with the next update, arriving next week. As part of a round table discussion, one of our media colleagues addressed the Spa question. Yamauchi's answer was right to the point:
"Spa I think will probably be playable next week."
That's good news for fans who've been asking about the track like Bart Simpson wondering about his elephant. It's certainly been a long-running saga, with the initial signs being poor. Even earlier this year it looked like an impasse over licensing wouldn't see the circuit's return any time soon. The track's owners were reportedly asking a lot of money — understandable as it's a famous track that's expensive to maintain — and the studio couldn't justify the cost compared to other circuits.
However this deadlock seemed to break two months back. Regular viewers will recall that we first saw the track in GT Sport back in August, at the live event in New York. Surprisingly the track didn't arrive in the post-event update. That's an unusual state of affairs for freshly revealed content, but viewers will have noted that some of the track's details — such as the start lights on the gantry — didn't seem to function correctly.
This turns out to have been an apt observation, explaining why the track didn't hit the public versions of the game to date. Yamauchi noted:
"The level we can use these tracks at the World Tour — at these events only — as opposed to something that will be released on a consumer level is very different. There is a process in between where we have to get down and check and double-check the quality."
It appears that Polyphony Digital has finished the quality control for the circuit and, at long last, it'll hit GT Sport with the update next week.
Stay tuned to GTPlanet for more on this, and other news from the World Tour Tokyo event.
Featured image (L-R): Julian Thomson, Jaguar Design; Kazunori Yamauchi, Polyphony Digital; Translator-san, Polyphony Digital
More Posts On...