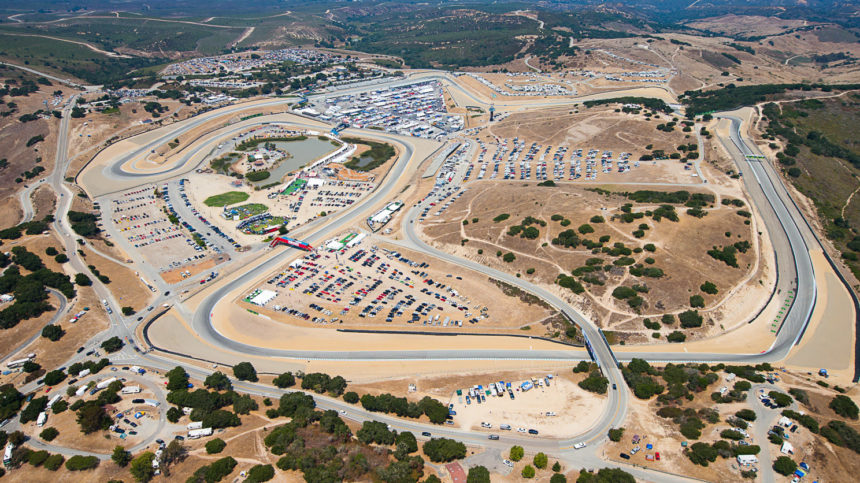 You wait ages for a new, famous real-world race track to come to GT Sport, then two come along at once…
After all the anticipation of Circuit de Spa-Francorchamps, Polyphony Digital finally whetted fans' appetites last month. There was no small discussion over what the community would turn its attention to with Spa no longer a focus, and Laguna Seca was the understudy.
This appears to be something that Polyphony Digital had anticipated as, according to what appears to be a reliable source, the Californian track is on its way next.
The information comes ahead of the GT Sport World Tour Final in Monaco next weekend. PD has posted a public schedule for the event, with information for one race missing — which usually indicates brand new content, making its debut. However, each of the attending drivers receives an information sheet ahead of time with the blanks filled in, and it appeared on our forums yesterday:
As you can see quite clearly, the missing race — from the Manufacturer Series finals — will use Gr.4 cars at Laguna Seca. The sheet even gives the track its full, official name of WeatherTech Raceway Laguna Seca.
Laguna Seca, near Monterey in California, is an important track in Gran Turismo history. While the first Gran Turismo featured exclusively fictional tracks, Gran Turismo 2 included Laguna Seca as a debut real circuit — one of two real locations in the game, along with an interpretation of a section of the Pikes Peak hill climb.
It's only 2.24 miles long, and features just 11 corners, but one of them is among the most famous corners in the world: the Corkscrew. This chicane, with a blind crest and a descent of almost 60 feet at a 16% gradient, is terrifying for novices and professionals alike.
Although we'd expect Laguna Seca to appear at the World Final next week, the appearance of its name in the official event documentation is not a confirmation — we'll have to wait and see. Even if it does make its bow there, fans may be waiting a little while before it arrives in-game.
More Posts On...