https://www.youtube.com/watch?v=IdU5T-sGlDo
A new video has surfaced from the Geneva Motor Show at the TAG Heuer booth showing the latest GT Sport build. The video, captured by GTPlanet user Yinato, shows the brand new HUD featuring the new timing displays courtesy of Polyphony Digital's partnership with TAG Heuer.
According to Yinato, the build was running on the standard PS4 but still looked impressive. He was kind enough to capture the full spectrum of available options and settings menus for us, and we've got a breakdown below.
The video starts by showcasing the options menu. A pretty standard GT affair, the controller menu shows us the officially-supported wheels that can be button mapped at this time: the Thrustmaster T150, T300RS, T500RS, and the Logitech G29. No sign as of yet of the new direct drive wheel we saw at the GT Sport launch event last year.
We then get a glimpse of the rather minimalist home menu, where not much has changed since the Copper Box event. Alongside the Discover section, the Livery Editor option is there — a feature we still haven't heard much about, but we're glad to see it still present.
Arcade Mode has received a small update. We're straight away prompted with the option of Race or Time Trial modes with a drift mode being absent (more on this later). There appears to be five main car categories: while we don't get a detailed description of every one, they seem to follow what has come before. Gr.N cars are stock vehicles, while Gr.4 is confirmed to be the GT equivalent to the FIA GT4 class.
Loading times seem average: Yinato selects the Nürburgring in the video, and on a standard PS4, the wait is almost exactly 30 seconds. The selectable times of day, first shown off at PSX this past December, can be selected once at the track.
Before jumping onto the grid, we get to see the new car setup menu in action. While it's mostly the same options as found in Gran Turismo 6 it is much better presented. Curiously, there are options for both Road and Drift at the top of the settings sheet: there's been no mention of a Drift mode so far, but perhaps one will be coming?
The biggest change we spotted in the familiar Driving Options menu was an additional third option for ABS (Off, Mild, and Strong). The Ranking Board is a tantalizing look at the return of a leaderboard system in Gran Turismo, offering both an overall records list as well as a breakdown of each class. Gr.N has a whole spread of sub-categories seemingly based around rough power levels, ranging from N1000 down to N200.
We then come to the actual racing HUD and this is easily the biggest change gleaned from the video. the Multi-Function Display (MFD) allows the players to change car settings on the fly, we see options to change Traction control, fuel map, Brake bias, etc all while racing.
Radar
Course Map
Time Information (with sector, last lap, best lap, and optimal lap displays)
Traction Control
Brake Balance
Torque Distribution
Fuel Map (?!)
That last one is new to Gran Turismo Sport, and given it ranges from "Power" to "Lean", we imagine it will play a major part in endurance strategy.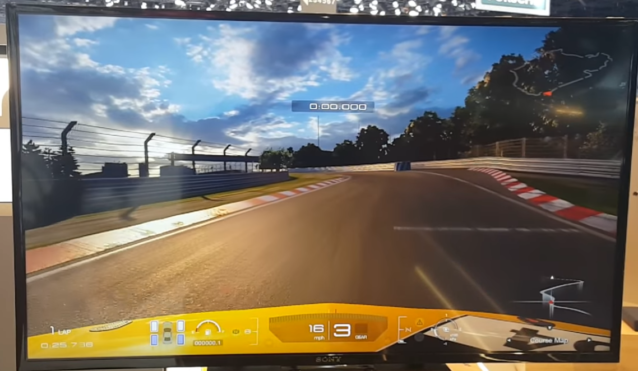 It remains to be seen what other mysteries may be hiding within this latest build. It certainly has us more excited to get our hands on the game (something fans won't have to wait long for, as the closed beta starts up this coming Friday).
You can check out Yinato's full experience with Gran Turismo Sport here. What else did you notice in his video? let us know in the comments and as always stay tuned to GTPlanet for GT Sport news.
Gran Turismo Sport is scheduled to launch later this year on PlayStation 4.
See more articles on Geneva Motor Show 2017, Polyphony Digital, and Tag Heuer.