After the excitement of yesterday's Manufacturer Series, today it's every man for himself at the GT Sport World Tour event in Tokyo.
The Nations Cup here is one last chance for someone to grab an automatic qualification spot for the World Final in Monaco. Win in Tokyo and you'll have no need to worry about online points or nation quotas, you've got a race seat waiting for you in four weeks.
We've had some controversial races in the Nations Cup this year. The racing in Germany saw Brazilian Igor Fraga win the title, despite both he and Cody Latkovski picking up post race penalties in an incident that put race leader Coque Lopez out on the final corner. Fraga was involved again in New York, getting another post-race penalty for what we'll call "The Lift".
The two other finals have been more straightforward, or at least more dominant. Nicolas Rubilar won the first event in Paris by a comfortable distance, while Hizal dominated in Salzburg from start to finish.
Tokyo is a little harder to predict. A last-minute equipment change has forced a few drivers to adapt to a new wheel. For drivers from outside the local timezone — Europeans and the Americas — some jet lag may come into play too.
That might hand an advantage to the more local competitors. Australian Cody Latkovski is a regular visitor to the podium, but yet to claim top step. More local still is Takuma Miyazono, who's shown excellent form since his first event in New York. We wouldn't write-off the Europeans though, and Coque Lopez might be able to claim a spot he could feel he was robbed of back in Germany.
We've got two returning champions, with Rubilar and Hizal both on track. Will they go all out for another win, or allow some glory to shine on another driver in the full knowledge they're already safe?
Either way, we're sure to see some interesting races, with both semi-final combinations still kept under wraps — hinting at new tracks or cars — and a final using the extraordinary 1980s-style F1500T-A at the wonderful Circuit de la Sarthe, also known as Le Mans.
The action gets underway at 0800 UTC (convert to your time here).
Driver guide: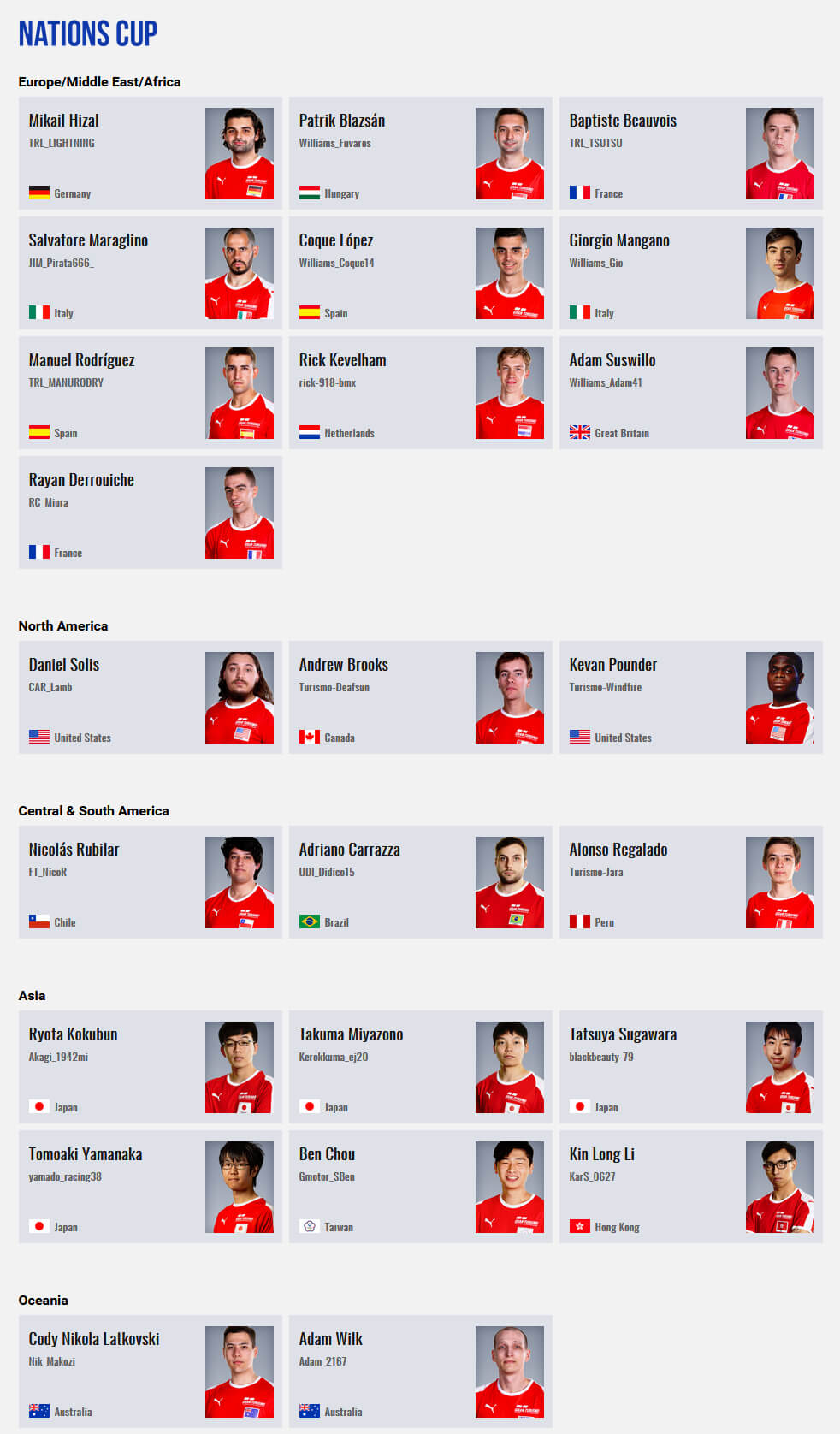 See more articles on GT Sport Nations Cup, Live Stream, and World Tour.