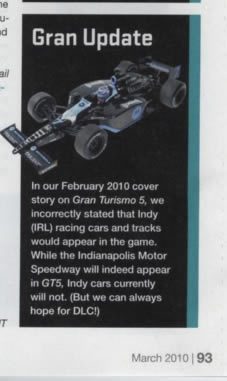 Remember the
PlayStation: The Official Magazine
article which
announced the Indy Racing League
would be coming to
GT5
? That was wrong, according to a correction listed in their latest issue as found by our own
RAZORBACK2015
:
In our February 2010 cover story on Gran Turismo 5, we incorrectly stated that Indy (IRL) racing cars and tracks would appear in the game. While the Indianapolis Motor Speedway will indeed appear in GT5, Indy cars currently will not.
It would be interesting to know the full story on how this happened, given how confidently it was written in the original article:
For the first time ever in the series, both NASCAR and – as exclusively revealed to PTOM – Indy (IRL) cars and tracks will be included in Gran Turismo 5.
While this obviously hurts our confidence in everything else they "announced" (most notably the confirmation of "weather" and "night racing on all tracks"), we can at least be thankful neither of those two important features were mentioned in this "Gran Update".
More Posts On...
The original comments for this post are no longer available.