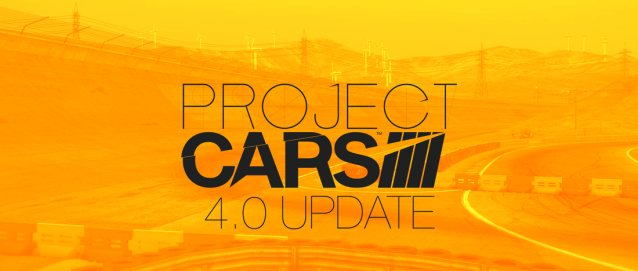 The latest major version update to Project CARS has been released to PS4 and PC owners, leaving XB1 owners once again looking to their brethren for a taste of what's to come.
As with the previous update, the primary focus for the patch is fixes for bugs and amendments to errors and oversights rather than new features, as the extensive patch notes reveal.
The PS4-specific portion of the patch contains:
[GUI] Enabled scrolling of the drivers list on the post race Standings screen.
[Controls] Fanatec – CSR Elite 2nd D-pad removed (as per SDK change); handbrake now works when attached to pedals via wheel base; added support for CSP connected via USB.
[Controls] Fanatec – upgraded to SDK 1.6.1, fixes reversing of the CSS shifter gear up/down sequential mode.
[Controls] Fixed an issue with the Fanatec CSS connected via USB to the PS4, the wheel paddles stopped functioning.
[General] Tweaks to gamma settings to closer match the PC and Xbox One platforms.
[General] Fixed a potential crash when returning from in-game to main menu.
[General] Fixed an issue with the rendering of shadow edges, improving overall shadow rendering.
While the PC version includes:
[Graphics] Enhanced Mirror option. When enabled, the rear view mirror resolution is doubled and the draw distance set to match the forward-looking draw distance.
[Leaderboards] Added an option to view the overall leaderboards for each track, showing the best times for all cars in the game.
[Leaderboards] Added an option to back out of changes in the leaderboards screen.
[Online] Fixed an occasional crash while in online mode.
[GUI] Enabled game exit via Gamepad back button, and display an exit confirmation dialogue.
[General] Improved general game stability.
[Servers] Lua scripting; as an alternative to external scripting via the server's HTTP API, the server now supports add-ons written in Lua.
[Servers] If the server advertises that it controls track selection, vehicle selection or vehicle class restriction, the game now correctly respects this and won't allow players choosing mismatching track/vehicle.
The rest of the patch notes are consistent between versions and, as is appropriate for a patch weighing in at over 3GB (1.8GB for the PC version), somewhat lengthy.
In Online mode players can now force default setups in the restrictions, while those lovely individuals who insist on driving the wrong way around circuits will become ethereal – their cars will be displayed as a ghost, with collisions disabled. Issues covering stuck AI following host abandonment, the inability to select the Bentley Continental GT3 and the in-game chatbox scrolling have been addressed, along with an issue where a player who had retired from the race could drive out of the garage again.
Minor tweaks have been made also to change the behaviour of terminally damaged cars, along with how cars classes are displayed and to retain lobby search filters.
For the Time Trial mode, the pause screen standings info has been changed to show real-time updated lap and standings info, and it now sorts the order of all active participants based on lap times. An issue where the player's ghost time for their session best didn't always exactly match his actual best of session time has also been fixed.
If Career mode is your focus, a whole fleet of changes has been made. The Contract system has been improved to allow for extra entry level contract awards when progressing to a new motorsport, or when only being offered a renewal for the current motorsport. A bug where the invitational events that require winning team championships weren't always unlocking – a particular bugbear on our forums – has been fixed, along with a fix to prevent DLC Career Accolades from being displayed if the player does not have the appropriate DLC pack, which prevented players from reaching 100% completion.
The mandatory pitstop opening lap will now scale when the player scales the length of the race, along with improved AI logic when it comes to mandatory pitstops, particularly with regards to changing weather. Another advantage over the AI has been removed, with a fix for the issue where the player would be placed first on the grid of race two in a multi-race round, after being disqualified from the first race – disqualified drivers will now be placed at the back of the grid.
A number of pitting and tuning issues have also been addressed. One notable one was with a selected tyre option saved to a setup prior to Patch 3.0, which would cause the game to crash if you attempted to use that saved setup after applying Patch 3.0. Bugs with tyre pressures and brake temperatures in pit stops have been addressed – not resetting in the case of the former and inappropriately resetting for the latter – while adjustments have also been made to fuel calculations when returning to pits during a practice session.
The team has also been looking at circuit cutting issues. Changes have been made to keep the AI on track when attempting bad passes at Sakitto's downhill Esses, that were causing the AI to hit the exit barriers. Improvements have been made at a number of circuits – including Silverstone, Barcelona, Greenwood, Dubai and the Nürburgring – to change the track cutting detection, and the transition from road to off-road has been adjusted as certain off-road surfaces caused too much jarring on the steering. A collision detection bug at the Mulsanne Corner at Le Mans has also been addressed.
A number of vehicles have had visual, physical, audio and display changes too. The list includes Audi A1 and R18 e-tron, BAC Mono, Bentley Speed 8, BMW 2002 Turbo and 320TC, Caterham SP300R, Ford Capri, Escort, Mustang 2+2 and Mustang GT, Ginetta GT3, Gumpert Apollo, Marek/RWD LMP cars, McLaren P1, Renault Clio and Ruf CTR and covers everything from tyre force feedback to the addition of KERS gauges. There's also been a minor adjustment to peak slip ratio for some of the soft cheater-slick road tyres for road cars.
SMS is nowhere near done yet! For wheel users, the steering wheel angle will now revert to always centering during menus, with a fix to prevent the wheel suddenly jolting when un-pausing the game. The issue where force feedback was still active when an AI team mate was driving the player's car has also been addressed. The Brake Assistance system has been modified too, so that people who are unable to use brake controllers at all can still play the game with this assist enabled.
When it comes to track information, there's been a number of changes. The point at which Forecast weather becomes Current weather in the UI display has been changed so that the info display changeover better matches what the player is seeing in-game. Track temperature is now displayed on all in-game menus, positioned uniformly across all in-game screens, and will be based on the unit system and language selected by the player.
For more general fixes, we see changes to the driving line assist. It can now be used only to show braking areas and an issue where it wouldn't be displayed if your particle setting in graphics was set to "off" has been addressed. An issue where vehicle windows would at times not render correctly when using centre cockpit cam and helmet cam has been fixed, along with the replay error where vehicle damage would automatically be repaired when watching a replay.
Last but not least, when adjusting real-time settings the player will now see a HUD message to indicate what the setting has been changed to. The HUD will display "N/A" in the real-time settings HUD messaging when a specific setting is not available due to it being disabled in the session or not present on the vehicle – and players will not be able to use hotkeys to enable assists in Community Events where the assists have been disabled.
For a full, bulletpointed list of all the changes in version 4.0 and some lively discussion thereof, please visit our forums!
More Posts On...
The original comments for this post are no longer available.