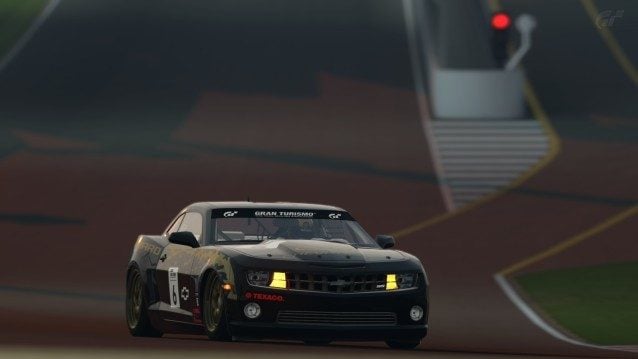 New seasonal events are now available in Gran Turismo 6. This week's events are the usual fare, a combination of super lap and drift trial challenges featuring non-race cars and race cars alike, whether they're from Britian or of the front-engine rear-wheel drive variety.
This week's prizes emphasize purebred racing machinery, with the only outcast being a V12-powered Italian sports car. The challenges are as follows, and remember to stop by our GT6 Seasonal Events forum for in-depth analysis and discussion, tips and tricks, and much more.
All events will be available through May 18th, 2015 at 0300 GMT/UTC.
British Non-Race Car Super Lap
Brands Hatch Grand Prix Circuit
Normal cars, 550PP Max, Sports/Medium compounds or less
Gold: 320,000cr; Silver: 160,000cr, Bronze: 96,000cr
Gift: Gold: Storm V12 Race Car '99

Silver: GT OLD GENERATION 010-C
Bronze: GT PASTELTONE 009-W
Race Car Super Lap
Cote d'Azur
Racing cars, 550PP Max, Racing/Hard compounds or less
Gold: 580,000cr; Silver: 290,000cr, Bronze: 170,000cr
Gift: Gold: R5 Turbo Rallye '85

Silver: GT MILITARY 006-W
Bronze: Matte Dark Gray
Non-Race Car Drift Trial
Monza, No Chicane
Normal cars, 5000 in. Max
Gold: 340,000cr; Silver: 170,000cr, Bronze: 102,000cr
Gift: Gold: Zonda C12S 7.3 '02

Silver: GT GUNMETAL 005-W
Bronze: GT JAPANESE 007-W
Front-Engine Rear-Wheel Drive Race Car Drift Trial
Fuji Speedway F
Racing cars
Gold: 640,000cr; Silver: 320,000cr, Bronze: 190,000cr
Gift: Gold: Corvette C5.R '00

Silver: Arancia Metallic Orange
Bronze: GT METALLIC 003-C
More Posts On...
The original comments for this post are no longer available.