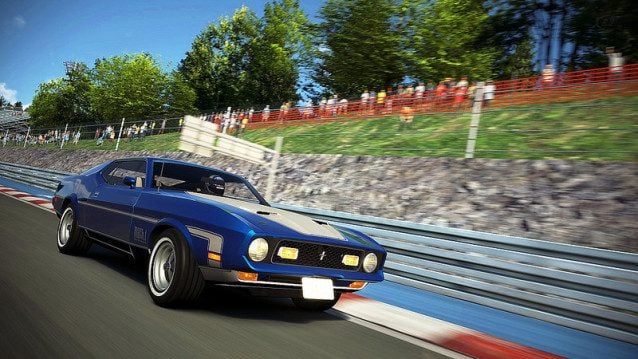 A new batch of seasonal events are now available in Gran Turismo 6, featuring beginner, intermediate, and expert level challenges involving an eclectic mix of machinery ranging from 90's Japanese classics to hot hatches. This week's challenges are as follows – remember to stop by our GT6 Seasonal Events forum for more analysis, discussion, tips, and tricks!
All events will be available through March 25th, 2015 at 22:00 GMT/UTC.
Beginner Level Japanese 90's Challenge

Special Stage Route 5, 3 Laps
Normal cars, 450PP max, Sports/Hard compounds or less
Year: 1999 or earlier
Gold: 95,000cr; Silver: 57,000cr, Bronze: 47,500cr
Gift: Matte Dark Green
Intermediate Level Muscle Car Battle

Trial Mountain Circuit, 5 Laps
Normal cars, 550PP max, Sports/Hard compounds or less
Gold: 130,000cr; Silver: 78,000cr, Bronze: 65,000cr
Gift: GT GREY 010-N
Expert Level European Hot Hatch Race

Circuito de Madrid Reverse, 5 Laps
Normal cars, 450PP max, Comfort/Soft compounds or less
Gold: 180,000cr; Silver: 108,000cr; Bronze: 90,000cr
Gift: GT METALLIC 001-C
GT6 Photomode image by RandomCarGuy17.
More Posts On...
The original comments for this post are no longer available.