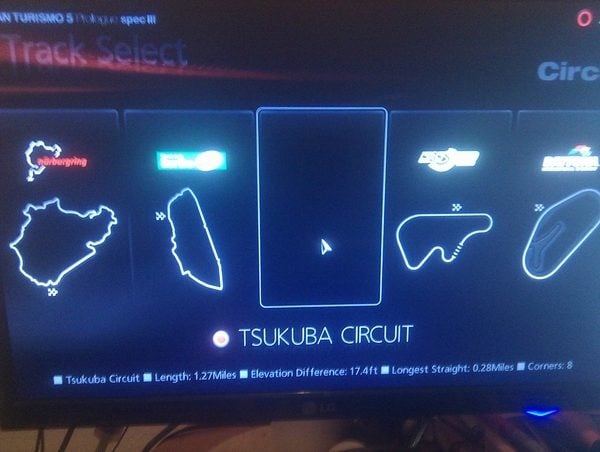 Just when you thought you'd explored every nook and cranny of GT5 Prologue and finally laid the game to rest, it's back from the dead with one more surprise up its sleeve: a super-secret "Special" menu. As revealed by @Mathieulh on Twitter, the Special menu gives you access to lots of hidden features. Notably, it shows several more tracks in the game such as the Nurburgring Nordschleife, Circuit de la Sarthe, and Tsukuba (though they can't actually be selected). You can make all the cars available, create a race and specify the make and model of each of your opponents, tinker with visible menu options, and more.
Admittedly, there aren't any major bombshells here – especially since we already have GT5 in our hands. However, this may be how some kiosks and demos were running "GT5 Prologue" versions of the Nurburgring and La Sarthe (perhaps they're accessible with other codes?), and it is frustrating to imagine those tracks may have been on our Prologue discs while we were waiting for the full game.
To see the menu for yourself, go to the Prologue's options and scroll down to the "Miscellaneous" category. While holding down the R1 and L1 buttons, press the following:
DOWN
RIGHT
RIGHT
DOWN
RIGHT
RIGHT
DOWN
RIGHT
RIGHT
DOWN
RIGHT
RIGHT
Next, press the START button, and the "Special" category will appear below the Miscellaneous. To see the menu in action, here's a video. Don't bother attempting this in the full version of GT5. It doesn't work, but there may be a similar menu hiding in there, somewhere…
See more articles on Circuit de la Sarthe and Tsukuba.