A "Nurburgring Special Edition" of Gran Turismo 5 Prologue is on display at the 24-hour endurance race of the Nurburgring Nordschleife. As one of the most popular circuits in Gran Turismo 4, there is perhaps no other track that Prologue owners want more. Here's a few shots of Nurburgring Special Edition in action (taken by Oliver Wegen of ringfotograf.de), along with video of a complete lap. Check out the rest of the images here.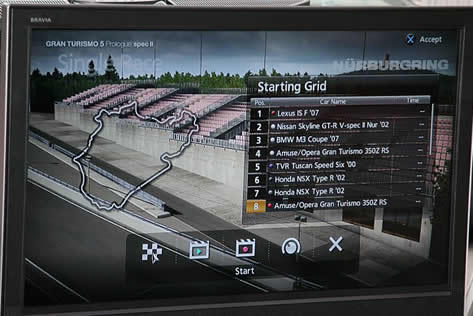 [HTML1]
Of course, many people have begun speculating that the circuit will be available to download soon, but this may be a bit optimistic. Closer inspection of the screenshots reveal that no changes have been made from the Gran Turismo 4 version of the circuit – it's the same "place" in high-definition. It is unlikely that Polyphony would release the circuit to the public without bringing the visual details up to par with the others in Gran Turismo 5 Prologue. It is also unlikely that a Prologue edition of the game, only intended to be a preview of things to come, would include such a highly anticipated part of the series. What do you think?
The original comments for this post are no longer available.