If you thought the 33rd "Racer X" wildcard position brought a dramatic twist to the U.S. GT Academy finals in San Diego last weekend, you'll be very surprised to find out what the competitors in Portugal had to contend with!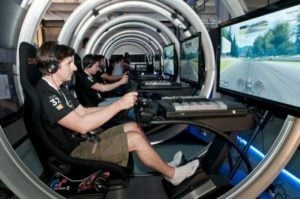 For the Portuguese national finals, there were not one but 16 wildcard positions up for grabs at a live, public time trial event. All of those players joined the other top 16 finalists from the country who had set their fastest laps in the GT Academy 2012 mini-game, any of whom could be eliminated in the first round of the two-day competition.
On the second day, the final 16 competitors faced another round of virtual and real driving challenges, including physical fitness tests similar to those seen in other European finals. At the end, three competitors survived to represent their country in the European GT Academy Boot Camp at Silverstone next month:
Raul Pereira
Diogo Sousa
Hugo Araújo
Our friends at GTOnlineRacing, a Portuguese Gran Turismo fan site, have done an excellent job documenting the wildcard competition, day one, and day two of the competition on their blog. Congratulations, gentlemen!
More Posts On...
The original comments for this post are no longer available.