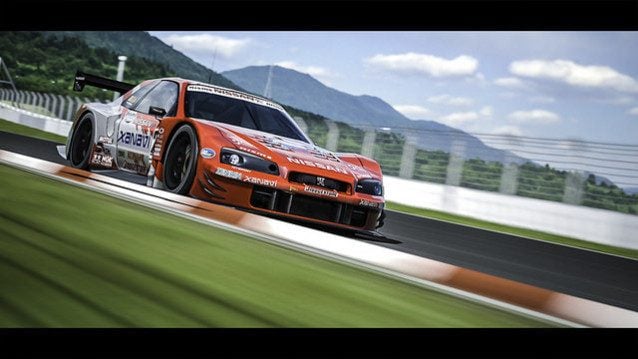 A new batch of seasonal events are now available in Gran Turismo 6, featuring rear-wheel drive non-race cars, GT500-class Super GT race cars, and race cars. This week's challenges are as follows, and remember to stop by our GT6 Seasonal Events forum for in-depth analysis and discussion, and tips and tricks.
All events will be available through May 27th, 2015 at 23:00 GMT/UTC.
Rear Wheel Drive Non-Race Car and Tuner Car Super Lap
Willow Springs Int'l Raceway – Streets of Willow
Normal and tuned cars, 500PP Max, Comfort/Soft compounds or less
Gold: 120,000cr; Silver: 72,000cr, Bronze: 36,000cr
Gift: GT GREY 002-N
GT500 Super Lap
Fuji Speedway F
600PP Max, Racing/Hard compounds or less
Gold: 260,000cr; Silver: 143,000cr, Bronze: 91,000cr
Gift: GT JAPANESE 007-W
Rear Wheel Drive Non-Race Car Drift Trial

Cape Ring South
Normal cars
Gold: 118,000cr; Silver: 71,000cr, Bronze: 35,400cr
Gift: Matte Light Green
Race Car Drift Trial
Fuji Speedway GT
Racing cars
Gold: 280,000cr; Silver: 140,000cr, Bronze: 84,000cr
Gift: Blue Metallic
GT6 Photomode image by Rayquaza.
More Posts On...
The original comments for this post are no longer available.