The Grand Tour trio is nothing if not persistent.
Back in Season 2, the most diminutive of the party had what one might call a bit of a whoopsies. From that point forward, not an episode went by without some reference to it. James May and Jeremy Clarkson took every opportunity to remind Richard Hammond that he had rendered a million-dollar electric hypercar nothing more than a burning husk.
In the same sort of vein arrives The Grand Tour Game. Boasting day-and-date episodic updates in step with the third season of Amazon's show, it's a companion piece of interactivity. Just like May and Clarkson ribbing Hamster about his Swiss bonfire, TGTG takes every opportunity to remind you of the show itself — much to its own detriment as a game.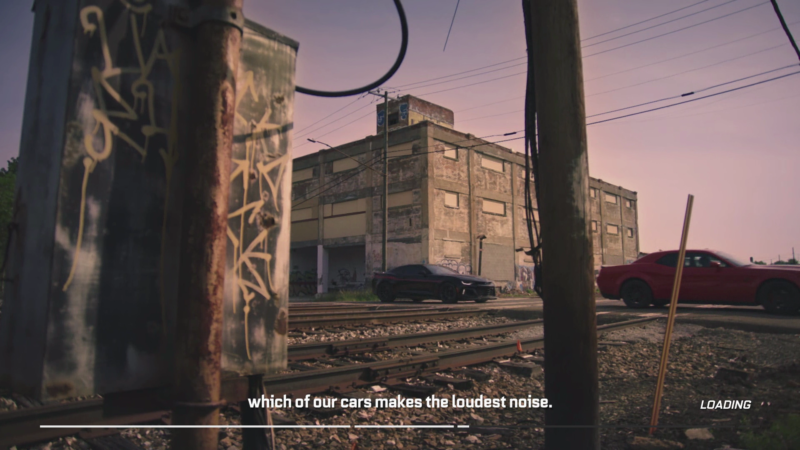 Content and Value For Money
Like the amount of content available in the game, I'll keep this section brief.
According to the basic stats available in TGTG, I've put in just over an hour of play. That's been enough to clear three episodes — the initial available duo, and the recent Season 3 opener — and explore the split-screen mode. So I've seen everything already.
Admittedly, there's new stuff coming every week from here until the end of the season, which means 12 more episodes. It's a new approach to the the racing genre, similar to ones that have worked elsewhere in the gaming landscape. Amazon's episodic approach fits well with the series, encouraging players to load up TGTG every week after watching the latest hijinks.
The problem is there really isn't much else to do. Each episode is more video than gameplay. No wonder there were all those copyright takedowns on YouTube. The show clips are punctuated by gameplay moments, and slight framerate hiccups aside, Amazon's promise of seamless transitions holds up. It might seem like a small detail, but it does help with getting you in the mood of the show.
As soon as it starts though, it's over. Each scene is never longer than five minutes. There's variety beyond running simple hot laps or beating one of the other middle-aged men to a finish line, such as pushing a decibel meter as far as it can go via burnouts or making sure Hammond doesn't scream in terror. But each feels better suited to a mobile title.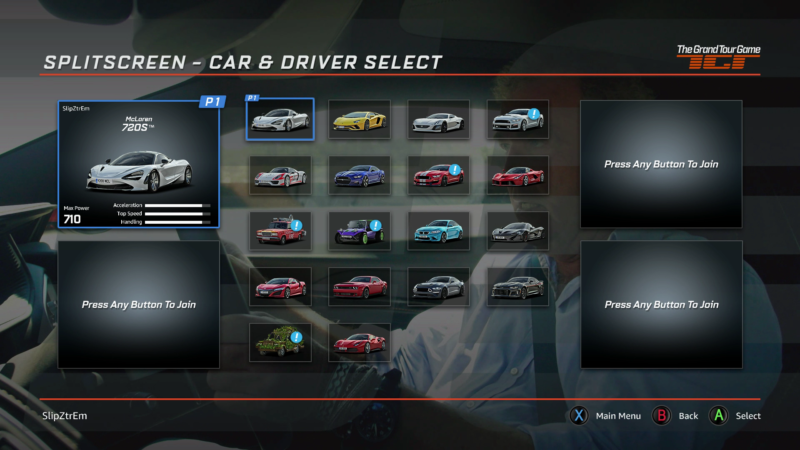 Tracks like the Eboladrome and Algarve are here, at least in name. They're both much shorter than the real deals, at least going by the insanely fast lap times. To make matters worse, the former comes with a barrier right down the middle of most of it. At least there's quite a lovely mountain pass, being a fantastic arcade rush with the scenic Alps in the background. The cars all match up too: Amazon's gone the distance and included the different Mustangs from the premiere instead of just adding one and calling it a day.
Outside of the episodes and their quick scenes, there's a local multiplayer option that can double as a single player arcade mode. It too is quick, with short races at most of the episode tracks. There are power-ups aplenty here, a la Mario Kart, but even that is fine within the context of the game: it's meant to be silly. And I'm sure that, if the threat of death or bodily harm wasn't a very real possibility on a race track, Clarkson, Hammond and May really would text each other during a race to distract. Or coat the surface with a slippery serving of palm oil…
One thing to note about this category: we're scoring it knowing that there will be more content coming with each new episode. So far each has made for very short work, and we're not expecting that to change. But if it does, and there's a massive expansion to the basic concept of the game some way through Season 3, we will be rescoring.
Online Features
The reason four-player split-screen feels old school is because it is. But it turns out it's on offer as the only form of multiplayer. No racing against other folks online, no checking your friends' records, nothing. The only nods to any semblance of internet connectivity are the enormous weekly downloads — that's what footage will do — and the option to watch the episode during any related gameplay or clips (so long as you've got that Amazon Prime subscription). That's it.
It's frankly a little embarrassing. Even at its discount price, half the appeal of The Grand Tour Game is reliving the adventures of the show with your mates. But unless they're sitting on the couch with you, that's just not an option.
Curiously, the Driving Record records time played online. Perhaps Amazon plans on including that down the road, but there's been no mention of it so far. Does that mean it's not coming on, then?
Driving Physics
I didn't come into TGTG expecting a full-on sim. I didn't even come into it expecting a competitor for something lighter like Forza Horizon 4. Pre-release word that it used the rFactor 2 engine in heavily modified form made sense: that's an adaptable base to shape into the sort of pick-up-and-play game Amazon wanted.
That's important, because The Grand Tour is an entertainment show that happens to feature cars, not a car show that happens to entertain. The target audience isn't just the person dropping four digits on a custom sim rig, not least because there's no wheel support. It's for that person's uncle, the one that laughs in unison with his kids each time Clarkson shouts "moar powah!"
Even with that qualifier, The Grand Tour Game disappoints. Every car handles more or less identically, with only the straight line power and shell differentiating. It's very much in the mould of classic arcade racers, but after the show goes to great lengths to put each cars' unique character into words for the viewer's sake, this undoes that.
There's a drift button, but its effect on the car is inconsistent. Low-speed physics are another of TGTG's bugbears, with cars awkwardly crabbing through the slow chicane of the Eboladrome. There's no adjustability either, be it in the cars or the control scheme and camera.
Graphics
This is arguably the best part of The Grand Tour Game, from a technical perspective anyway. Initial screenshots looked pretty janky, but the final product is commendably polished, especially for a new studio and a discount price.
The car models are accurate, the scenery is bright (if a little sparse and repetitive) and the sense of speed is good. It's not too far removed from titles like The Crew 2 or Need for Speed Payback. It's a shame then that there's no way to take any photos, or even watch replays.
The menus feel decidedly old-school in their simplicity and layout, and also because there's just not much to fill them up with.
With so much of the game being clips from the show, it's odd that said video looks washed out.
Sound Design
The Grand Tour theme song kicks off in the menu immediately, setting the right tone. This being an arcade racer, I consider good music a necessity, and there are some backing tunes throughout gameplay moments. They're quiet, but they at least somewhat fit whatever's going on on screen.
Engine notes sound… well, like engines. More or less. They're all quite tinny, with the 720S in particular sounding like it was filmed in the echoey theatre used for burnouts. Tire squeal is uniform, and there's very little atmospheric noises outside of generic bumps for the walls and a crinkly-paper noise when you go off-road.
Befitting its tie-in nature, there's a whole heap of soundbites from the hosting trio. They're sprinkled into gameplay and — rather annoyingly — every single time you fast-forward or rewind a show clip. Even as someone that enjoys watching the show for its entertainment value, these began to grate after the first few times.
The main issue with the quips from Clarkson & Co is that you'll likely hear them make the exact same comment in one of the episode clips. It adds to the repetitive nature and feels lazy. How hard would it have been to get some unique takes from the guys for the game?
The Verdict
When Amazon slashed the price of The Grand Tour Game mere days before its release, some took it as a sign. Turns out they were right.
Now, I'm not going to pretend I was expecting the next sim racing masterpiece here. But the basics for a solidly entertaining arcade racer were there on paper. With ex-Burnout and NFS employees behind it, The Grand Tour Game could have, with a bit more meat to its bones, leveraged its name to make a dent in the arcade racer market.
Instead, it feels like a title that was originally meant as a mobile game. The gameplay portions are snack-sized bites betwixt much longer clips of the show. There's long been an undercurrent of advertising in the racing genre — look at GT Sport's Tag Heuer and Lewis Hamilton "Brand Central" stations — but TGTG is the most shrewd about it yet. Depending on the budget for the game and the sales figures, maybe it's a better marketing move than straight-forward ads?
But, at least so far, it isn't very fun. The thrills are short-lived, and signs point to more of the same throughout the season. If you're a huge fan of the show and just need more content in your life, even if its a funhouse-mirror sort of Eboladrome, pick it up. If you want a satisfying arcade racer, look just about anywhere else.
The Grand Tour Game
Plenty of bomb and not much inside that shell,
TGTG
is an interactive ad with very little replay value.
Learn more about
how our rating system works
.
More Posts On...