A special Toyota model has arrived in GT Sport today, available to players who participated in a survey regarding the new GR Supra.
The car, with the slight mouthful of a name of 'Toyota GR Supra (Nurburgring 24 Hours Race 2019 Livery)', technically arrived in the v1.50 update. However, it was only available as an AI car. Today marks the first time it's become a part of player garages.
This Supra is based on the car that Toyota used to race in the 2019 Nurburgring 24 Hours. And when we say "Toyota", we mean both the brand and the person: Toyota's CEO Akio Toyoda actually raced the car under the pseudonym 'Morizo'. Along with Dutch driver Herwig Daenens, German Uwe Kleen, and countryman Masahiro Sasaki, Toyoda raced the car in the SP8T category — broadly equivalent to GT4.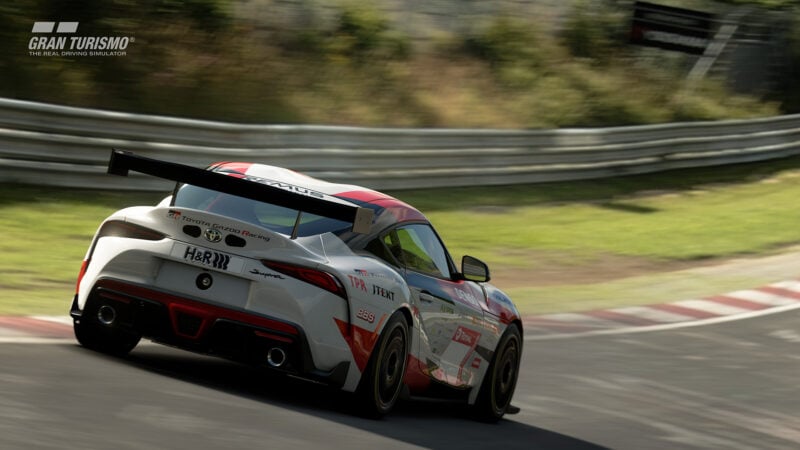 The game Supra is a little different. Like the real car fits into the Gr.4 category, akin to the real-world GT4, for road-based race cars. It clearly sports a number of exterior changes to qualify it for the class, including new aerodynamic parts, racing wheels and tires, and quick release hood pins. Oddly though, it retains a full road-car interior.
As the name suggests, it's the livery that sets the car apart too. The Supra wears the same Gazoo Racing livery as the SP8T car, aside from the door number. This plate is left blank for the game car, while the real race car used the #90 as a nod to the car's official internal "A90" chassis designation.
Along with the unusual nature of the car, acquiring it is a little out of the ordinary too. Polyphony Digital is only distributing the car to players who completed a Toyota Supra survey earlier in the year.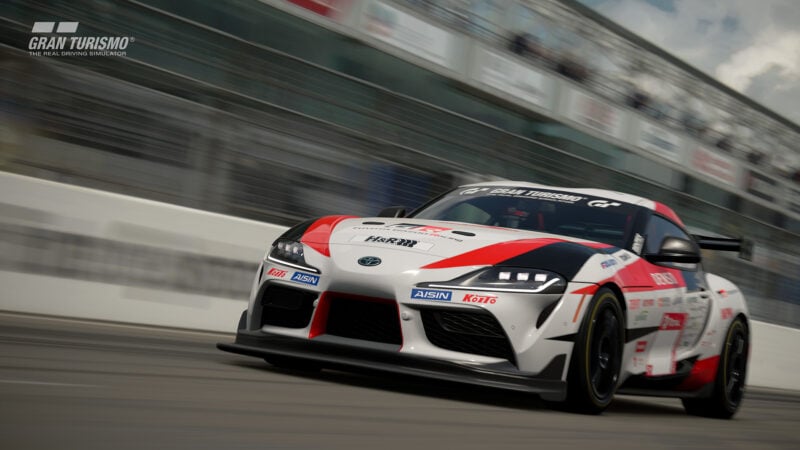 If you're not one of the 100,000 people who completed the survey, you've missed out, as you cannot purchase the car in the game. For those that did complete the survey, you should find the Supra appearing in your game automatically as of today.
It's a rather curious approach. Thus far Polyphony Digital has avoided splitting the player base up, but the Supra is now the second car in a month that's not available to all players. However it seems likely that a regular Gr.4 model of the Supra — with identical specifications but a proper race car interior — will follow along in due course so that other players are not at a competitive disadvantage in online events.
One point worth noting is that although you cannot buy this car, it's technically possible to sell it. Doing so would prevent you from reacquiring it by any means, so be careful when clearing your garage of duplicate Daily Mileage gift cars…
See more articles on Toyota Supra.