Before you read any further, keep in mind the information below should NOT be taken as confirmation that any of the following tracks will be in Gran Turismo 5. I am posting this here to get ahead of other media outlets who post this without more careful consideration of what may actually be shown in these images. With that said, the following is an interesting discovery you GTPlanet readers should know about.
In the three-part Nurburgring 24-Hours documentary just published by Polyphony Digital, you'll see several scenes from within the company's headquarters. In that footage, one very interesting screen shot of an employee's computer showing what appears to be a directory of "assets" or reference material for tracks both seen and un-seen in the GT series throughout the years. The text is in Japanese, but that didn't stop new GTPlanet user kyono from taking a closer look. His discoveries include the much-wanted Spa Franchorchamps, Pikes Peak, and the much-loved classic fantasy circuit from Gran Turismo 2, Grindelwald (refresh your memory here). Here's a picture: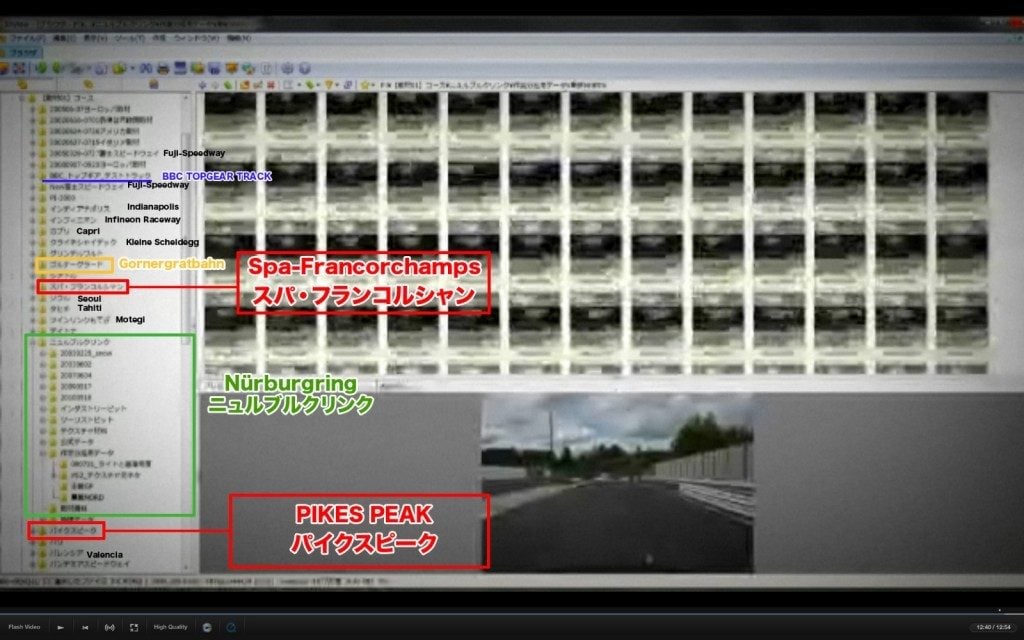 See more analysis of the screenshot here. Even if you can't read the language, you can double-check the translations by matching up the Japanese characters with Google: Spa Francorchamps, Pike's Peak, and Grindelwald (you'll find it in the image immediately above Gornergratbahn). Watch for this screen yourself at around 12:40 in the video below.
Here's a partial translation of the tracks visible in this list, kindly offered by SHIRAKAWA Akira in our forums:
????/ Europe ????
????????????
????????? America ????
????????? Italia ??????????
????? Fuji Speedway
????? Europe ????
BBC Top Gear Test Track
???? Fuji Speedway
?f-3000
Indianapolis
Infineon (raceway)
Capri
Kleine Scheidegg
Grindelwald
Gornergratbahn
Seattle
Spa Francorchamps
Seoul
Tahiti
Twin Ring Motegi
Daytona
Nurburgring
— [Nurburgring data files following]
— […]
Pikes Peak
Paris
Valencia
Bandimere Speedway (At least, that's my interpretation for what I read as バンヂミアスピードウェイ)
(See parts 2 and 3 here.)
Let me reiterate, there is no reason to believe this is the list of tracks in development for Gran Turismo 5. It's most likely a compilation of material for all the tracks that Polyphony Digital has included or has considered for their games. With that said, a Spa-Francorchamps sticker appeared on this suitcase in the company's studios (you'll also see a sticker for Monza, which was just confirmed). Also, a tipster with a perfect track record told me either Spa-Francorchamps or Indianapolis would be the track used for the GT Academy 2010 demo.
With this latest discovery, there is now no question for me that Polyphony Digital has studied the track. Whether or not they will include it in GT5, though, remains to be seen.
See more articles on Polyphony Digital and Spa Francorchamps.