The lack of weather conditions has been a frequent topic among critics of GT Sport. As we mentioned in our GT Sport review, the game looks better than its top competitors, but both Forza 7 and Project CARS 2 compensate with extensive weather simulations.
Of course, rainy conditions do exist in GT Sport, but only at one location: the gymkhana-inspired infield of Northern Isle Speedway. It's certainly not as intimidating as a wet Nürburgring Nordschleife (which you can race in foggy conditions), but it still looks quite good.
Here's some of our own gameplay video we captured back in October:
https://youtu.be/71Ry5lKOqZo
We recently had a chance to sit down with Gran Turismo creator Kazunori Yamauchi, and wet-weather tracks was one of the first things we asked about. Are more coming to the game?
His response began with a clear "yes". "It's just a matter of adding wet conditions to other tracks through updates," Kazunori said. "All of the cars in the game are already built to be compatible with rain and have working windshield wipers," he continued.
When asked if all tracks in the game would eventually feature weather conditions, however, he carefully tempered expectations.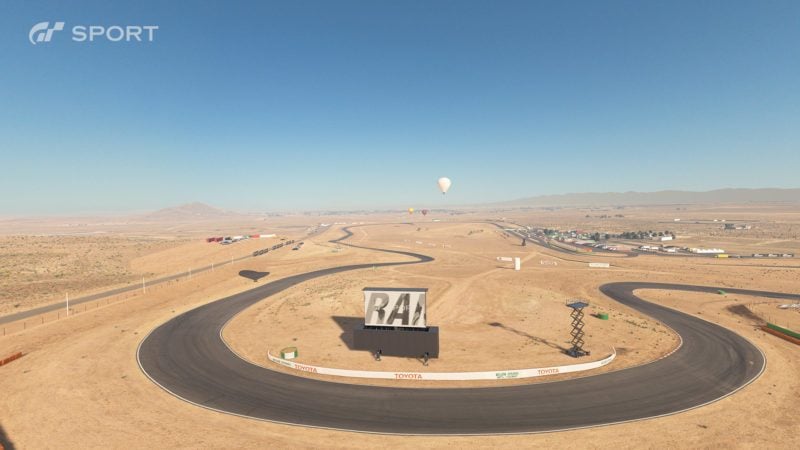 "[Weather] probably won't be on all of the tracks. For example, you don't need weather conditions at Willow Springs," he said with a laugh. Indeed, averaging only 6 inches of rainfall a year, it's safe to say Willow Springs isn't exactly a circuit known for its challenging weather conditions.
Although update 1.10 landed just last week, including 12 new cars, GT League, and a new track layout at Kyoto Driving Park, fans will definitely be looking forward to new weather conditions in 2018.
GT Sport Photomode image by Rage Racer.
See more articles on Interviews, Kazunori Yamauchi, Rain, and Weather.