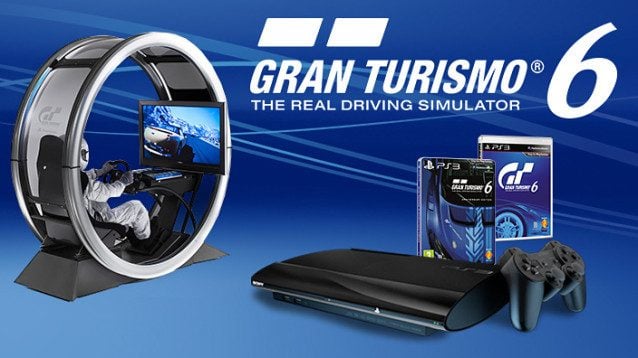 A new contest, the biggest promotional give-away we've seen yet, has opened up for hopeful players to win a full GT6 and PlayStation setup. Five winners will be chosen and all you have to do is be the fastest when it comes to recalling your Gran Turismo trivia.
To celebrate the release of Gran Turismo 6 and the 15th anniversary of the series, we're giving you the chance to win an official racing pod and a whole heap of Gran Turismo swag.

Five lucky winners will get:
• An official Gran Turismo racing pod.
• A 40-inch Sony Bravia TV.
• A Thrustmaster Steering Wheel and racing seat.
• A PlayStation 3 system.
• Gran Turismo 6 Anniversary Edition.

While 10 runners-up will receive:
• A PlayStation 3 system.
• Gran Turismo 6 Anniversary Edition.

To enter our competition based on the history of Gran Turismo, just answer six multiple choice questions correctly as quickly as possible. The fastest time wins.
Note this contest is only available to eligible participants in the following countries:
Austria, Australia, Belgium, Czech Republic, Denmark, Germany, Ireland, the Netherlands, New Zealand, Norway, Poland, Portugal, Russia, Slovakia, Spain, Switzerland and the United Kingdom.
Terms and conditions here. Good luck to all GTPlanet members who enter!
More Posts On...