Update 1.21 is now available to download for Driveclub. Weighing in at 533MB, the update introduces a new supercar awarded at driver level 66, new "Elite" driver levels, a new sprint mode, and rebalanced wet weather and night time event occurrences in Random Event.
New Supercar awarded for reaching Driver Level 66: The Renault R.S. 01!
12 new 'SPRINT' variations of DRIVECLUB tracks for Time Trial & Challenges: Cayoosh Point, Putre, Munnar, Goshodaira, Holmastad & The Kyle (including unique Sprints for the standard and reverse track versions).
10 more ELITE Driver Levels from 66 to 75. All levels have a new reward.
The Rimac Automobili Concept_One and VUHL 05 are better! We've modified the vehicle performance and handling for these 2 cars based on further collaboration with manufacturers and community feedback.
Adds support for the Thrustmaster TH8PA manual gear shifter (including sequential shifting and clutch support).
Car statistics are now detailed on the vehicle select screen: Drivetrain, Engine Position, Kerb Weight and more.
New default order of cars in the garage/vehicle select.
Rebalanced the frequency of wet weather and night time events in Random Event.
Added Club leaderboards to all Tour events in addition to the standard solo leaderboards.
New option when sending a challenge to filter your Friends list to show DRIVECLUB players.
Stunning new photo added to the loading screen (Credit: GTPlanet's own RL_23 at Imgur).
Includes general improvements for game performance, stability and usability.
Update 1.21 arrives in preparation for the imminent arrival of the Ferrari 488 GTB, making its virtual debut in Driveclub next week.
Update 1.21 Add-ons (available for download from PlayStation®Store on August 25 worldwide):
Support for the Ferrari 488 GTB (coming to PlayStation®Store as a free download).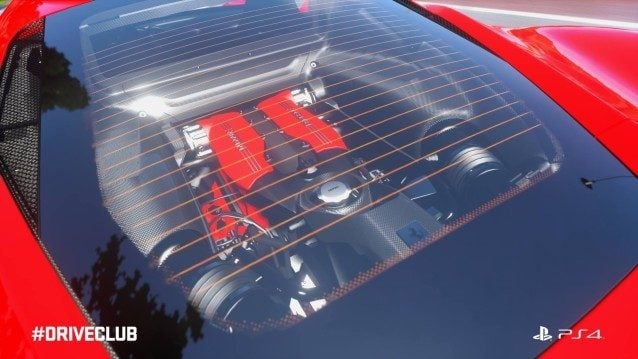 The game will continue to improve as the weeks go by and the following notes are of important developments to be made aware that will be coming some time after 1.21.
Development of Private multiplayer lobbies is well underway! When it's added you'll be able to modify the rules and settings for private multiplayer events with friends.
New tracks are in the works, plus we're going to add many more SPRINT mode tracks for you to play in Time Trial & Challenges!
DRIVECLUB app: The game and servers have changed significantly since we first brought out the MYDRIVECLUB app last year, so we're currently building a new app and will share more info when we can.
More Game Updates: As always we will continue to make improvements and add features based on your feedback. Please keep sharing your thoughts with us to help us evolve the game around you.
Remember to stop by our Driveclub forum for more discussion and in-depth discussion.
See more articles on Driveclub and Driveclub Game Updates.