I'm facing the wrong way. Again.
It's an overcast Tuesday and I'm sitting behind the digital wheel of Lando Norris' 2018 Formula 2 car at Silverstone. The car itself is somewhere off in the weeds outside Aintree corner.
Where I'm actually sitting is within Hamburg's glorious Prototyp Museum. Codemasters has generously invited me here to be one of the first members of the press to try F1 2019. Not only am I able to get some quality seat time with the game ahead of its late-June release, but I have unfettered access to members of the development team.
This provides plenty of opportunity to learn what's new and improved in this year's title. Over the course of the day I find out more on the game's improved physics, the esport-friendly Super License, an updated replay system, and the addition of a new Ross Brawn-designed 2019 spec F1 car. But the addition of the Formula 2 feeder series is arguably the biggest news, so it seems an appropriate place to start.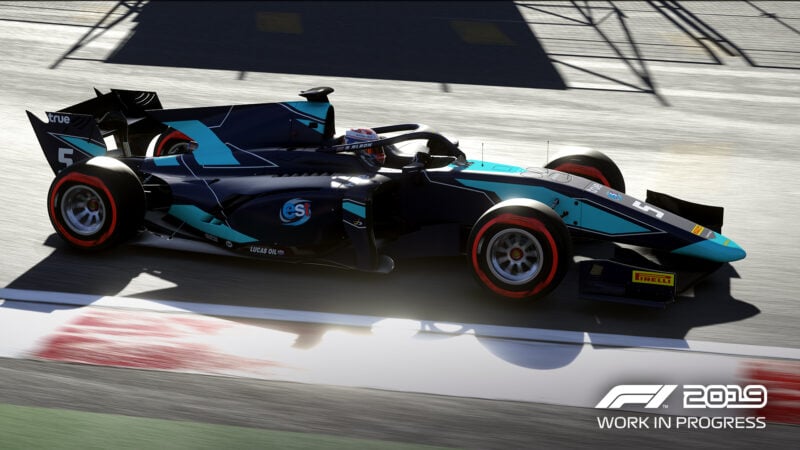 Formula 2: A New Challenger Appears
The addition of Formula 2 makes a lot of sense. One of the greatest strengths of the F1 games this generation has been their in-depth single-player modes. F2 will now extend that further, with players starting their careers on one of the 10 available squads, plus a Driver Academy. A short three-race prologue will get you started here, where you'll meet two new characters who will serve as friends and rivals in your progress to the F1 circus.
Multiple cutscenes will expand on the narrative, with last year's press interview feature playing heavily into proceedings. New this year is the ability to view the transcripts of other drivers' own interviews, adding to the psychological warfare.
But you're reading GTPlanet. You want to know how the cars drive, right?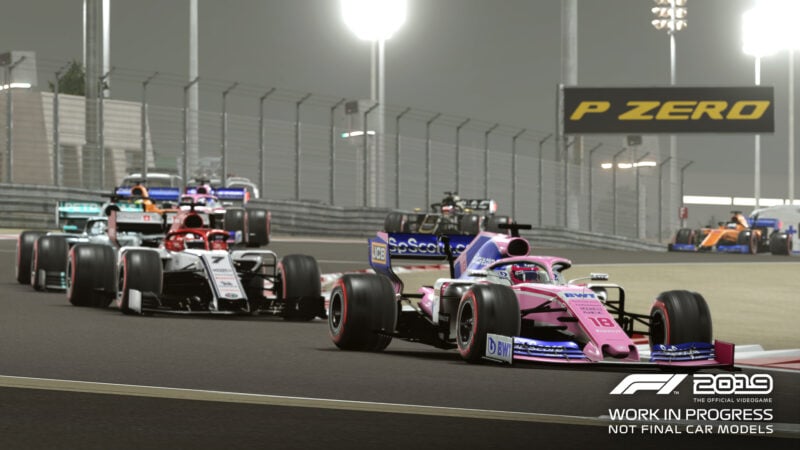 Physics and Handling: Wheel Great, Pad Good
Back to Silverstone. The F2 is a tricky beast: it certainly feels (comparatively) slower and more analog than the F1 cars. It features a turbocharged V6 much like its bigger brothers, but the engine is over twice the displacement. This gives it a much torquier profile, which translates into a need for smoother throttle inputs than series regulars may be used to.
Aintree is a fast left-hand kink, with no need to lift in an F1 car. With all the available downforce, it's a no-brainer, unless you're near another car. That's not the case with the Carlin F2 car I find myself in. Even in fourth gear, getting greedy with the throttle spins the rears up, with the bit of steering lock I've applied only exacerbating the situation. It's possible to catch the slide in its early moments, right when the rears make their intentions to overtake the front of the car clear, but you need razor-sharp responses and exact amounts to do so.
I, quite apparently, do not have them.
Moving to the main event, this year's F1 cars stick to the road even better than 2018's. It makes them easier to drive in isolation, though intentionally getting them out of shape reveals a nasty side. Much like handling designer David Greco said in our interview, grip drops considerably when you overdrive a car. The tires feel overwhelmed, and it takes some amount of time to get them acting normal again. It really does encourage smooth inputs. A full simulation grand prix will require consistent tire care, as a single long slide could ruin a set of rubber.
https://phoenix.playwire.com/en/publishers/1021099/videos/5480546
I also briefly try one of the classic cars. The available options are, as you'd expect, either Senna or Prost. Like nearly everybody else at the event, I pick Senna. Taking part in an overtaking challenge at Monza, the McLaren MP4/5's helm feels heavier than its modern brethren, but lacks the pinpoint accuracy of 2019 cars. Its simpler drivetrain makes it less of a handful out of corners however, with the big rear tires soaking up the V10's torque with ease.
All of the above takes place on one of the many Fanatec setups lining the main room. I spy an opening on one of the two pods in the center and quickly slot into the new Fanatec/Playseat F1-style chair. It's this pair that features the Podium Series direct drive wheel. It's a beaut: the force feedback is incredibly smooth and consistent, with a steely hint of the sheer power this setup is capable of. Moving back into Norris' F2 car, the wheel takes on a level of heft I haven't witnessed until now. There's no power-steering in these cars, and the difference is much more palpable with the Podium. It's a boon for finding the exact amount of lock required for any particular corner.
A bank of PCs using a standard Xbox controller is also available. I try the cars there, and find the pad optimization generally quite good. There is one fly in the ointment, however: there seems like a slight delay when winding steering lock off. It isn't general input delay, but more like an over-smoothing of the stick returning to center. Without diving into the in-game settings, it's unclear how much players will be able to tailor this to their own tastes.
Overall, F1 2019 feels like an evolution of 2018. It doesn't tear up the rulebook, but it takes a detail-oriented approach to moving on the physics game. It's a more natural steer than what's come before, without sacrificing accessibility. Novices can still load up plenty of driver assists to avoid frustration. Meanwhile, those looking for a challenge can turn them all off and find one, especially with Formula 2.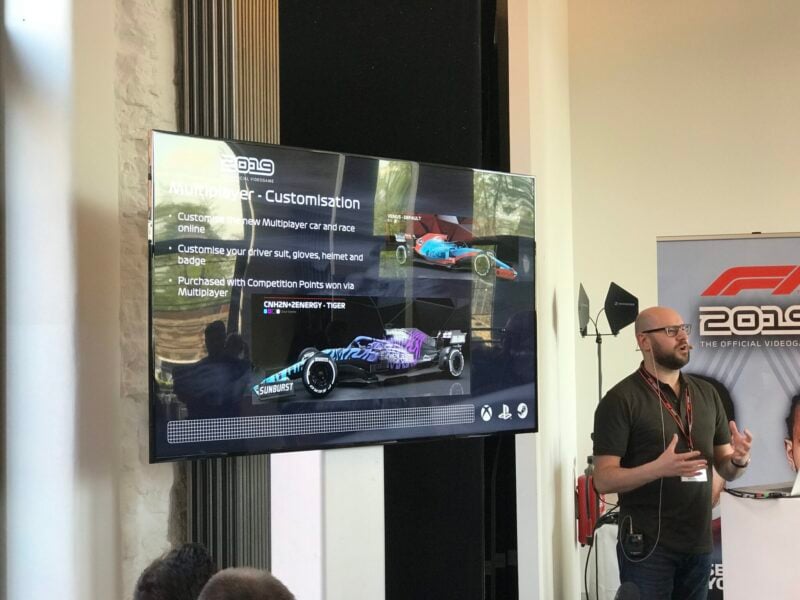 The Name of the Game is Customization
One of the surprise aspects of the initial F1 2019 announcement was the 2019 spec car. The brainchild of Codemasters, Ross Brawn, and Pat Symonds, it opens the door to a new level of player customization not previously available in the franchise.
First, the bad news for budding designers: while the spec car will feature driver-selectable liveries, it won't be a fully-fledged livery editor a la Forza or Gran Turismo. However, Codemasters promises multiple basic templates will be available, and players will be able to change as many as four different colors to complement the livery. They'll be able to do the same for their driver suits and helmets. Essentially there's enough variables to make it unlikely you'll line up on the grid against another identical car online.
Unlocking these different designs will be possible via the multiplayer modes as well. Players will earn Competition Points through various events. This aspect of the game is ripe for post-launch expansion, including tie-ins to the bigger F1 Esports Series of 2019 too.
https://phoenix.playwire.com/en/publishers/1021099/videos/5480548
Super License Changes and Improved Esports Integration
Codemasters introduced a basic driver rating system in F1 2018. The Super License returns for '19, with a handful of new features.
Working in conjunction with the robust Multiplayer Leagues, the Super License will now feature a trophy cabinet. Here you'll be able to view your multiplayer driving history, and even compare it to other players.
Also new is an attendance rating. This provides players a snapshot of their multiplayer completion percentage. League organizers will be able to set minimum levels for attendance: if a player's presence is spotty at best, they may find themselves locked out of certain events. It's an easy way to get a rough idea of the reliability of other players.
Related to the Super License is the F1 Esport Series itself. It will get a dedicated section of the main game menu, allowing players to easily access content from the ongoing championship. Here you'll be able to check out schedules, watch past replays, or even tune into a current race if one is live.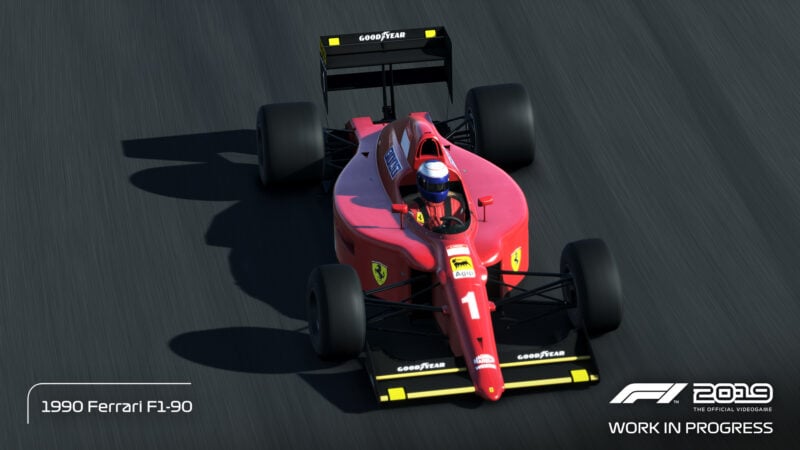 New Replay Highlight Feature Shows Off Your Best Moves
As esports get bigger every year, the spectator experience is nearly as important as the one for the driver. Codemasters has heard the call, and given its replay system an overhaul for 2019.
Up first is a new highlight reel feature. Much like the real deal, this will give players a short, roughly 60-second overview of their best moments during a race. It will include special effects like slow motion, which should please content creators and general players alike. What's more, on PC, players will be able to automatically export this to a video format.
More Authenticity
We end on a small but important note for immersion. Codemasters has looked to the real-world F1 championship to update aspects of the GUI. Notifications for things like fastest laps or yellow flags now match the same pop-ups as the official broadcast. Mixed in with the now-standard commentary — for both F1 and F2 this year — it should give F1 2019 a continued edge in terms of real-world synergies.
That wraps our in-depth coverage of the F1 2019 preview event. The game launches June 28, or three days earlier for those that pre-order the Legends Edition. Stay tuned for more on it as we get closer to that release date.
See more articles on Codemasters and Preview.