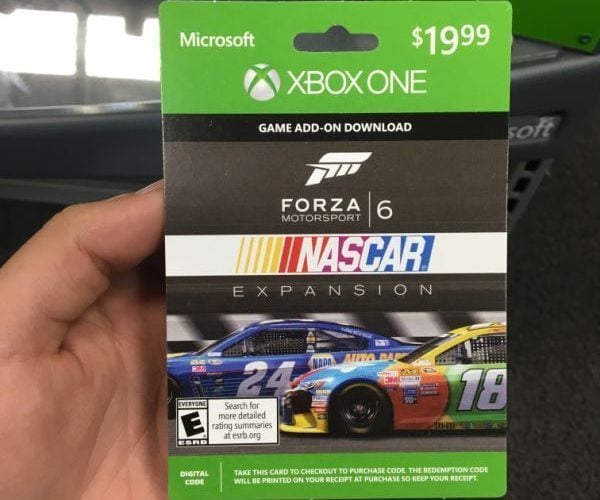 Fans of American stock car racing will soon have a new option on consoles: Forza 6 will include them in an upcoming expansion. As we reported last week, the upcoming pack (the second of its kind, after the Porsche Expansion Pack) should have 24 cars from the current 2016 season, alongside Homestead-Miami Speedway, as well as new HUD features for drafting and car spotting.
While Turn 10 has not officially commented on the pack yet, the release is all but confirmed after two recent spottings. First, official Forza forum user SnickLeFritz813 captured the download card on the sales floor of a Best Buy in Culver City, CA. The card confirms the car count and new track addition, though there's still no solid word on whether the vehicles will be pulled solely from the top-shelf Sprint Cup class or not.
The second leak comes from Turn 10 themselves. Whether intentional or not, an in-game prompt for users to try a new NASCAR-themed Rivals challenge popped up in some players' inboxes earlier today. That's a press release away from official, then!
All signs point to a release this coming Tuesday, May 17. GTPlanet will be ready and waiting for the official release, in what's quickly turning into quite a busy week…
Hat tips to both ZDUPH and The Stig Farmer for uncovering the leaks!
More Posts On...
The original comments for this post are no longer available.