The wait is nearly over: the next entry in the open-world racer has officially gone gold. Releasing on the 27th of next month, and four days earlier for those with early access courtesy of the Ultimate Edition, Forza Horizon 3 is set to deliver plenty of fun from down under.
With the game well on its way to final retail disc printing and prepared for digital release, to commemorate the occasion Turn 10 have taken it upon themselves to share previously unknown details, including PC specs for Windows 10 users, the game's list of achievements, and an additional vehicle to the car roster that Halo players will certainly appreciate.
The 2554 AMG Transport Dynamics M12S Warthog CST will be available at the launch of Horizon 3, and the only prerequisite is having played Halo 5: Guardians or Halo: The Master Chief Collection. Those eligible will receive codes to download the Warthog starting on the week of September 5th.
If you haven't played either of the two games, fear not, you'll have an opportunity to claim this 720 hp twin-turbocharged V8 monstrosity for yourself via a special Forzathon event coming to the game in October.
Veteran players will be quick to point out that while this is the first time the Warthog has been a playable vehicle, it isn't the first time the ground vehicle has appeared in a Forza game. The turret-mounted sibling, the M12 FAV (Force Application Vehicle), was previously seen in Forza Motorsport 4 as an exclusive Autovista model.
The Warthog joins the most diverse car list yet seen in a Horizon title, with 3-wheeled Reliants rubbing shoulders (and rolling over) Aussie icons new and old, and the expected new-age sports cars. The title also marks the first time off-road buggies will be included in the franchise.
Whether it be the return of the Auction House, Horizon Blueprint, the aforementioned Forzathon, or even cross-play between Xbox One and Windows 10 racers, there's no denying there's going to be plenty to keep players occupied. If you're anxious to know what awaits you in a few weeks, Turn 10 have unleashed the entire list of achievements for the game. We've included a sampling down below:
Welcome to Your Horizon – Open Festival with the first Showcase (10 GS)
You're the Boss – Upgrade the Festival for the first time (10 GS)
One of Us – Win your first Exhibition race as Horizon Festival Boss (10 GS)
Stay on Target – Get a gold medal from a Danger Sign (10 GS)
"Do you even… oh, you do" – Get 3 Stars through a Drift Zone (10 GS)
You're Hired! – Hire a Drivatar into your Drivatar Line-Up (10 GS)
You're Fired! – Fill your Drivatar Line-Up and fire a Drivatar to make way for another (20 GS)
Racer's Paradise – Open a Festival in Surfers Paradise (20 GS)
First Time Buyer – Visit the Autoshow and buy your first car (10 GS)
The Architect – Create your first Blueprint (10 GS)
The Player – Complete another player's Exhibition Blueprint (10 GS)
Champ – Win your first Championship (10 GS)
Tonight We Ride – Win your first Street Race (10 GS)
I'll Just Take This Now – Win your first Midnight Battle (10 GS)
Street Racing Champion – Win every Street Race and Midnight Battle (50 GS)
Like a Needle in The Outback – Find your first Barn Find (10 GS)
You can find the entire list on the original announcement page here.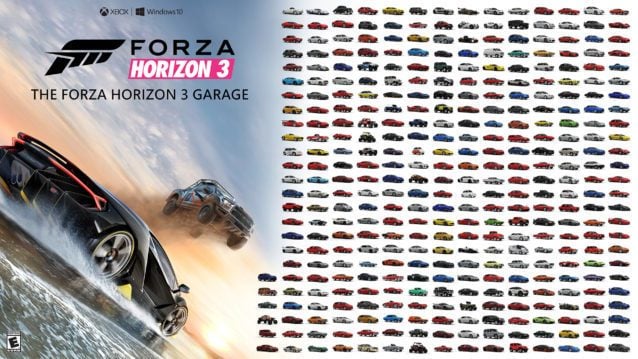 Naturally, things don't end there. For those looking forward to the first full-featured Forza title on Windows 10 PC's, T10 have also revealed the recommended system specifications to run the game, and they are as follows:
CPU: Intel Core i7 3820 @ 3.6GHz
GPU: NVIDIA GTX 970 or NVIDIA GTX 1060; AMD R9 290X or AMD RX 480
VRAM: 4GB
RAM: 12GB
Hard Drive Type: HDD
Available Space: 55 GB
Resolution: 1920 x 1080
Windows Version: Windows Anniversary Edition 64-bit 14393.101
Horizon 3 will offer PC players plenty of options to customize to their liking, including full screen, v-sync, and resolution. More advanced settings the likes of which include quality settings for motion blur, mirrors, reflection, static and dynamic geometry are available to those looking to push the game up to 4K resolution.
Forza Horizon 3 launches on Xbox One and PC September 27th, and is still available for pre-order.
More Posts On...
The original comments for this post are no longer available.