Ghost Games and EA have lifted the hood on Need for Speed Payback's tuning options and it sure looks impressive. After a small tease on the official NFS Facebook page, the team has dropped a new trailer and details on what to expect. There's a lot to dig into, so let's get started.
Dealerships, Part Shops and Your Garage(s!)
Need For Speed Payback will feature many different kinds of dealership throughout its open world. The dealerships will specialize in specific types of vehicle: Exotic, Classic, Muscle, Rally, Sports and Sports Compact. There will also be stores that sell various cars but the key takeaway here is that you're going to have personal favorite dealerships throughout Fortune Valley.
Cars in Need For Speed are rarely kept stock and Payback will feature part shops to increase car performance. The interesting aspect behind the stores is that they will offer different stock throughout the game. Cosmetic and performance parts available will cycle, so you'll have to check frequently to get what you're after. Players can also earn performance parts by competing in and winning events, if you don't fancy the constant window shopping.
Once you have the cars and performance parts you need, you'll need somewhere to store them. Need For Speed Payback corrects a wrong in 2015's series reboot by allowing players to purchase multiple garages. Doing so will increase the number of cars you can store, the micro management of your car roster needed in NFS2015 is no more!
Visual Customization and Vanity Items
Payback builds on the precedent set in the last game of the series when it comes to visual customization. You can modify cars with full body-kits or individually by part, and tweak hoods, skirts, fenders and more as required. The trailer also shows that the title will feature parts by the likes of Rocket Bunny, Voltex and Toyo Tires. A key complaint last time around was the lack of real-world aftermarket parts, so far its looking good in Payback.
If your taste in cars is questionable, you can now be equip cars with Vanity items. These accessories aim to give your car that extra flare, with the much anticipated return of neons included in the list. Tire smoke, nitrous flames and air suspension are also confirmed at the time of writing.
NFS Introduces Barn Finds… err, 'Derelict Cars'
Fans of Forza Horizon will recognize this feature straightaway, as NFS Payback adds derelict cars. You can add vehicles of yesteryear to your garage by hunting them down in the open world. Unlike the Horizon series' barn finds though, the player must find and repair the chassis, wheels, drivetrain and two unique parts for each vehicle.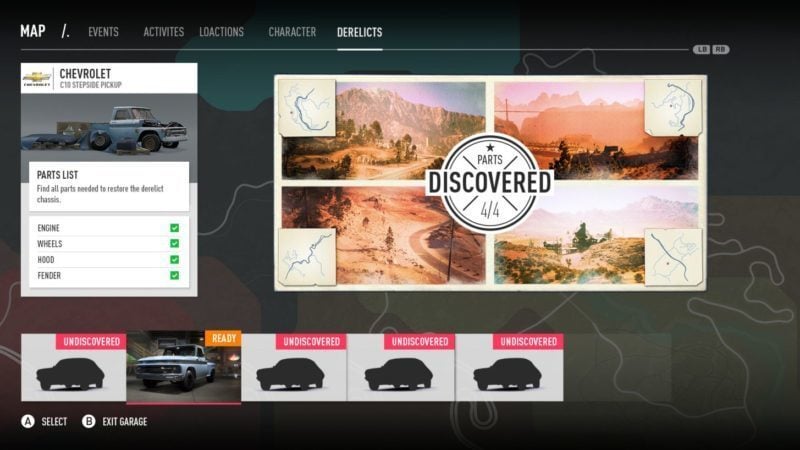 When the car is road ready, you can then tune it for whatever vehicle class you feel is suitable. Keep driving the car and improving the performance to unlock the ability to make it a Super Build – the most extreme look possible for the renovated racer.
Need For Speed Payback's customization options do look very impressive on paper. There's even a mysterious Live Tuning option listed on the website that leads to a 404 page. The preview for the page implies this will be some sort of on-the-fly handling modifier. We'll just have to wait and see. Need for Speed Payback launches on November 7.