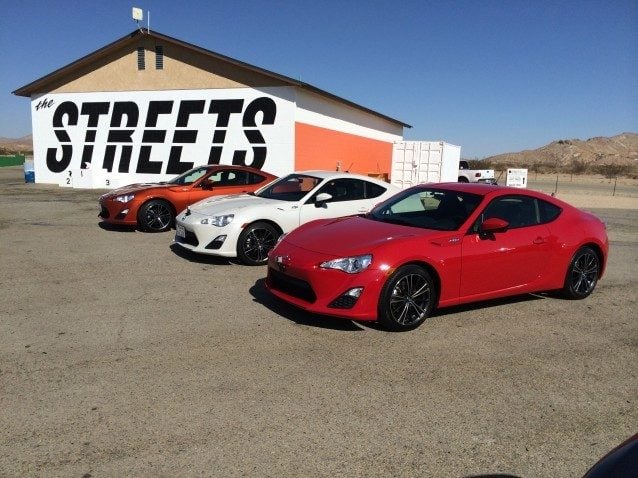 GTPlanet was invited to test Gran Turismo 6's new GPS Data Visualizer functionality during a special preview event at Willow Springs. As part of the event, I had the honor of being one the first members of the public to try out the new feature and to drive a version of the Scion FR-S equipped with a GT6-compatible ECU.
Note: To clear up any confusion, there will be two separate GPS-enabled features in Gran Turismo 6 – this GPS Data Visualizer and the GPS Course Maker. This article is only about the Data Visualizer; click here to learn more about the Course Maker.
The event began with a small presentation from U.S. Gran Turismo producer Taku Imasaki and Tetsuya Tada, the "father" of the FR-S himself. (Kazunori Yamauchi wasn't able to attend the event – he's back at Polyphony Digital's headquarters in Japan, focused on finishing up GT6.)
As Tada-san explained, the FR-S is an unusual car for Toyota. It wasn't designed by a committee or focus-group – it was designed by enthusiasts, for enthusiasts, with the goal of creating a car that's fun to drive, affordable, and easy to customize. He recognized the importance of the car as a "platform" in and of itself, which could host not just physical modifications but third-party "apps" and software.
Tada-san asked his friend, Gran Turismo creator Kazunori Yamauchi, if he'd like to be involved in such a collaborative project, and GT6's GPS Data Visualizer function was first born.
After the presentation, I had a chance to play what Taku Imasaki described as the "final" version of GT6 (click here for my impressions of the game). It contained the new "Streets of Willow Springs" – a shorter, more technical track next to the more famous "Big Willow" course. (I was also told that Polyphony Digital scanned all courses at Willow Springs, though it's not yet decided if all will be digitally rebuilt for the game.)
This gave me a chance to learn the basic layout of the track before heading out to record my own laps in a real FR-S equipped with the GPS Data Visualizer.
To say the experience of driving a track in Gran Turismo while only steps away from the real thing was quite a unique experience. Although you're just over an hour's drive from Los Angeles, Willow Springs feels like it's in the middle of nowhere. It probably wasn't the most challenging environment Polyphony Digital ever had to re-create, but the stark landscape is sharply accurate. Every bump, camber, and curb has been digitized with care.
I eagerly jumped into a white FR-S with an instructor and we rolled off for a few laps. My car was equipped with an automatic gearbox, which – aside from some odd gear changes – was great to drive. The Streets circuit is tight and fun; it's absolutely perfect for a nimble car like the FR-S. I was just getting comfortable with the car and track when my time was up; we pulled back into the pits, where engineers from Toyota and Polyphony Digital exported my driving data to a standard USB drive.
Back inside, a Polyphony Digital engineer who's been working exclusively on the Data Logger downloaded the data back into a PlayStation 3 running a special build of GT6. (As anyone who closely follows Gran Turismo knows, it's quite rare for Polyphony Digital employees to be present at press events, as these are typically handled by local Sony Computer Entertainment staff. For myself, it was a treat to interact with someone within the company, and I found him to be as kind, professional, and passionate about his work as Kazunori Yamauchi himself.)
My data was imported and processed in a few minutes. I expected the replay to start when I actually pulled on the track surface itself, but no – it started in the parking lot! My entire drive onto and off the track was recorded. After having been confined to track boundaries in Gran Turismo games for years, it was a bit of a surprise to see the car driving through the surrounding barriers and gates.
Watching your real-world lap in GT6 is a startling reminder of how slow you really are, offering a rare and uncanny perspective of just how much we tend to over-drive virtual cars. It's something that every sim-racing enthusiast should experience.
Critics of this feature will be quick to note it isn't something that most people who play GT6 will be able to use. That's true, but it's now immediately clear to me how this Visualizer can be a valuable tool for enthusiasts and club racers looking to analyze their driving. To think this technology is integrated into affordable, widely-available consumer products like the PS3 and GT6 makes it all the more impressive.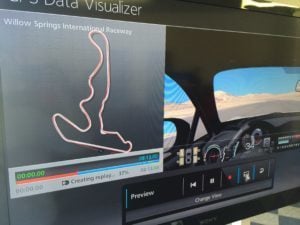 You're not just looking at a recorded video or telemetry data – you see a 3D, visual representation of what you're doing on the track, and you can see how that differs from what you do in the game, free of fear.
This isn't just a "gee-whiz", fun toy you can use to impress your friends – this is a real driving analysis tool, the likes of which have not really been seen before.
Although it's limited to special editions of the FR-S for now, and there are still a fair amount of bugs to be worked out and refinements to be made, Polyphony Digital has a chance to fundamentally change the way drivers analyze and evaluate their performance.
It re-enforces Kazunori Yamauchi's notion that the divide between "real" and "virtual" is quickly being closed, and Gran Turismo is at the forefront of bridging that gap. Even though you might not have a chance to use this functionality yourself, I think Polyphony Digital's investment in this futuristic technology will pay dividends for all fans over the long run in ways that none of us may be able to realize just yet. Gran Turismo isn't just a game anymore.
See more articles on Data Logger Visualization, GPS Data Logger, and GPS Track Day Unit.