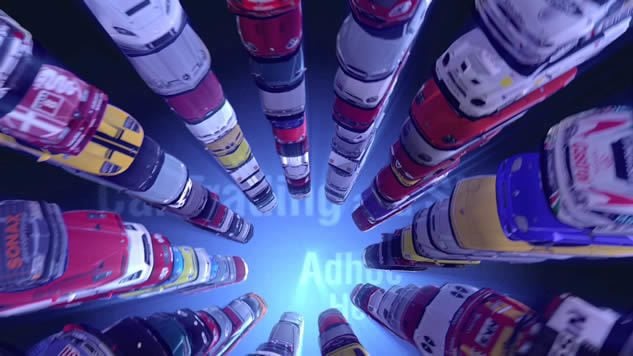 Since the big announcement at Sony's E3 press conference, two things have happened: lots of journalists got their hands on the demo at the show, and Kazunori Yamauchi has released more tidbits of information in a flurry of interviews.  It's difficult to keep up with everything, and all the excitement around the Gran Turismo 5 trailer hasn't helped, but we should be able to clear up a lot of the confusion by aggregating the pieces of the puzzle right here.  Keep reading to find out what we know, what we don't know, and what everyone else actually thinks about this long-anticipated title…
The Facts
Gran Turismo PSP will be released alongside the new "PSP Go" hardware on October 1, 2009.  The PSP Go, as you may be aware, does not contain the traditional UMD media slot that we're familiar with from the original PSP.  Therefore, GT PSP will be available for download over the internet via the PSP's online store, directly from Sony (something which we picked up on back in April).  According to Kazunori Yamauchi, Polyphony Digital expects the game to be around 1GB in size (the PSP Go will contain 16GB of internal memory).  For those who do not wish to upgrade to the PSP Go, the game will still be sold in UMD disc format.  GT PSP will, incredibly, run in a full 60 frames-per-second on the small screen.
Cars and Tracks
The Gran Turismo PSP car list will contain over 800 different vehicles, as was mentioned in the press conference.  While the official list has not been released just yet, we got a pretty good glimpse of what's available in the trailer – the most exciting of which is the Ferrari Enzo.  Naturally, since it's appearing in a GT game that will pre-date Gran Turismo 5, it dramatically increases the chances that it will be appearing in the "big game".
Kazunori Yamauchi has mentioned that all of the tracks in Gran Turismo 4 will be in the game, although the official number is set a bit lower than GT4's at 35.  Thus, the safest and most obvious interpretation is that all of the tracks in GT PSP will be a subset of those found in the larger game.  
However, we can confirm these 12 tracks were playable in the E3 demo – the most notable of which is the Nurburgring Nordschleife:
High Speed

Ring
Laguna

Seca

Trial Mountain
Nurburgring Nordschleife
Ice Arena
Cote d'Azur
Tsukuba
Grand Valley
Tokyo R246
Deep Forest
Grand Canyon
Swiss Alps
Seattle
Autumn Ring
Features and Gameplay
GT PSP will be the first game in the series to focus only on driving missions and tasks, instead of the "open" path to game completion which you may be used to.  Yamauchi expanded on this decision in an interview, citing the fact that players will be playing this portable game in many different environments, and a more obvious sense of direction is necessary.
Of course, the mobile environment also creates new, social possibilities – you'll be able to meet up with other players to swap and trade cars, wirelessly.  For players looking to acquire the rare cars in the game, this may in fact be the only way to attain them, according to statements by Yamauchi.  The social aspect isn't just about trading cars, though – up to four players will be able to compete wirelessly via the PSP's ad-hoc WiFi mode.
Many interviewers have inquired about the possibility of new content being made available for download after the games release ("DLC"), but Yamauchi has said that will not be an option.  Tuning options and settings which affect the handling of the car will also be very limited compared to what we've seen in Gran Turismo 4.
Hands-On Impressions and Opinions
From Destructoid:
"As far as game play goes, this is Gran Turismo as you've known it since its beginnings, and no major changes have to the control scheme in this version. I found myself missing the analog trigger as the gas pedal, and a second analog stick would have been nice for a gas/brake combo, but I had no problem racing with the good ol' buttons either."
From 1UP.com:
"It's totally awesome — for fans of Gran Turismo. The team at Polyphony have done an amazing job replicating the Gran Turismo look and feel on the PSP — it's the best looking handheld racing game out there, and it plays very well — but it's also very much a "Gran Turismo" game. By that I mean it's not only a sim, but it also favors attention to realism over playability. Fans of the series or sim racing games in general are going to love it, but others may find it, well, a tad slow. The controls feel tight, but will no doubt benefit from the PSP Go's much improved analog nub."
From GamePro.com:
"I played Gran Turismo on a PSP Go, and the bright widescreen display showed off the game's visual prowess. Running at a sleek 60 frames per second — the holy framerate for precision racers — Gran Turismo cruises along like a guided missile. Visually, I'd place Gran Turismo on the PSP very close to Gran Turismo 4 on the PS2. It looks crisp and colorful, with bold racetrack backdrops and a cinematic look."
Screenshots
See our gallery for the only collection of shots released by Polyphony Digital.  If you want to see how the game really looks, though, check out these videos…
Videos
To keep up with new videos as they are released, subscribe to GTPlanet's YouTube Channel.
http://www.youtube.com/watch?v=QypIvuYDPn0
http://www.youtube.com/watch?v=4Q5vg6xEjYo
See more articles on E3 2009, Kazunori Yamauchi, and PSP Go.