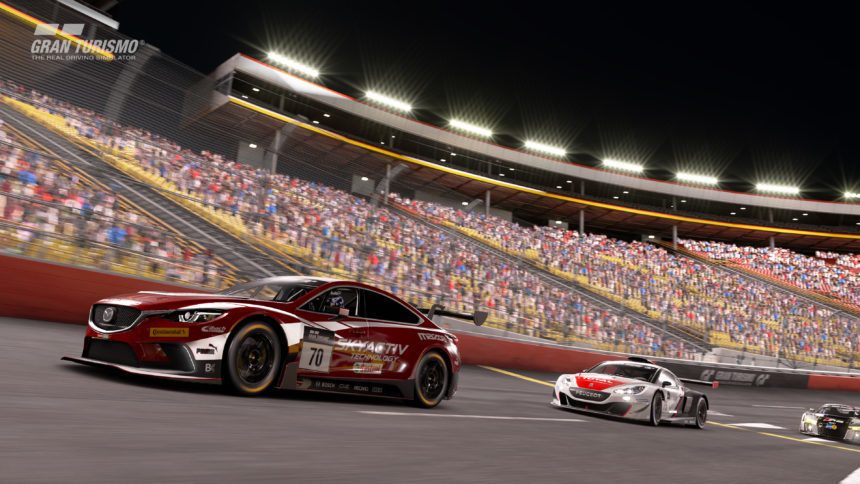 Polyphony Digital studio head Kazunori Yamauchi has confirmed a limited-time GT Sport demo, in a post on the PlayStation Blog.
The demo will be available as a free download from the PlayStation Store, from 0900 GMT/UTC on October 9, with a pre-download available 48 hours earlier. The demo will run through to 1300 GMT/UTC on October 12, and players can transfer part of their progress into the full game.
Polyphony has made many of the full game's features available in this unprecedented demo. Sport mode is available, with online races against other players. Players can also work through parts of the campaign mode, including the driving challenges, missions and circuit experience areas. Three circuits — Northern Isle, Dragon Trail and the Colorado rally course — are available in Arcade mode, including a two-player split screen mode.
Shutterbugs can experience Scapes for the first time, although it's not known how many of the 1000+ locations are unlocked in this demo.
Perhaps most significant of all though is the debut of the Livery Editor. A new feature for GT Sport, the demo will allow players to experience vehicle personalization of this level for the first time in a Gran Turismo game.
Players who've participated in the demo will be able to transfer credits to the full game when it releases on October 17–18. Curiously, Yamauchi's message says that this is capped to "$1MM" – which may refer to GT Sport's mileage credit system.
ORIGINAL ARTICLE BELOW:
There's only two weeks left until Gran Turismo Sport hits the shelves, but rumors of a second beta still abound.
UK supermarket chain Tesco has reignited speculation with an update to its description for the game. On its listing for the Day One edition, the store claims that there will be a four-day open beta, starting on October 9.
The details listed are:
Open beta with no UK limit for entrants.
Available to all PS4 owners, and will not require a PS+ membership.
Modes available
Arcade
1. 3 Tracks (Northern Isle, Dragon Trail, Colorado)
Sport Mode
1. Daily Races Only
Campaign Mode
1. School – 8 Events
2. Missions – Stages 1 and 6
3. Circuit Experience – 3 Tracks
4. Racing Etiquette – Not included
Unlocks
Daily Workout
1. One vehicle unlock for every 26 miles driven per day.
Campaign Mode:
1. Missions Stage 1 completion – Group 4 vehicle
2. Missions Stage 6 completion – Group 6 vehicle
Elements transferable to full game (TBC)
1. Cars
2. Currency and Experience Points
3. Driver Profile, including Sportsmanship and Driver Ratings
It's not clear at present just how accurate this information is. There's also no information on any regional restriction for this apparent beta.
The original, invite-only beta back in the summer was a hit. Despite the limited numbers, players got to experience a range of the available cars and put the online features through their paces. Some lucky US players even got to try out the arcade mode, until Sony patched it out.
Following this successful test, Kazunori Yamauchi stated a desire to implement a wider beta nearer launch. Speaking to GTPlanet at E3 in June, Yamauchi commented:
I'm thinking that after having these closed betas, it might be nice to put up another beta with all of the features that will be available to experience in GT Sport. It would be for a very short time, maybe around August or so.

We can't say public, because several million people would rush to play it. That means our server costs would shoot through the roof before we sell the game, so we can't do that! So it won't be completely open, but we would like to at least have at least another tier in terms of participation.
A post on the European Playstation Blog in September seemed to confirm the presence of a second beta. However, the copy didn't appear on any of the other regional blogs, and Sony later amended the blog post to remove it.
Thanks to BLADErunner80 for the original eagle-eyed spot and tip.
More Posts On...