It's almost time for the last of the Gran Turismo FIA GT Championship World Tour events before the big final in Monaco. We seem to have rattled through them in recent weeks, with New York and Salzburg in quick succession, leading up to the last event this weekend in Tokyo.
Last time out in Austria, everything seemed to settle down after two incredible and contentious events preceding it. We thought the stewards' deliberations after both final races at the Nurburgring were as controversial as it got, but New York took it to a whole new level. Salzburg was a little quieter, as Mikail Hizal — so often the bridesmaid — finally booked his place in Monaco with a perfect performance.
However, the pressure is back on. There's only one place left to decide, and that'll happen this weekend in the Toyota Mega Web motoring resort in Odaiba, Tokyo. Miss out here and you'll need to rely on your online performances (and the per-nation limits) to make it to Monaco.
With heart rates likely to skyrocket, here are some of the things you'll need to watch out for: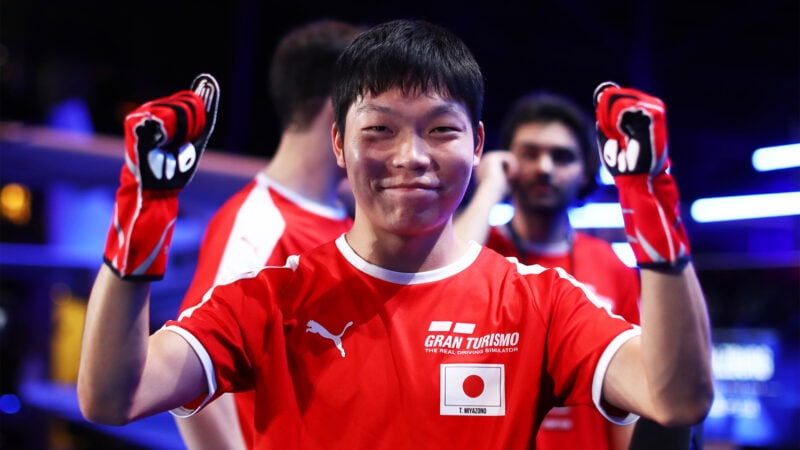 The rise of Miyazono
If there's one driver to focus on in Tokyo, it's Takuma Miyazono. After missing the first two World Tour events, Miyazono has come in and put himself right among the established top order with two stunning performances.
A seemingly insane pit strategy gamble in New York almost scored the Japanese driver a debut podium, if not for one of the event's many more questionable incidents. Undaunted, he went to Salzburg and did exactly the same thing, only finishing behind winner Mikail Hizal — and not by much.
Miyazono has run four races at World Tour events now and never finished lower than fourth. On home soil he could be the man to claim that final qualifying spot, and it'd be a popular result too.
Champions on track
Two of the four previous event winners will take part in the Nations Cup in Tokyo, and returning winners have had a bit of a questionable track record so far. In Germany the winner from Paris, Nico Rubilar, made an error that ended another driver's participation. The events in New York involving Igor Fraga, who'd won in Germany, and Mikail Hizal are well-documented.
We know from New York that a driver who wins a second event prevents another driver from qualifying. Will Rubilar and Hizal have eyes on the prize and book out a second spot, or will magnanimity win out as they let a colleague take the title and the berth in Monaco?
New kit, new names at the top?
One surprising aspect at Tokyo is that, due to unknown circumstances, the driving rigs are temporarily using Fanatec wheels. Every other World Tour event, and indeed every live GT event dating back as far as GT Academy, has used Thrustmaster wheels.
Most competitors will have practiced extensively on the Thrustmaster wheel, especially the T-GT, and all of the drivers at Tokyo have raced at least one other World Tour event with the T-GT. While some will also likely have other equipment at home too, for others it may be an entirely new wheel. At this level, a wheel isn't just a wheel, and the switch of brands may shake up the established order.
New content on the way?
It wouldn't be a World Tour without some secrets, and we're expecting at least some new content. Two of the planned races bear that fabled "TBA" badge that usually suggests a new circuit — although it could be that one features a one-make race with a new car. The plans for the October update following the event include the game debut of the Porsche Taycan Turbo S, so this may feature in one of these races.
We know that the event will reveal at least one car, in the shape of a new Vision GT. Polyphony Digital is going to some lengths to keep this one under wraps, but with a live event in a public place, the car's identity is unlikely to remain a mystery until it's officially unveiled on Friday.
How to Watch
All of the events from the Tokyo World Tour will be live-streamed on Gran Turismo's official YouTube channel. GTPlanet will be on the ground in Odaiba, so stay tuned for more exclusive coverage and behind-the-scenes action on our Facebook page, Twitter feed, and Instagram. For now, here's the official live stream schedule to plan your viewing:
See more articles on World Tour.