The next stage of GT Academy 2014 is here, and it's time for 32 of the fastest Gran Turismo players from the United States and Canada to face-off with one another in some of the most hard-fought and dramatic races you'll see anywhere.
These guys aren't just competing for a trophy – they are competing for a new life and a new career as a professional racing driver with Nissan – and the only thing standing in their way are 31 other guys with the exact same goal.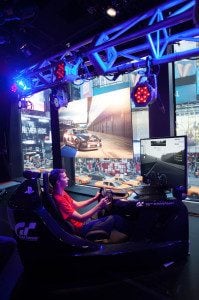 All of the action will be streamed live from the iconic MTV studios in Times Square, New York City, starting at 10:00am ET on Friday, July 11th (convert to your local time).
I'll be hosting the stream with Nick McMillen, 2013 GT Academy champion, and we'll be joined by a variety of different people throughout the 10-hour broadcast, including Indianapolis 500 winner (and GT Academy judge) Danny Sullivan along with several of the finalists themselves.
Nick and I also want to hear from you guys, the viewers, as you're watching the show. Be sure to join the live Twitch.tv chat, tweet using the #GTAcademy hashtag, or visit our GT Academy North American discussion board right here in our forums, where several of the finalists will be hanging out when they're not racing.
Enjoy the show, and good luck to all of the competitors!
More Posts On...
The original comments for this post are no longer available.