An update to the PlayStation Store over the weekend has confirmed that Gran Turismo Sport will be playable on the next-generation PlayStation 5 console.
It's something that we broadly expected, given previous statements, but it's the first overt confirmation. During the first technical presentation for PS5, lead system architect Mark Cerny stated that the new console would support PS4 backwards compatibility. He further noted that the overwhelming majority of the top 100 PS4 games functioned without issue on the PS5.
Sony has clarified that latter statement two further times. First it added that it expected that almost all PS4 games would be playable on PS5. More recently it published a list of just ten games that wouldn't work — two of which will now receive patches to grant PS5 compatibility.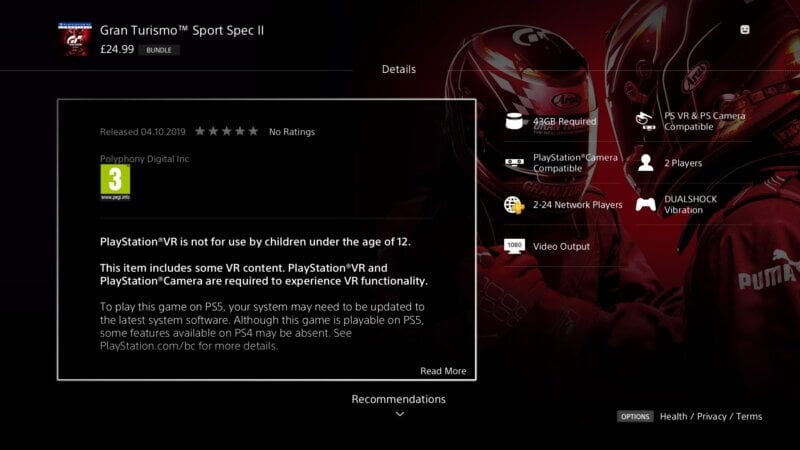 How much compatibility is a further question that will likely only be resolved at the console's launch. A tour of the new console's UI last week revealed several interesting features, but Sid Shuman of SIE content communications noted that only "some" PS4 titles would support the full breadth of PS5 features.
The fact that GT Sport will continue onto PlayStation 5 has a few interesting implications. Firstly, it somewhat kicks the can down the road on the matter of the game's servers. For GT5 and GT6 Sony turned off the servers, for online multiplayer but also for other functions like DLC, 40-42 months after launch. GT Sport reaches that age in April 2021, and could well pass this landmark with the full spectrum of services still available.
Of course GT Sport is heavily dependent on an online connection, including for saving progress. If the servers remain up, the game will remain playable, and Polyphony Digital doesn't have to take an end-of-life decision. That means a stay of execution, although it may not seem that way given the relative dearth of updates in 2020.
More significantly, it raises questions about Gran Turismo 7's launch date. If PD is still supporting Sport, it suggests that 7 is not as close to release as rumored. Alternatively, as we've seen that "GT Sport" has its own section within the GT7 home menu, the new game may envelop the old one in some way.
How GT Sport will benefit from the new console's capabilities also remains to be seen.
Featured image courtesy of cosme.
See more articles on PlayStation 5.