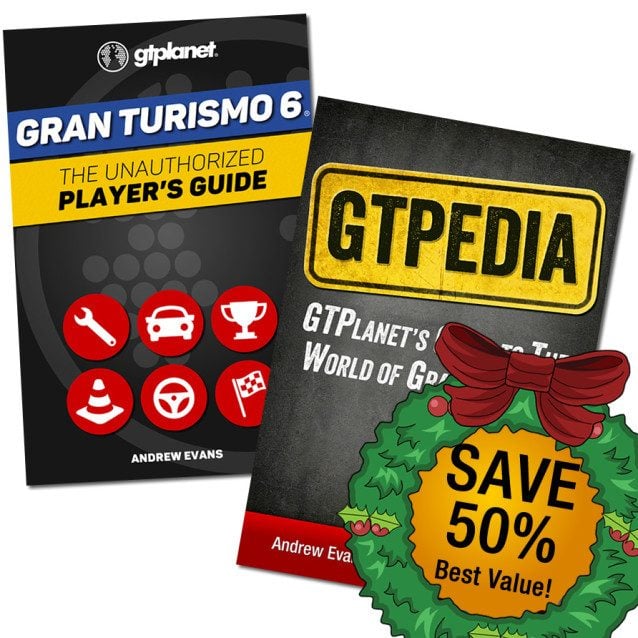 Doing some last-minute Christmas shopping for the Gran Turismo fan in your life, or just want to get a little something for yourself? We're hosting a very special, limited holiday sale on our GT6 Player's Guide & GTPEDIA ebook bundle, offering the package at 50% off!
It's the deepest discount we've ever offered for the bundle, and it's only available through Christmas Day, December 25th.
If you're giving (or receiving) the gift of Gran Turismo 6 this year, our Player's Guide makes the perfect companion, walking you through every race and every challenge in the game. More experienced players can learn which cars to use to make races more challenging, or take advantage of the book's extensive tuning guide.
Of course, the bundle includes GTPEDIA – our massive, 375 page Gran Turismo encyclopedia – that provides a detailed background of every game in the series, including comprehensive car lists, track lists, event lists, "Easter Eggs", trivia, and more.
There's another thing special about all this: 100% of the proceeds earned during this special sale go towards the author's (Andrew Evans) family. Andrew's wife, Kendra, has been diagnosed with Ehlers-Danlos Syndrome, and they have struggled to pay for a specialized wheelchair she needs to stay mobile and care for their two children.
After her JustGiving page failed to raise the full amount needed to order the new wheelchair, we hope this special promotion will finish the job to bring a happy and healthy 2016 to the Evans family! Thanks for your support and merry Christmas to all in the GTPlanet community.
See more articles on GTPEDIA.