– Ferrari 458 Italia GTE, September 24th, 2015, courtesy of Demetrius81.
T, what's been going on with the Spotlight lately? The schedule has been erratic, there hasn't been a Member of the Week in almost a month, and I feel the content hasn't been up to the otherwise usual standards.
The short answer is I've been on an extended break of sorts lately, and while that "break" was explicitly used to relax and not directly take a break from doing any one thing in particular, it eventually, albeit inadvertently, affected the scheduling of everything except anything that required my immediate attention. In regards to the Member of the Week that's simply a case of recovering lost nominations, all of which have been recovered by the way so keep an eye peeled on the official Member of the Week thread for a new inductee this week and next week — I have to make up ground somehow, right?
Now, as for the content featured in the Spotlight as a whole that's a far more delicate and intimate matter. Delicate as it isn't as easily resolved as the scheduling conflicts or the absence of a new Member of the Week, and intimate as I sacrifice nothing when it comes to quality and 'must-read' content. There have been the odd few occasions where the Spotlight was shorter than previous weeks and that's simply a virtue of there not being enough to present. I'm steadfast in practicing quality over quantity and yet it still bothers me, so much so that I feel I'm cheating you all out of another Spotlight worth reading.
Such is my mindset. I'm highly critical of my own work, let alone taking other criticisms to heart. With that out of the way and clearly explained we can move on and make the remainder of 2015 something to fondly remember.
Who's ready for the Spotlight?
GTPlanet Picture of the Week
This week's featured image is all about grittines and going for broke. The image, coming to us courtesy of at1503 features the all-new Honda NSX.
If you like what you're seeing and have a suggestion for next week's featured image, start a conversation with me, entitle it "GTPlanet Picture of the Week" and fill it to your heart's content with suggestions and they'll be featured in upcoming Community Spotlight articles. NOTE: You cannot elect your own work.
GTPlanet Gallery of the Week
This week's featured gallery is GT6 Gallery by Kalax3 and is brought to you by none other by Kalax3. Opened Friday, January 17th in 2014, the gallery approaches GTPhotography with a colorful flair that is both vibrant and eye-catching.
You can find Kaalx3's gallery here in all of its splendor if you want to look through a gallery that approaches things in a way that's sure to hold of your attention. The latest update being just yesterday, Friday, November 13th.
– 15th anniversary, January 24th, 2014.
If you like what you're seeing and have a suggestion for next week's featured gallery, start a conversation with me, entitle it "GTPlanet Gallery of the Week" and fill it to your heart's content with suggestions and they'll be featured in upcoming Community Spotlight articles. NOTE: You cannot elect your own gallery.
GTPlanet Thread of the Week – Explain Your Avatar
It's a question that nearly everyone has either asked directly or wondered about, and now is your chance to get the answers your hearts so strongly desire, and even provide your own answers to the question.
Whether we like it or not, an avatar is how one is immediately identified in a community as dense as ours. It helps one to remember an individual without having to remember their chosen (or real) name, at least not right away. Visuals tend to impose more on any one individual's memory than words would, whether spoken or written – we're a visual bunch, there's no denying it.
The thread put together by terminator363 back in October of 2010 asks the very simple question of why we have the avatars that we've made our own.
My avatar of choice? If you're unfamiliar with the chap pictured above, that is the late Jules Bianchi who passed earlier this year after having been involved in a horrendous crash at last year's Japanese Grand Prix. Me using an avatar depicting him in his Marussia MR03 (courtesy of Pilotoons!) is my way of showing respect.
rFactor 2 Now on Steam!
rFactor 2 has finally made the jump to Valve's ever-popular platform of digital gaming nirvana on the PC.
Like its original non-Steam counterpart, the game will be made available in three different licensing tiers:
rFactor 2 = offline only
rFactor 2 Lifetime = offline/multiplayer/no subscription required
Online Services = Adds 1 year multiplayer to offline
Existing owners can either keep their existing account or transfer over to Steam, however, in doing so the account will lose its multiplayer allowances as it will be defaulted to an offline-only license. Lifetime licensees will be unaffected by the transfer as their license will transfer over to the equivalent license available.
To celebrate the launch, rFactor 2 is available for a 40% reduced price until November 19 as the offline license sells for 17,99€ ($19.37 USD).
GTPlanet Vehicle of the Week
For those of you new to the Spotlight or that have simply forgotten, my rules whenever there's a video in place of the written presentation for the Vehicle of the Week (they alternate weekly) are simple: the video does all of the talking. Anything I'd say would simply be superfluous.
Nissan's GT-R LM NISMO Comes to Forza Motorsport 6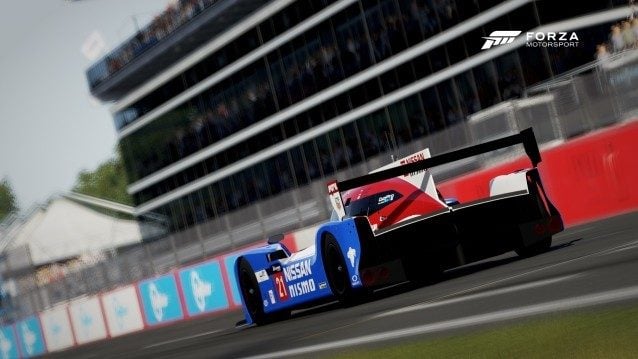 This month's DLC for Forza Motorsport 6 was certainly a 'must-have' of colossal proportions, and one would think the festivities would end right then and there – how could a car pack that good be complimented?
The answer to that question comes in the form of Nissan's GT-R LM NISMO prototype that was introduced to the racing world just earlier this year. While the program itself wasn't the most successful of launch programs, it comes to the virtual world of Forza Motorsport 6 to haul some serious tail and was packaged with this month's update to the game for free.
That's right, free.
GTPlanet Tune of the Week
Once every month we showcase the community's efforts to tame/tune the Car of the Week, and this month is no different, so let's get right down to business.
"Quite the challenge this month, as we shall tackle the pesky Evora. Although it looks like a larger Elise, it is in fact quite different, from overall chassis design to weight. But still carrying a mid engine design, but with a V6! And that V6 is very common, the same basic engine as found in Grandma's grocery-getter Toyota Camry, or Soccer Mom's Sienna minivan.

The intake has been refined and upgraded, giving it plenty of punch and fight, and power supply is never in doubt. Larger than the Elise, it is not quite as nimble, but if you can get the suspension tuned correctly, it can be a surprise. Heavy rear weight is the trick, controlling it through adjustments or balancing through ballast. Which will be your method?

Originally aimed at competing with the Cayman, yes I mentioned the "P" car company, this car sold with a strange option package, rear seats. As if you want or need them? But I believe in stock form, it might be close in value and performance. So lace up your racing shoes, strap on that helmet and let's get busy!

Show off what you can get out of it, just (as usual) give tire and track choice when possible, or you never know where I might test it."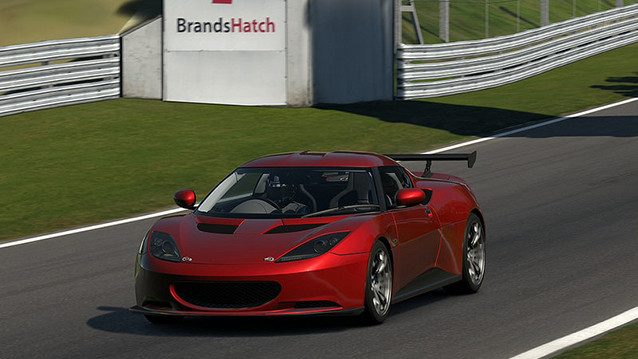 What you have here is a unique challenge for the month of November; a unique challenge like all those that have preceded, however, the difference, no matter how small it may be, is that you're tasked with wringing the most from a sports car with the purest intentions of dethroning the Porsche Cayman.
Can you stand the trial and usurp the sporty Cayman? If you have what it takes and are up for the challenge, then have a look at this month's thread and have at it!
The Last Lap
This month has been a little on the insane side of things with Fallout 4 and Rise of the Tomb Raider releasing on the same day. A recipe for disaster you say? I was of the same exact opinion, that is, until I saw the way things played out. I have been playing Rise of the Tomb Raider nonstop since this past Tuesday — I know, I know, I'm just as surprised as you might be right now. I was fully expecting to juggle the two to the point where my precious head exploded into a mess of confetti and candy pieces, but alas that simply isn't how the events played out.
Rise of the Tomb Raider is a fantastic game and I am perfectly content that it feels very familiar and not like an entirely different game, "if it ain't broke, don't fix it" as they say. It has a grasp on me that I dare not to understand or explain, but what I do understand is that it's damn fun to play and that I'm already looking forward to the next one in the series. Did I mention how gorgeous the game is? Because it's gorgeous.
– A carefully positioned screenshot from the game's first mission/flashback/introduction to the events taking place.
In about two weeks it will be Thanksgiving and I have to tell you, I look forward to this one holiday more and more every year, perhaps more than I look forward to Christmas. As I once explained to a friend, it is the only holiday that I'm currently aware where it is graciously accepted and even encouraged that you stuff your face with as many appetizing delectables as your body will allow.
On a more serious note, we've all heard about the tragedies that have struck Paris and without going into detail about any of these heinous and inhumane acts, I'd like to offer my condolences, thoughts, and well wishes to everyone.
Pray for Paris.
More Posts On...
The original comments for this post are no longer available.