October 31st, 2015, courtesy of [Nor]MclarenF1.
The 2016 Formula One season kicks off this weekend and I couldn't be more excited. This year is markedly different in comparison: a new team; new qualifying; Red Bull has a new sponsor; Pastor Maldonado will no longer entertain us with his real-life "Crash FM" (I'm patting myself on the back for that reference, thank you); and Renault is back in the fray.
There are a lot of factors at play this year and I'm looking forward to how everything unfolds. I already have two particular talents from a particular team chosen to win this year, and spoiler alert: it's Mercedes-AMG.
There's plenty to discuss, including something that may not go over too well with some of you, so let's get right to it!
GTPlanet Picture of the Week
The Dark Knight Rises, March 12th, 2016.
This week's featured image is the absolutely insane BeckKustoms F132, a hot rod styled like an F1 racer with the brutality of a NASCAR engine. The image comes to us courtesy of The R!CE Guy and it looks just as you'd expect it to: flippin' evil.
GTPlanet Thread of the Week – The Guessing Game
Can you guess the car? The name rolls off the tongue as if it were an item at a fine dining establishment. It looks of many things if you stop to examine it long enough, but it's unlikely to be the first thing that comes to mind—that is, unless you know exactly what it is already. In which case you're a filthy cheater.
This week's featured thread will fuel the automotive junkie in all of us. What better way to spend your time than guessing cars, well, other than looking at, driving, or kissing, er, taking pictures of cars?
If you wish to test your savvy and find out just how many cars you can identify given the most obscure of references, then look no further locoman88's thread here, appropriately titled "Guess That Car: Real Life Edition!"
The current mystery at the time of writing this has yet to be solved…
evo Diaries – Pagani Huayra and Bugatti Veyron Vitesse
I've seen a fair number of videos featuring the Huayra and I've never heard the turbos spool up as they do in this diaries video. Now for the bad news, the Vitesse is only walked around and the drive you would have wanted to see is only mentioned in passing.
GTPlanet Vehicle of the Week
The philosophy behind designing the Tuscan Speed Six was a combination of form and function, and that is evident from the hand-shaped design to the unusual arrangement of the car's bonnet. The belief in this design philosophy is that one will truly get to grips with the design over a period of time, appreciating the intricate and time-consuming process that resulted in the extravagant design.
While it may have the appearance of fixed head coupe, the Speed Six is a convertible at the end of the day; the roof and rear window can safely be stowed away in the vehicle's trunk, and with room to spare for luggage.
Powered by TVR's own 3.6 liter straight six engine, the Speed Six weighs a modest 1100kg (2,425 lbs) and as a result will dart to 60 in a respected 4.2 seconds, and onto a top speed of 180 mph.
GTPlanet Tune of the Week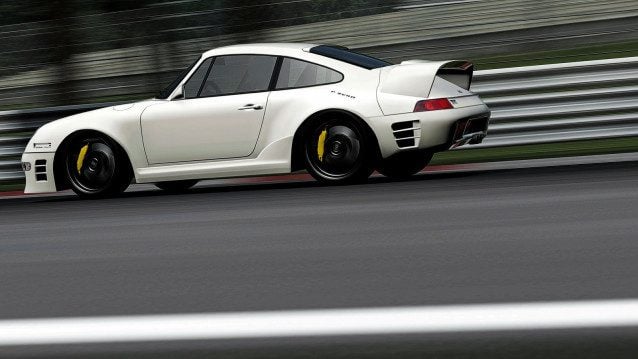 This week's tune features 1996 CTR2 put together by Bowtie-muscle, courtesy of Bowtie's Speed Shop. The tune is specifically built for the FITT Challenge at Suzuka that took place more than a month ago, but who says it's a one-trick pony?
With 597 horses propelling the rear end into dangerous territory, this 575 PP beast of a machine is likely to shred the competition, and scare a little bit of sense into the one behind the wheel as well.
"Easy in, fast out works best. Also, for the S Curves, lifting-pointing-then shooting works best. Braking should be done early and gently. Hit your marks and this can do a 2:03.5 at Suzuka in my hands, better driver may get under 2:03. Good luck!"
If the challenge speaks to your courageous side and you want to see just how good it is at Suzuka, and anywhere else for that matter, stop by and show Bowtie some love!
The Last Lap
There's a bit of announcement to make regarding the future of this particular piece, and as you may have gathered from the choice of words married together in this week's headline it isn't exactly what you'd call "good news."
When this particular amalgamation of news from all walks of the simulation racing lifestyle began as the Weekly Rewind it was essentially an experiment to get the community as involved in things as possible. Recommendations; discussions; sharing; criticism; you name it and the Weekly Rewind was likely on a path to encouraging it. When the feature was born anew as the Community Spotlight it was an extension of that philosophy, all the while adapting to an even larger pool of racing games, and even non-racing games.
Unfortunately, we've come upon the very same impasse that resulted in the Weekly Rewind going on an extended hiatus. I won't go into reasons why this is happening because it would really be no different than me pointing fingers at someone, and that most certainly isn't my intention. What I will say is something isn't working and like most things, you either adapt or perish. While the Spotlight isn't coming to an end, it does require a little bit more consideration and adaptation to the ways things have changed lately.
Rest assured, this isn't the last you've read of the Spotlight.
More Posts On...
The original comments for this post are no longer available.