If you were a particular fan of the Rewind in the remainder of 2012 which it began, you haven't seen anything yet. The first Rewind of 2013 and you have much to look forward to: 52 weeks of evolution and expansion, member recommendations, member spotlights, and whatever else should befall the graces of the Weekly Rewind – not even I know what's going to mold it's way into future installments. Kind of exciting if you were to ask me.
In fact, the Rewind is going to begin it's evolution for 2013 with a new feature I'm certain a great deal of you will appreciate. Although I'm sure most if not majority of you have realized that the Rewind is in no way strictly confined to Gran Turismo, I'll say it now – the Weekly Rewind is not strictly confined to Gran Turismo. Of course GT will always have a presence, there's no doubt about that, but in order for this feature to evolve it must, and excuse the cliche, "spread it's wings and…" yeah you know the rest.
And because I'm so excited I've officially lost my current train of thought, so… On with the show!
GTPlanet Picture of the Week
The Rewind's first Picture of the Week for 2013 comes to us recommended by Fyshokid and is courtesy of ShaolinMasta and features the Ferrari 512BB blitzing down Deep Forest Raceway in this fantastically-edited photo showcasing the vehicle's topside bits with the rear taillights melting into the distance.
Have a suggestion for next week's featured image? Drop me a private message, entitle it "GTPlanet Picture of the Week" and fill it out with your two choices and they'll be featured in upcoming Rewinds. NOTE: You cannot elect your own work.
Japanese Commercials for the original Gran Turismo
http://www.youtube.com/watch?feature=player_embedded&v=Xw59tiWaSfc
That's right, commercials for the original GT for the Japanese audience. I'm not anywhere near fluent enough in Japanese to do a full translation so if you anyone could be obliged with doing such I'll be sure to include that below so we can understand what they're saying and drool at the prospect of nostalgia, simultaneously.
I'd spoil the bits but I'd rather you all see it for yourselves. Enjoy!
GTPlanet Vehicle of the Week
This week's featured vehicle, recommended by Kimi Räikkönen, er, I mean Bobert power and features one of Lancia's most successful products, the Delta, more specifically the Delta HF Integrale, the road-going brethren of the Group A rally monster itself.
Work on the Integrale ('complete', when translated) began after the successful debut year of the Delta HF 4WD and was engineered to be more of a race car than a sedan considering it's motor sports motivation. Due to Group A regulations regarding homologation, there was very little margin for modifications and as such the road going Integrales shared the same cutting-edge technology and ferocity as their rally counterparts.
Have a suggestion for next week's featured image? Drop me a private message, entitle it "GTPlanet Vehicle of the Week" and fill it out with your two choices and they'll be featured in upcoming Rewinds. NOTE: You cannot elect your own work.
GTPlanet Tune of the Week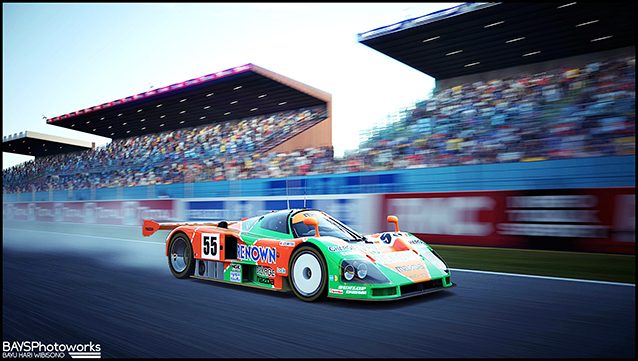 This week sees the return of the 'Seasonal Special' and focuses on the 700pp Spa event in the New Year's Holiday Challenge. This tune, put together by our very own CSLACR of Photo Finish Racing features the screeching rotary-powered Mazda 787B for a series of laps around Spa Francorchamps bearing wet conditions. Stock form, no chassis rigidity and no changing of oil is the name of the game this week.
Be sure to stop by the thread here and give it a well-deserved whirl and claim that victory.
Exactly like the Picture and Vehicle of the Week features, if you have any suggestions for the upcoming Rewinds be sure to drop me a private message, entitle it "GTPlanet Tune of the Week" and let me know. NOTE: You cannot elect your own work.
evo diaries – Pagani Zonda 760 RS
With the Huayra winding up ready to head the Pagani camp into the next generation, the previous generation vehicle, the Zonda, is still being manufactured in extremely limited quantities, one-off models to be exact. The 760 RS is the most powerful Zonda released to date. Sporting 90 more horses than the comparatively less exclusive Cinque, and 20 more than the hardcore too-bad-for-the-track Zonda R; all of this from the same AMG-sourced 7.3L V12 housed in the Zonda since the 2002 Zonda S 7.3.
If you want more on the 760 RS, and you know that you do, feel free to stop by EVO here.
GTPlanet Photomode Competitions
In Week 109 of the Standard and Advanced competitions you are to put your best foot forth and show the community just how seriously you take your in-game photography. All you need to know is as follows:
Week 110, Standard: Blending In – What an interesting theme for the week, wouldn't you say? Pick any ride you want, go anywhere you want and paint your ride in the color of the foreground or background of the photo it's being shot in. I might actually enter this one, that's how interesting it is to me.
Week 110, Advanced: Aston Martin vs. Ferrari – Another interesting theme for the week! You're given an opportunity at two of the world's premier automotive manufacturer's as head photographer, and the task is to capture a single shot that showcases the brand for use in their latest advertising campaign.
For all the relevant information pertaining to this week's competitions be sure to stop by here and here.
Closing Thoughts
So there you have it, the newest addition to the Rewind is videos related to cars – who would have guessed. Admittedly, that particular article is a carryover from the ForzaPlanet Weekly Review I did several months ago to serve as nothing more than a test run, and depending on it's reception I'll determine where it goes from there. I'd like to point out that this particular new feature will not be in the Rewind on a weekly basis, no, instead I'm thinking more of a bi-weekly presence… but we'll see. It was at this point where I remembered what I wanted to say whilst opening the Rewind but guess what, I forgot again. In any case hope all of you had a great time celebrating the beginning of 2013 if you and your friends and/or family participate in such, and I hope the new year has plenty good to distribute.
Kudos to anyone that can identify the reference made in this week's title. Until next week keep racing!
GT5 Photomode images by anthaliscious and BayuYellow46.
The original comments for this post are no longer available.