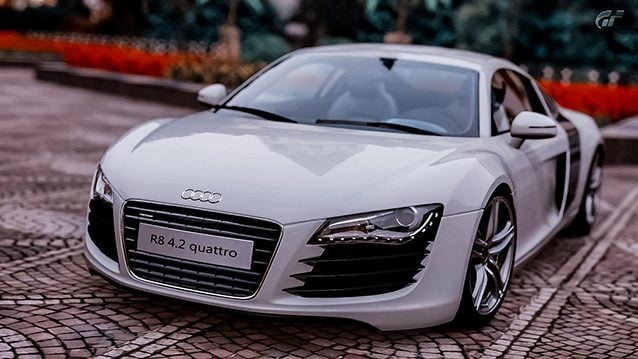 With Thanksgiving firmly fading into the depths of my rear-view mirror, it's now time to prepare for the final and perhaps most joyous holiday of the entire year – Christmas. I have something in mind just for the occasion but we'll cover that in due time, but I assure you it will be in the spirit of good tidings upon ye.
And with that comes the Christmas setting in GT5 itself, although I'm not entirely sure if it carries on throughout the entire month leading up to Christmas or just the week itself. Whatever the case may be, it's always something to look forward to because we all know the GT series has never been a slouch in the music department. I've had my fair share of the game this past week as well, what with me purchasing the Subaru BRZ, the 2012 N24 GT-R Academy race car and of course the C7 Corvette Prototype that was just released yesterday. The BRZ is an absolute blast to drive around Route 5 which just happens to be one of my favorite surviving original venues in the game, albeit slightly tweaked.
We'll continue this later on because there's a lot to get through this week so let's a get a move on!
GTPlanet Picture of the Week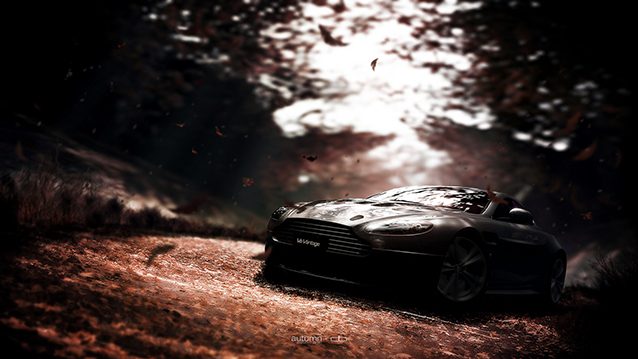 This week's vehicle, recommended by tube chaser and courtesy of leeislee, features the Aston Martin V12 Vantage in a masterful autumn setting.
Have a suggestion for next week's featured image? Drop me a private message, entitle it "GTPlanet Picture of the Week" and fill it out with your two choices and they'll be featured in upcoming Rewinds.
Arcade Love – The Hit List and Game Changer
This was recommended by ncrthree and features our very own W3HS (Shem, for those of you who are unaware) and walks us through a better Arcade Mode experience within Gran Turismo 5. It's a simple concept really, seemingly abiding by the ethos of  "If you're unable to find a good race online, why not create your ideal event offline?". It quickly addresses the concerns most users appear to have regarding the feature and looks to assure them that with careful consideration there'a a great deal of hidden fun to be had with the mode.
Take this quote from HKS racer into consideration the next time you find yourself in Arcade Mode:
"I noticed in Arcade mode you can "force" the game changing stuff in PRE race menu. This is how it works, in case, some of you want a specific AI pattern but still wont some freedom on regulations:

Go in GT mode select one of the setup slots (A, B or C). For instance let's use "B". This setup will be your "enter race setup" the one the game use to assign you AI cars. Let's say this setup has race hard tyres and 450 hp. In "Select Race" menu, and before entering the race (black grey menu) don't change tyres, not yet. Keep them as in setup B. The game will give you AI cars according to setup B pp/tyres combo.

In Pre race menu (when you actually see the in game track) You can change to setup C and have a totally different tune but still racing previously given AI's. This will give some room on Bop (balance of performance), you can either have unbeatable stiggs or captain slow opponents, and everything in between, it's up to you."
For the entire thread, have a look here and be sure to post up your own combinations for a better Arcade Mode experience.
GTPlanet Vehicle of the Week
This week's featured vehicle, courtesy of QuikSlvr223, features the Wankel-powered Mazda RX-7 Spirit R Type A (FD) which was Mazda's premier sports car, so much so it was featured on Car and Driver's "Ten Best" list on five occasions. Production of the iconic sports car came to an end in 2002 where it was succeeded by the RX-8.
Have a suggestion for next week's featured image? Drop me a private message, entitle it "GTPlanet Vehicle of the Week" and fill it out with your two choices and they'll be featured in upcoming Rewinds.
GTPEDIA – Think You Know Gran Turismo?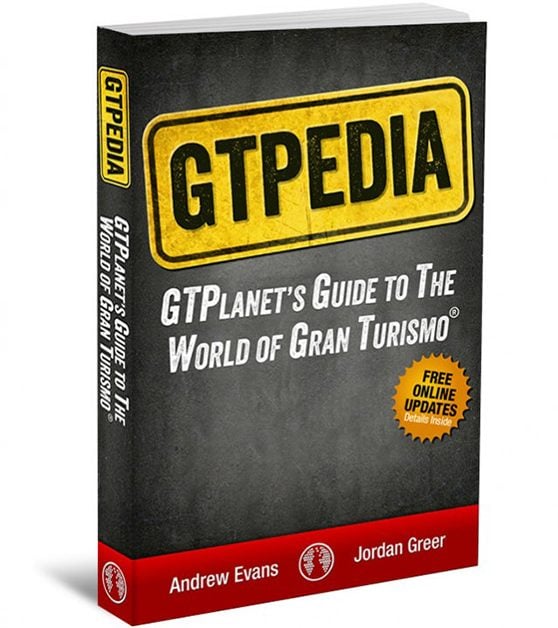 Just this past Tuesday "GTPEDIA" was announced, a 375-page monster of a book covering every conceivable detail of every Gran Turismo game ever released; the most comprehensive and thorough resource ever compiled for GT – yes, just as the description states.
Get your copy now as a PDF eBook ($17.95 USD) or a professionally printed paperback book ($19.95 + shipping); or save some money and get both with a combo pack ($29.95 + shipping). Hardcover copies begin shipping next Monday, December 1st and if you're looking to make this the perfect Christmas gift international orders must be placed by December 3rd, and orders within the US must be placed by December 21st.
There's nowhere to go from here but up, ladies and gentlemen. Keep a sharp lookout for the "GTPlanet Christmas Album" in 2015 where we'll be covering every mundane song ever recorded in the history of time, I'll be singing GTPlanet's rendition of the classic "Friday" entitled "It's 7AM, where's my Gran Turismo?"
Seventh Generation Corvette Now in Gran Turismo 5
This video, courtesy of seizure_, features the newly included vehicle going around Spa Francorchamps. This very well marks the beginning of a relationship between PD and Chevrolet as GT5 is the first game to feature the next generation Corvette in any capacity, and with any luck we'll be taking the unveiled production model around our venues of choice next year January.
Best of all? It's free. If you haven't downloaded it yet for whatever reason why are you still here? Go! Now!
GTPlanet Tune of the Week
For the second consecutive week, this week's tune is a Seasonal Special for, you guessed it, the Lotus-featured Seasonal Event that went live just this past Wednesday. The tune, courtesy of our very own praiano63 of Praiano's Tunes, instantly grabs your attention by basically guaranteeing an easy victory with the Esprit Sport 350, which just happens to be as quick as the Elise 111R. It's a tune specifically devised for the 480PP Autumn Ring time trial, so don't expect it to conform to other tracks brilliantly.
Should you have any questions about this week's tune have a look here.
Exactly like the Picture and Vehicle of the Week features, if you have any suggestions for the upcoming Rewinds be sure to drop me a private message, entitle it "GTPlanet Tune of the Week" and let me know.
Closing Thoughts
Every week you would have noticed the Rewind has a subtitle attached to it, as in this week's "The Odds All Stand Beneath Me" and before I explain exactly why I chose that or any of the previous titles, their sole intent is to serve as indications of a chapter, albeit with more of a striking presence. The reason why I chose this week's subtitle is literally because I was listening to Santigold's 'Disparate Youth' while writing this up, and even though it had no direct relation with the article at the time, it does now. Think about it, how many of us continue to play GT5 despite all of it's setbacks? How many of us continue to find enjoyment, no matter how minute, in the game despite it being less of an experience than the previous release? The odds stand firmly beneath you. As for why I choose the titles that I do at all, it's usually to do with the primary feature of the article.
So there you have it, a look into my mind – now get out. Until next week keep racing!
GT5 Photomode images by MadMoss and XSquareStickIt.
More Posts On...
The original comments for this post are no longer available.