As we draw closer to year's end, Kunos is wrapping up 2017 with an end of the year blog. The entry is once again put together by Marco Massarutto, and while it offers an overview of the game's history, it's what it hints at for the future that has our attention.
The key part comes near the end. Massarutto, being the hype man he is, drops subtle hints that something is in the works:
"Even today, the community keeps asking for something new, and that is great as it means that you continue to keep us involved in fuelling your hobby, passion and training tools. To meet your expectations, and to support the features that our current technology cannot manage, some – actually a lot of – work will be required. So, it's time to move forward.

"When it arrived, there had been nothing like Assetto Corsa before. We are working hard to replicate this feeling with what there is to come in the future."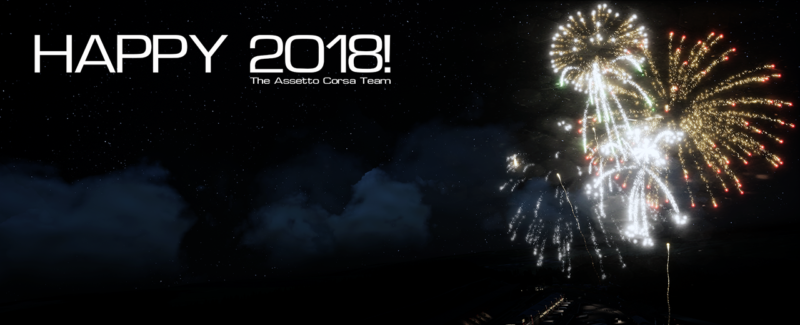 The blog is capped with image above, of fireworks bursting over what looks like Spa-Francorchamps. Night time? Fireworks? Neither of those are currently possible in Assetto Corsa. That fact, coupled with the final line, suggests a new title could be in the works.
There's no denying Assetto Corsa has come a long way since its initial PC release in 2014. The acclaimed racer made its way onto consoles last year thanks to a partnership with 505 Games. The game's highlight for the year was without question the addition of Porsche.
Enter 2017 and Kunos continued to improve the game. The first major release of the year arrived in the form of the free 1.13 update, featuring the Mazda 787B, MX-5 and 911 RSR.
The game saw further content with the Ready to Race, Ferrari 70th Anniversary, and Bonus Pack 3 car packs. The latter of the three was even a free addition to the game, featuring new cars and Laguna Seca. For a game with a barebones beginning, it now features 177 cars and 19 tracks with 35 variations.
With this latest hint, we're curious to see what lies in store for Assetto Corsa — the franchise — in 2018. We'll have more as we hear it!
Featured image courtesy of G.T.Ace.
More Posts On...