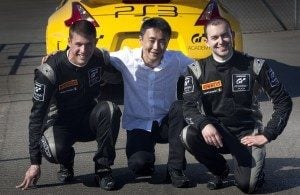 Kazunori Yamauchi was (and actually still is, thanks to Iceland's volcano) in the UK this past weekend to meet with the GT Academy 2010 winners at Snetterton. That went well, but the first interview to emerge from his visit (which appears to have been removed from AutoBlog UK) has already caused a great deal of teeth-grinding in our forums. Here's the problem:
AutoBlog UK: Can you explain more about the difference between premium and standard cars in the new GT5?

Yamauchi: Standard models won't have an interior view, less detailing and no crash model. The problem is that premium models take a lot of time to create and we wanted to include many more vehicles than before. To make premium versions of all the cars we want to put in would take ten years or more and I don't think people are prepared to wait long!
Before you explode or break something, though, take a deep breath and you'll realize not everything in this statement lines up with what we already know and what we've already seen. We first learned about the two different levels of damage in August of last year, when it was revealed that 170 "premium" cars would show severe damage, with detachable parts. The remaining 830 standard models would feature more conservative scratches. So, it doesn't make any sense as to why Yamauchi would now say that the standard models have "no damage model".
His comments about the interior view don't make sense, either. Aside from the fact that the Official PlayStation Magazine's GT5 feature explicitly confirmed interior view for all cars, we've seen the interiors of dozens of cars which appear to only have the "standard" model of damage. The Ferrari 458 Italia (interior/damage), Lamborghini Gallardo (interior/damage), and Mercedes SLS AMG (interior/damage) all come to mind.
So, what gives? Either we've been seriously lead astray by pretty much everything that's been released so far, or something was misunderstood and lost in translation at the track.
See more articles on Damage and Kazunori Yamauchi.