Four races now stand between 12 drivers and the trophy. In a little over three hours we're going to find out who the 2019 FIA-Certified Online Championship Nations Cup champion is — and no matter who, it'll be a new name engraved on the trophy.
Friday's semi-final action was a shock. Not only did the competition lose the winners of three of this year's five World Tour events, it lost defending champion Igor Fraga. Fraga made some amends by winning the Manufacturer Series with Toyota yesterday, but he will not be in the showpiece final today.
With firm favorite Fraga out of the picture, there's a more open feeling about the field. Long-term rival Mikail Hizal has to be the name in most people's minds, but FIA Digital Cup champion Cody Latkovski can feel confident of his own chances too — not least due to beating Hizal in that event earlier in the month.
There's another ten drivers there who've qualified by right too. Mr Consistency Coque Lopez managed a stunning drive from 12th to 3rd in his first ever Repechage to take his place, while World Tour Paris winner Nicolas Rubilar managed to come through his own semi-final unscathed. Rayan Derrouiche, who partnered Fraga to win the Manufacturer Series, will be riding high, along with Baptiste Beauvois who'll also represent France.
Italians Giorgio Mangano and Salvatore Maraglino will both race in the final, as will Takuma Miyazono and Jonathan Wong — who've both already visited the podium in the World Tour this year. Rounding out the 12 are Patrik Blazsan of Hungary and Daniel Solis, who usually races with a DualShock 4 controller, representing the USA.
The players will run through four extremely high speed races, at Monza in Gr.2 cars, at a rainy Spa in Super Formula cars, taking on Le Mans without its chicanes in the Mazda LM55 Concept and, finally, the X2019 Competition cars at Interlagos. That last race is worth double points, and the players carry over points scored in the semi-finals too.
It's anyone's championship to own, and we can't wait for the lights to go green. The action gets underway at 1700 UTC (convert to your time here), following a special unveiling of a Lamborghini Vision GT car, and you can watch it live below.
Driver Guide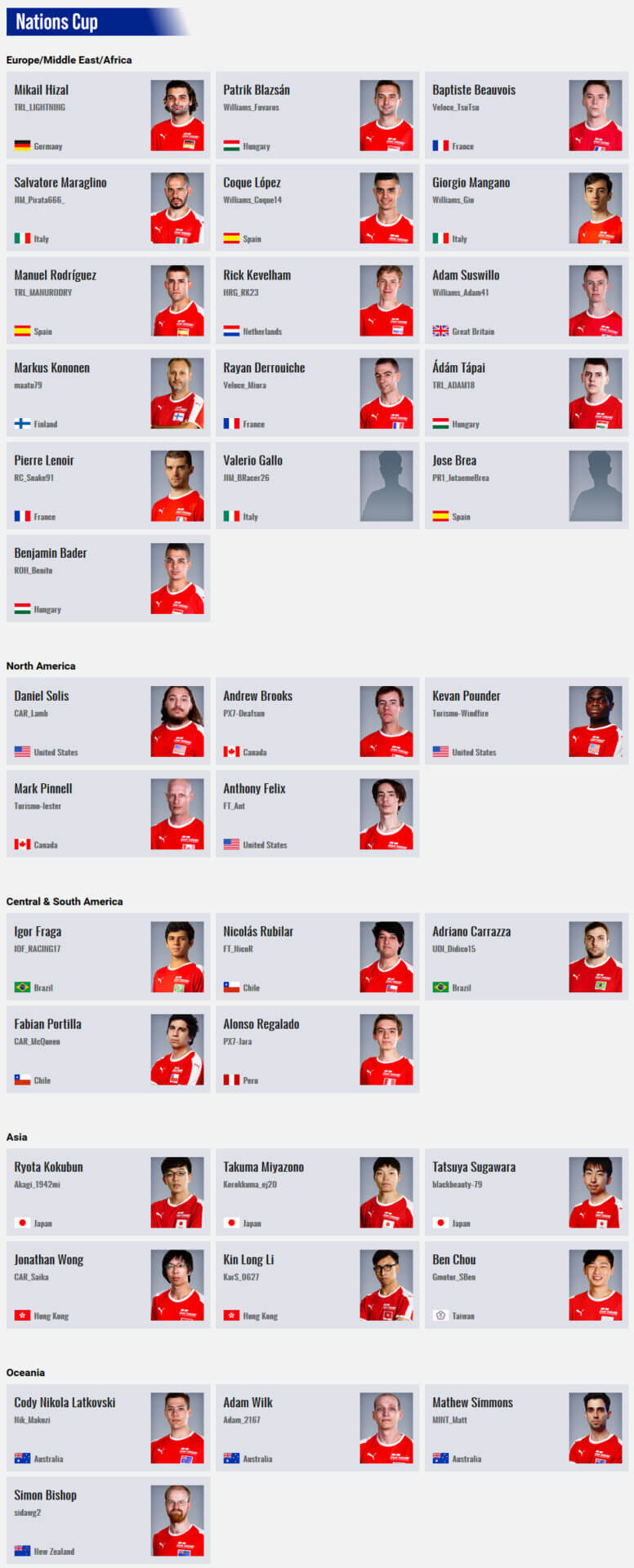 See more articles on 2019 FIA GT Championship World Final, GT Sport Nations Cup, and Lamborghini.