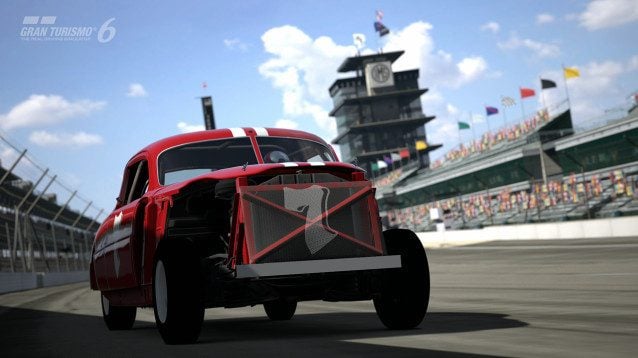 Mario Andretti's 1948 Hudson is now available in Gran Turismo 6, giving players firsthand experience with the car responsible for kicking off Mario Andretti's racing career.
The collaboration between Gran Turismo and Mario Andretti which saw him reunited with his "First Love" as a part of the campaign of the same name is being celebrated in game with a unique Seasonal Event featuring the Hudson and is available from today, December 19th to January 17th. The challenge takes place on Willow Springs International Raceway "Streets of Willow".
Mario Andretti's 1948 Hudson Hot Lap: Willow Springs International Raceway
Period of Availability: 12/19/2013 03:00 – 1/17/2014 03:00
Gold: Cr.550,000  Silver: Cr.380,000  Bronze: Cr.110,000
Players that set a lap time above the Bronze trophy target will be rewarded with the legendary Hudson and will also have the option of purchasing it from the car dealership for 500,000 credits.
"Gran Tursimo is a legendary franchise with gamers and car enthusiasts which makes it a perfect fit," explains the legendary race car driver, Mario Andretti. "Racing has been my lifelong passion and gave me an incredible career. When we first started discussing the 'GT6 First Love Campaign,' it brought back memories of some of the most defining moments of my life and I'm so pleased to share them with GT fans. PlayStation gave me the opportunity to remember my 'first love' and to revisit what it felt like to be a young man taking that old Hudson around the track. I'm really happy fans are enjoying my story and sharing stories about their own first loves.
Note, in order to enter the Seasonal Events you must first acquire your National B license.
Be sure to stop by the new GT6 Seasonal Events forum for in-depth analysis and discussion, and tips and tricks.
More Posts On...