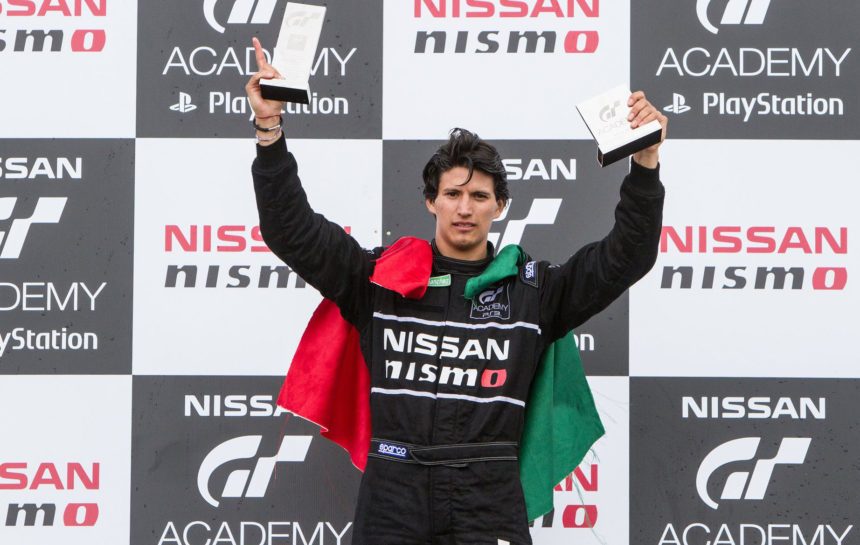 Ricardo Sanchez of Toluca, Mexico has won the first GT Academy International competition, following a battling final race and split judges' decision at Silverstone.
Following four days of hard-fought competition, each region had only two drivers remaining going into day five and activity started with a team relay dirt buggy race that would determine the start slots for the final showdown the following day. With one of the strongest teams, Australia were favourites, but disaster struck as Marcello Rivera rolled the buggy, allowing Thanaroj Thanasitnitiket of Team Thailand to take the win from the Middle East, Mexico and India, with Australia coming home at the back.
No sooner was that over than the drivers were sprung with a dogfight elimination for the final event – three laps of the Stowe Circuit in the Nismo 370Zs starting at opposite sides of the track. The last five eliminations were:
Australia – Marcello Rivera
India – Prakash Nair
Mexico – Jake Vite Prekop
Middle East – Hadi Abdel Hadi (Lebanon)
Thailand – Chonthawatch Meepasanee
The final day was dedicated to the race-off, with an early practice session on Silverstone's National Circuit amid occasional showers (a thunderstorm holding off until the end of the session) showing Thanasitnitiket's pace as he set the fastest time from India's Abhinay Bikkani.
With the early afternoon race taking place on a greasy circuit, Australian Josh Muggleton caused some concern on the green flag lap, getting away very late. The start itself was a different matter as pole sitter Thanasitnitiket made an awful start that dumped him right to the back immediately as Sanchez leapt up the inside along the pit wall to get to the front of the pack. Muggleton immediately showed his mettle, lining Bikkani up for a pass into Brooklands before mugging Bin-Khanen the following lap through Luffield.
The chase was on – Sanchez had built a lead in the first half while Muggleton drove through the pack, but the Australian bit into it lap by lap and going across the line into the last lap there was little to choose. Sanchez, a little late into Brooklands, opened a door for Muggleton on the inside of Luffield, but closed it again with the nose of the yellow #5 already alongside his rear wheel. Despite the minor scrape, Sanchez was able to take the win by just 0.6s.
With the judges having to decide between Muggleton's last (through no fault of his own) to second performance and Sanchez's race win (starting from third), deliberations took some time – reminiscent of the hours taken to choose between Faisca and Suswillo in the 2013 European Race Camp – until Rob Barff announced Ricardo Sanchez as the winner.
Ricardo now joins Gaëtan Paletou and the as-yet unnamed German winner in the gruelling Nissan/GT Academy Driver Development Program ahead of the 2015 Dubai 24 Hours.
More Posts On...
The original comments for this post are no longer available.