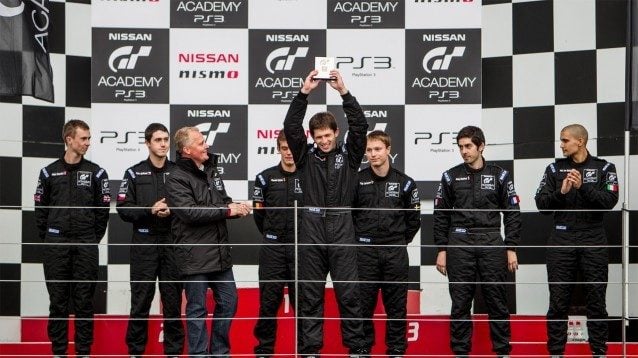 800,000 entered, 42 prevailed and one man took the title and the path to a full-time racing career – Miguel Faisca.
In just ten weeks Miguel has gone from Gran Turismo gamer to Nissan racer, thanks to the GT Academy program which reached a thrilling climax at Silverstone yesterday.
This year's event started back in July 2013 with the launch of the GT6 demo and Academy qualifier online time trial. The fastest gamers from each of seven regions – BeNeLux, Central and Eastern Europe (CEE), France, Iberia, Italy, Nordic and UK – were invited to local finals to whittle down nigh-on 200 gamers to just 42 of the fittest and best to compete in the Race Camp event. GTPlanet was on hand for the UK final in August.
Still separated into regions, each group of 6 had an experienced group of mentors – including Johnny Herbert, Vitantonio Liuzzi, René Arnoux, Stefan Johansson and former GT Academy graduates like Lucas Ordoñez, Wolfgang Reip, Jann Mardenborough and Luca Lorenzini.
But competition at Race Camp was brutal and the mentors became executioners. One contestant from each region was eliminated at the end of the first day after just two events – a stock car test in specially-liveried Micras and a benchmark test in 370Z Nismos on the Silverstone national circuit in GT6 and then on the real thing without instruction.
With further elimination on days 3 and 5, following some fitness tests, a gruelling SAS assault course and a special telemetry challenge using Nissan's high-tech Juke Ride lab, the groups were down to just 3 apiece by the time we got there on Tuesday.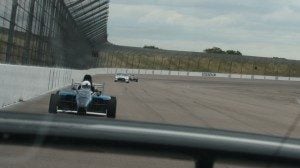 Day six saw three more challenges. First up was a single seater test at the Rockingham Motor Speedway oval – with the groups of three following an instructor-driven Nissan GT-R pace car at up to 112mph (which we got to sit in during the timed runs!). This was followed by extensive interviews from the GTA driver development team and a test in the Group N 370Zs at the Stowe Circuit, before the judges made their final cut to pick their regional winners.
With the CEE region judges needing to sleep on their choice, the final seven were eventually announced on Wednesday morning as:
Jérémy Bouteloup (FRA)
Romain Delva (BEL)
Petr Doležal (CZE)
Miguel Faisca (POR)
Filip Larsson (SWE)
Minh Tuan Nguyen (ITA)
Adam Suswillo (GBR)
All seven then repeated the day 1 benchmark test for the judges to witness their improvement over the week (if any!) before heading back out to the National Circuit in the Group N cars for a qualifying session ahead of the big final race. A second, wetter qualifying session was held shortly after – determining the two grids for the heats. With just 0.3s separating polesitter Filip Larsson from 7th, it was closely fought!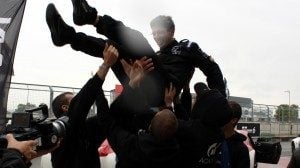 The fastest four drivers went in heat 1 and, after 6 laps, the finishing order was how it had been heading into turn one – Faisca getting the jump on Larsson from the start, with Nguyen and Bouteloup 3rd and 4th. For race 2, Delva took a lights-to-flag win, with Suswillo making the all-important pass on Doležal to grab 2nd.
The final race was a proper nailbiter as Suswillo made a great start from 4th to nab 3rd by the first turn, while polesitter Delva had an off in the middle of lap 2 that allowed the field to pass him. With Suswillo gaining – and setting fastest lap – Faisca kept his nerve and maintained the gap to take the win.
It wasn't over though – the judges were locked away in secret in the Silverstone Wing's Race Control and took two hours to come to their decision. Any of the final seven would have made a worthy champion and each of the four drivers in the final race made a great case for themselves, but the judges had to pick just one and eventual choose Portugal's Miguel Faisca as 2013 GT Academy champion.
Miguel now heads into the hardest 6 months of his life as he enters the driver development program ahead of a full GT3 racing program in 2014.
Of course the story isn't over for those who didn't win. Mixing with the field of highly-respected international racers and judges, showing them their mettle, can't be a bad thing and many previous Academy graduates have gone on to have their own race careers – proving the worth of the Academy beyond its winners.
With the German final starting today and Russian and US finals to come this month, the 2013 GT Academy story isn't over yet!
See more articles on GT Academy 2013 and Miguel Faisca.