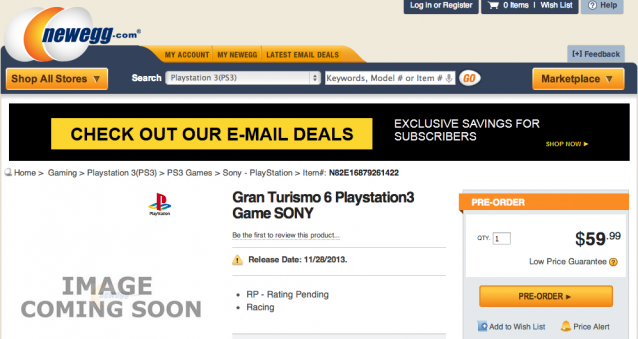 NewEgg, one of the largest electronics retailers, has made the jump as the first major online store to add Gran Turismo 6 to their catalog. As first picked up by PlayStation Lifestyle, they have listed the game as a PlayStation 3 title with an estimated release date of November 2013.
Before you get too excited about that, note that even the largest stores and retailers do not actually know a specific release date for the game until it is publicly announced by Sony, so their provided November date is little more than a guess.
It is worth noting, however, they chose to list the game as a PlayStation 3 title, especially after Sony executive Michael Denny casually mentioned the game would be released on the console during this interview back in February.
UPDATE: Since this news was published, NewEgg has updated the product listing as "Out of Stock" and "Discontinued", removing the pre-order link and estimated release date. Thanks to saxplayer1998 for the quick tip!
More Posts On...
The original comments for this post are no longer available.