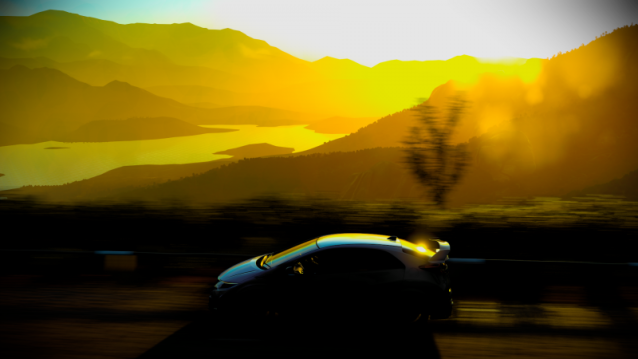 Driveclub's latest batch of DLC went live last night with paying players being treated on both car and bike fronts. Let's take a deeper look at what the packs include: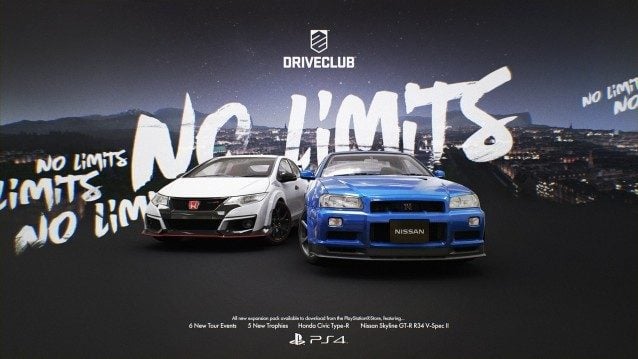 No Limits Tour Pack (£2.99/$3.50)
Driveclub receives some more Japanese representation through two new vehicles that add a fan favourite and a new car to the lacking Hot Hatch category. First up we have the Nissan Skyline GT-R R34 V-Spec II finding its place firmly in the Performance class. Initial test driving of this street legend shows that its strengths lie firmly within cornering, and lacks straight-line speed. That being said, its an absolute hoot to drive, and in the more technical circuits this should be a competitively viable option. Initial weaknesses seem to lie within point-to-point races as they are typically high speed.
The Honda Civic Type-R makes a turbocharged entrance to the car roster, bringing good straight-line pace and decent turning ability to the tracks. As previously mentioned, the Civic finds itself expectantly in the Hot Hatch category and thus will find itself matched against class-rivals like the VW Golf GTI, MINI John Cooper Works GP and the Audi A1. After having a decent amount of time testing the car on numerous tracks it seems to be pretty even to the rest of class. It certainly won't disappoint those seduced by the Type R's devilish looks.
The Tour Pack included in No Limits is a bit light on content compared to previous tours. 27 stars are up for grabs through 7 events, roughly half the size of other tour additions. A mix of Drift, Time Trial and Race events make up the tour utilizing the new Old Town track and both new vehicles. In terms of new trophies, the usual format is followed having trophies for merely completing the tour and earning all stars. However, Evolution have included a single gold 'challenge' trophy which puts you on Chungara Lake Reverse in the Civic Type-R to try and beat a time of 01:10 (or less) which should add some mileage to the pack.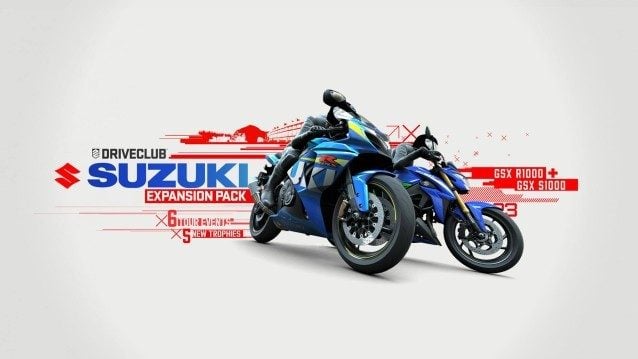 Suzuki Tour Pack (£2.99/$3.50)
Driveclub's major new gameplay addition gets its second DLC pack adding 2 new bikes, a tour pack and new trophies to boot. The Suzuki GSX-R1000 SE brings another superbike sure to tear up the circuits. Test riding of this bike was positive in my opinion. It felt a lot more natural in the corners than the other superbikes DC has to offer. The other addition is the Suzuki GSX-S1000 ABS which is a sport bike built for those who love the thrill of riding. Personally, I didn't enjoy the handling of this bike much and it seems like a bit of a dog when it comes to the Skill events. Suzuki's Tour Pack is a similar size to No Limits: 27 stars up for grabs across 7 events that encompass Skill, Time Trial and Race events. The trophy pack follows par-course with trophies for completing the tour to 100% whilst also including its own specific gold challenge trophy for completing a Time Trial at Asagiri Highland Raceway V1 in 01:28:500 or less with the Suzuki GSX-S1000.
Slightly light in tour content, these packs would be recommended to those who will get their mileage out of the new vehicles. Hopefully this series of 'mini-tours' doesn't continue and we get back to a more full fledged DLC tour offering moving forward.
See more articles on Driveclub and Driveclub DLC.