F1 2017 launches today, and we think it's a fantastic game. It's a must-buy for any fan of the series or sport itself since it's the most feature-packed edition yet. But, what if you know nothing about F1? Could F1 2017 be good enough to capture the attention of any fan of racing games in general? We set off to find out.
Editor's Note: In his own words, Joe "can name precisely two F1 drivers over the past 10 years". As a more general racing game fan, we wanted his perspective on F1 2017 too. To cover all the bases, Joe used the XB1 version of the game.
Getting Started
Newcomers to F1 will probably be slightly confused by some of the rules and terminology used. Thankfully, Codemasters provides several tutorials to explain pretty much anything you need to know to get racing. Being able to understand everything helps with enjoyment. It doesn't leave you guessing why you ended up with a penalty or why everyone just shot past you on the straight since you didn't engage DRS.
The driving physics feel great in the game and every car has its own unique characteristics. This will engage racing fans who like to test multiple cars to figure out which one is right for them. There's also a multitude of tuning options so you can tweak whatever car you select to fit you like a glove.
Speaking of cars, probably the most enjoyable part for non-F1 fans will be the classic vehicles. You can choose between 12 different cars dating back to the 1980s. Even if you don't follow F1, many of these classics will be instantly recognizable since they're such iconic parts of automotive history. Who doesn't know (and appreciate) names like Senna and Schumacher?
Career Mode
Career mode is where the game will falter for those who aren't fans of F1. First, you'll need to select a team to join and they all have different strengths and weaknesses. However, the game doesn't really say what those are, you kind of just need to know.
Obviously, teams like Ferrari and Mercedes will be at the top, but other teams like Haas or Force India might leave you a little confused. Oh and fun fact, Haas has nothing to do with Hass avocados. Who knew? 
Once you select a team and get to your first weekend, you'll hit another stumbling block. If you expect just to jump in and start racing like you do in Gran Turismo, you'll end up disappointed. There are three practices before you even get to qualifying. It's not like you can skip these practices either since it's the best way to earn RP with which you can improve your car.
After you accumulate RP, you can spend them on R&D. However, the R&D menu is a massive web of things non-fans might not understand. Luckily for them, there's a "recommend" option that lets the game pick for you.
Also, unlike Gran Turismo, researching new parts takes time and you can't just install them right away. This means waiting for several races before you get to use your improvement — that is assuming the research doesn't fail. This part of the game can be a bit frustrating.
The good thing about career mode races is that they are fairly customizable. There's a difficulty slider which we think is a great addition. This will allow casual fans of the genre to make the game easier for them, while hardcore racers can crank the difficulty to its max for a real challenge. The length of the race can be adjusted as well, from five laps to 100% of the real Grand Prix.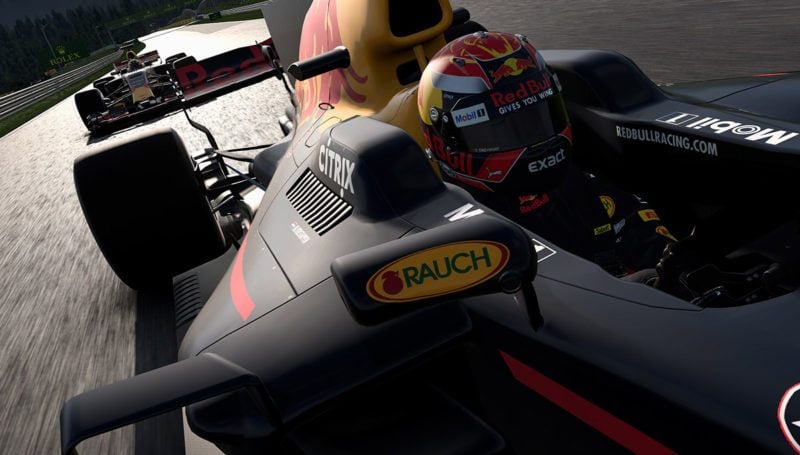 Out on the Track
Once you finally get to the racing action though, the game comes alive for any fan of the genre. The AI is good and it doesn't feel like you're racing cars on a predetermined path like earlier Gran Turismo games. They react to you and will challenge you for every position. This keeps the racing exciting and engaging.
The tracks look great and each has its own unique feel. Also, since all the tracks are real, most fans of the genre will instantly recognize many of them.
In addition to looking great, the tracks have an option for both day and night. Also, a wet or dry option is available. The weather system is even smart enough to deliver different weather at different parts of the track.
The Verdict
Despite the tedious feeling career mode, F1 2017 is a solid game with great racing action. However, we feel that a non-F1 fan may not get quite enough enjoyment out of the game, at least initially. It's worth finding a way to give it a test drive though — sadly, there's no demo — because the racing is seriously good.
Even if you're just a casual F1 fan, you should get a ton of enjoyment out of F1 2017. Knowing more about the motorsport itself makes the myriad elements more recognizable. This is a deep game, and while Codemasters has helpfully set up plenty of tips and tutorials, nothing beats coming into the experience with some prior knowledge.
As for those who aren't fans of the racing genre, this probably isn't the game to cut your teeth on. It's fairly specific in terms of scope and with all the other great racing games coming this fall, you can choose something a bit broader. However, once the sim racing bug bites you — and trust us, it will — F1 2017 would be a great addition to your collection.
Read our full F1 2017 review right here!